High quality Professional field turf baseball grass


1. Yarn tolilon® PE/ MTY/ 11000 dtex + tolilon® PP/ MFY/ 4880 dtex KDK.
2. Primary backing, fleeced backing with PET.
3. Yarn reinforced + PP anti-UV backing.
4. Secondary backing CSBR katex.
Pile height: 66mm. 2. Gauge: 3/8 inch.
3.Advantages of our Artificial Grass forbaseball
Long life ,extensive durability
Good UV stability
Good water permeability
No abrasion of skin
Easy installation
Resilience and Playing Performance
Safety and Environmentally Friendly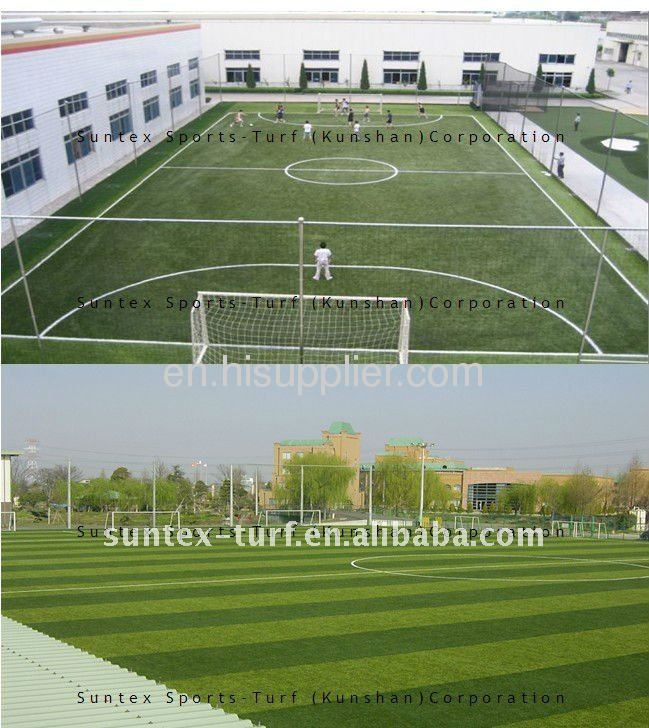 Suntex Sports-Turf (Kunshan) Corporation is a professional artificialturf/grass supplier/manufacturer. Our sophisticated tufting machines can producevarious artificial turfs from 6mm to 75mm, which can be used for differentapplications, such as for landscaping in your gardens; sports pitches likefootball pitches, tennis pitches, basketball pitches and golf pitches; leisureplaces like roofs, swimming pool areas and office areas. In short, we canproduce any grass that can be used anywhere you can image.
SuntexSports-Turf (Kunshan) Corporation was founded in March 2002. With the philosophyof "International quality, China production", sticking to ISO9001 managementsystem and ISO14001 Environmental Management System and introducing the advancedtufting machines and backing lines, Suntex mainly uses Thiolon yarns, Tolilonyarns, and Bonar and Australian Tapex yarns for grass/turfproduction.
Acting with the spirit of striving for the perfection ofproducts, Suntex will always be ready to give you considerateservice.
Suntex is always by your side.