Description:
This LED headlamp is bright and powerful, and it's packed with a ton of nice features. This headlamp is equipped with a powerful Cree LED XPG bulb and gives out up to 180 lumens of light. This headlamp features two on/off modes: manual or motion activated. You can manually turn the LED on or off using the switch, or use the infrared motion sensor with just a wave of your hand.
This flashlight is perfect when your hands get wet or dirty during fishing trips, backpacking, and other outdoor activities. This flashlight is also a great tool for contractors and mechanics working in dark spots.
Long lasting battery life gives up to 20 hours of bright white light at 180 lumens . The soft and multi-function switch can be used to cycle through three different modes: Cree LED on, red LED on, and red SOS strobe on. The headlamp uses 3 AAA batteries, is protected by durable plastic casing and is water resistant.

Multifunctional Head Lamp Flashlight Cree XPG LED with IR Sensor
Features:
Cree XPG LED with lifespan of 100,000 hours
Use 3xAAA batteries
Head lamp size: 60mm*51mm*40mm
60-gram weight (excluding batteries)
The hands-free IR feature to turn the light off/on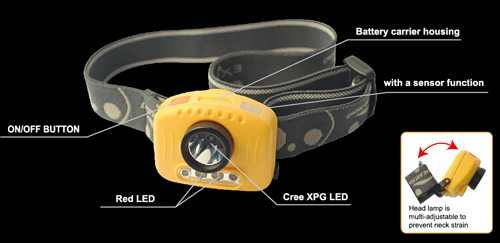 Multifunctional Head Lamp Flashlight Cree XPG LED with Sensor
Head lamp is multi-adjustable to prvent neck strain
Opertation:
on/off button: Red LED ON-Red LED SOS-Cree LED ON-OFF
transparent button: with a sensor function for ON/OFF in 10cm
Specification
Red LED
Red LED SOS
High
Output
2 Lumens
runtimes
40 hours
72 hours
20 hours
Beam distance
35 meters
Impact resistant
1.5m
waterproof
IPX-6
The headlamp has an adjustable elasticated head strap so it fits a range of age groups. The LED lamps provide a strong beam and ensure extended battery life. The headset has a tilt function where the beam angle is secured by a ratchet twist. Finally the headlamp has a Red LED ON-Red LED SOS-Cree LED ON-OFF settings.