Heavy Duty Manual Comb Binding Equipment SUPER21 PLUS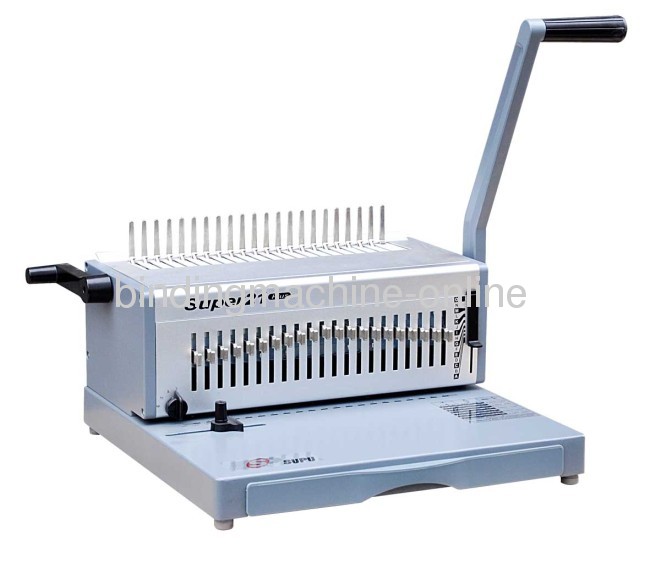 Description:
SAA,CE,ETL,CB certificates
Manual punching &binding
Powerful Punching capacity up to 25 Paper sheets per time
Punching capactiy for transparent covers:punching up to 4 sheet for 100-200micron/4-8mil, 3 sheet for more than 200 micron/8mil
Punching capacity for other standard covers:punching up to 4 sheet for 160-270g/40-60lb and 3 sheet for more than 270g/60lb

features:
300MM(14") punchwidth accept A4,B5,US letter format
powerful capacity up to 500mm(approx 500 sheets 80g/20Ib)
14.25mm Punching pitch with rectangle punch hole
Full 21 select punching pinsfor multiple paper size
Punching disengagement pin :21
package:2pcs/ctn
machine weight:11kg
machine dimension:420X380X445mm
Carton size:550X485X480mm
large waste tray allows for more time to work without emptying punch waste

This heavy duty comb binding equipment is a manual punch and binding.
Side edge guide adjustable can selected in according to your sheet thickness.
Document measurement aids to select proper comb size
The powerful comb binding capacitycan bind up to 500 sheets for 20lb(80g), andA4, A5,B5 and smaller sizeand letter size documents.
products details:

Binding handle: when binding, place the plastic rings to the comb opening uptwards,push the comb lever backwards to open the plastic rings and draw back to close





Selection paper stop:according to the size of files, select paper position







Depth side margin:
This depth side margin can be adjustable by your comb size ,there are 4 positions(3-6)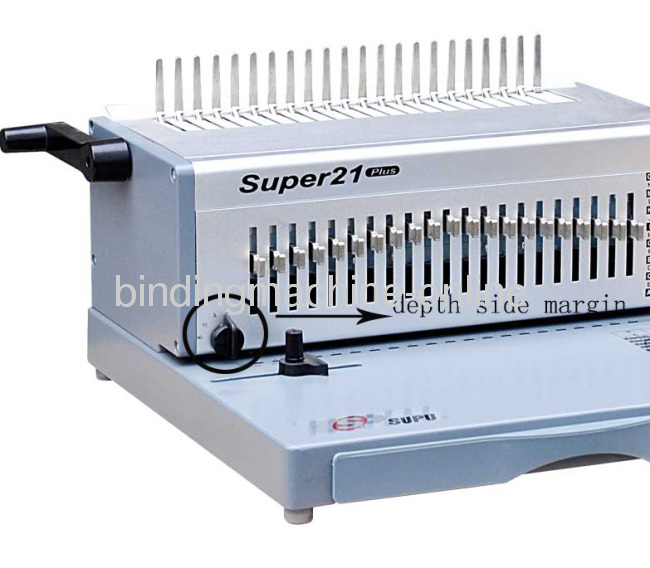 Dcument masure:according to your files thickness to pick the right number of sheets to punch,don't exceed the maximum number of allowed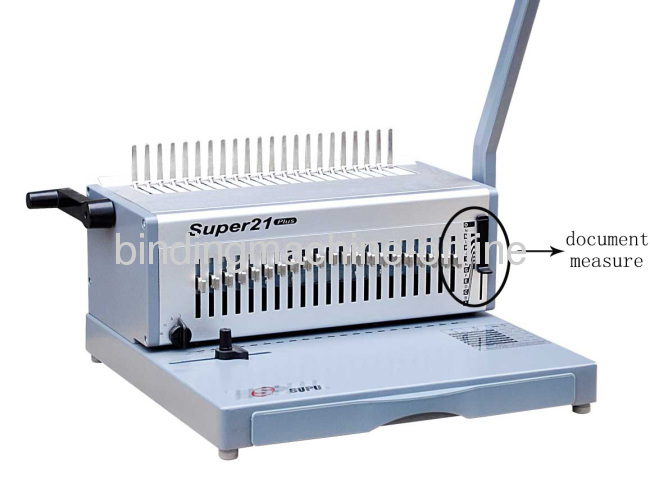 Punch handle:ensure your sheets are on the same line and feed the sheet horizon ,push the punch handle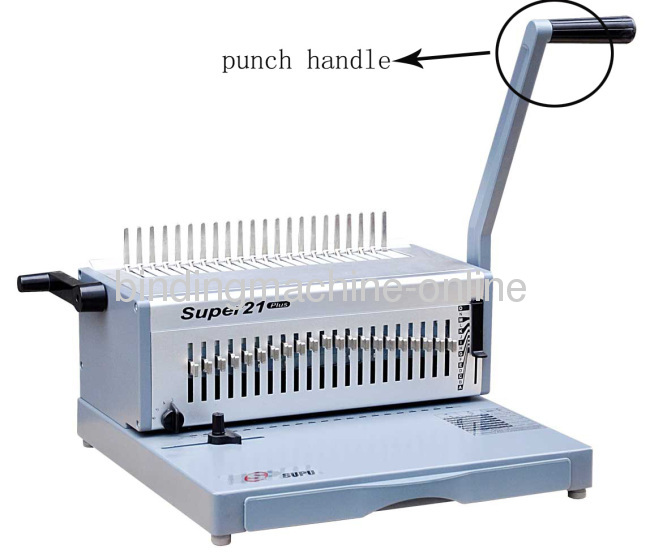 the disengagement punch pins allows A4,A5,B5 format and smaller size sheet to punch










high volume wast tray allows for more time to work without empty punch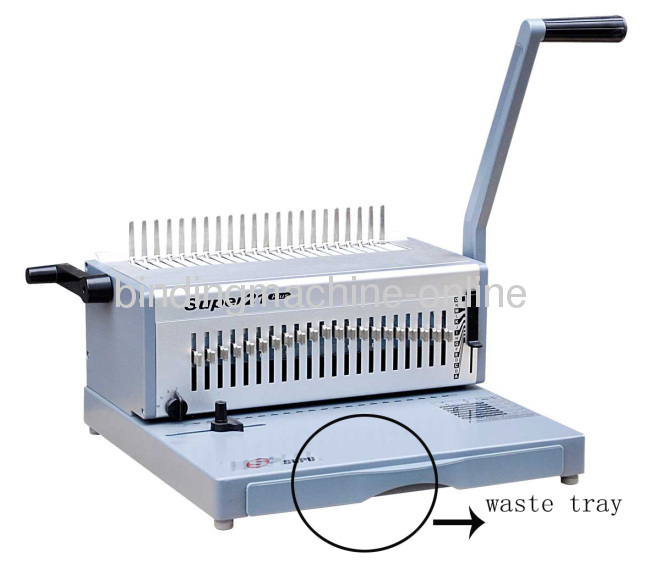 Binding proccess:


STEP 1:Ensure the bindin machine on the stable surface







STEP 2: feed the paper sheet horizon, make sure all the paper on the same line,and push the punch handle down and then release it back to its original place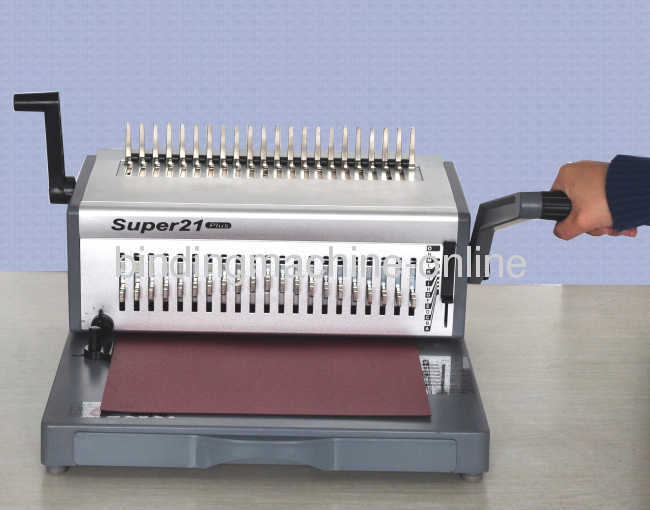 STEP 3:put the punched sheet directly onto the comb open lever

place the plastic rings to the back of comb opening upwards,push the handle backwards to open the plastic rings, inserting the punched sheets into plastic ring and draw back to close the plastic ring







STEP 4: binding process finished

open the comb and take out the book, you can choose the color hard to make it more beatiful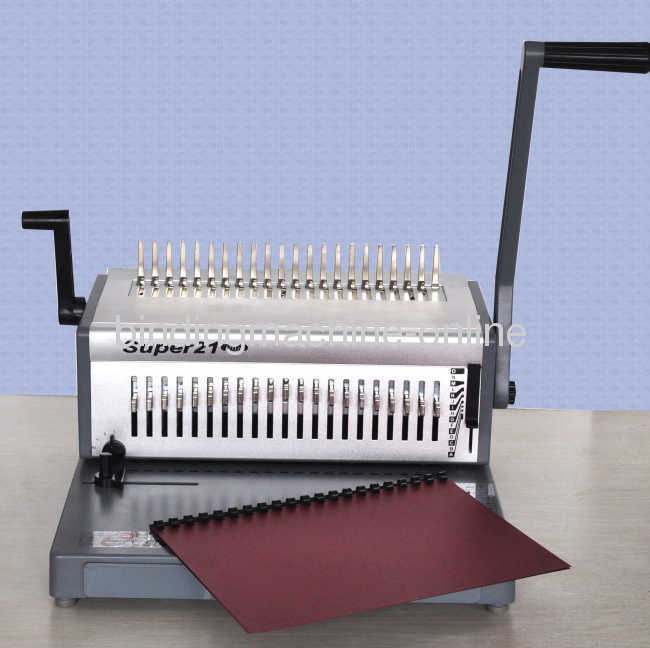 Certificate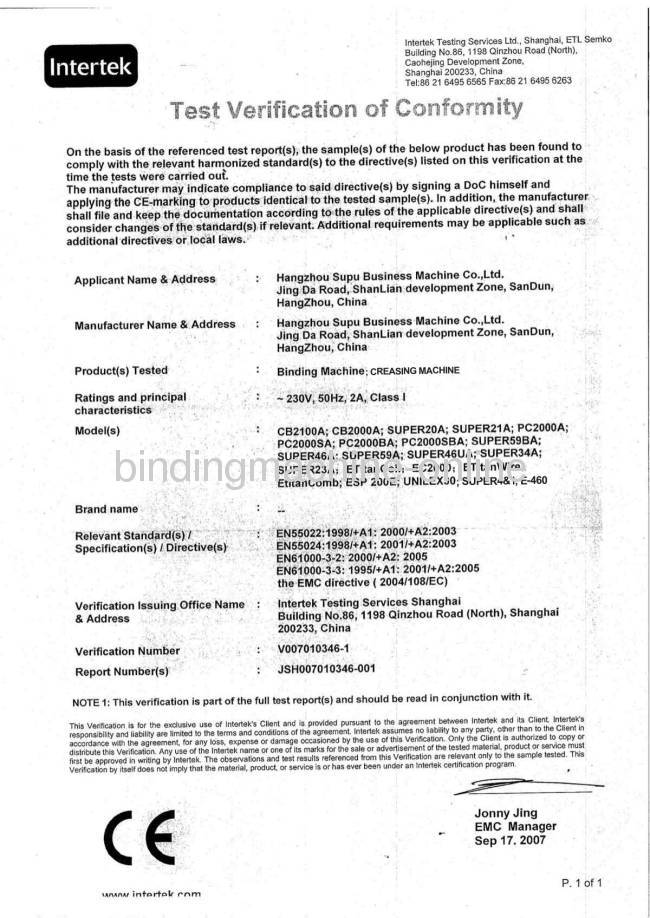 Fair


SEE YOU NEXT SHOW PRINT13 IN CHICHAGO