Features:
-Direct solenoid actuated directional spool valve
high performance version
-Wet pin DC or AC solenoids with removable coil
-Solenoid coil can be rotated through 90 °
-It is not necessary to open the pressure tight
chamber when changing the coil
-Electrical connections either as individual or
central connections
-Hand override, optional
Functional description, section
Essentially the directional control valves consist of housing (1), one or two solenoids (2), the control spool (3),and one or two return springs (4). In the de-energized condition the control spoof (3)is held in
the neutral or initial position by means of return springs (4) (except for impulse spools).The control spool (3)is actuated via wet pin solenoids (2)
The force of the solenoids (2)acts via the plunger (5)on the control spool (3)and pushes this from its neutral position to the required end position. This gives free--flow from P to A and B to T or P to B and A to T.
When solenoid (2) is de-energized, the control spool (3) is returned to its neutral position by means of the
return springs (4). An optional hand override (6),allows movement of the control spool (3)without energising the solenoid.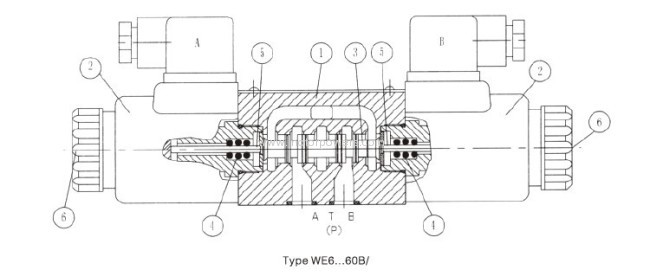 Ordering details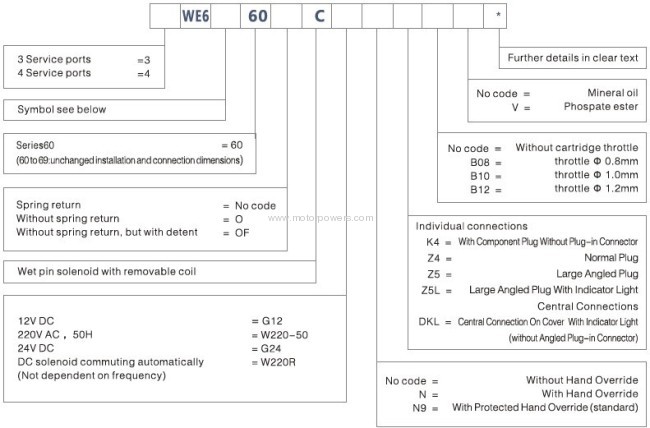 Symbol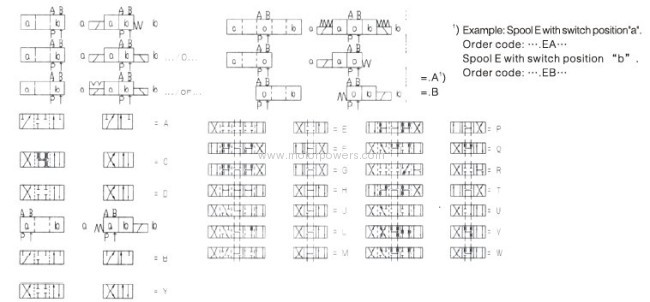 Technical data
Hydraulic
Max. operating pressure (Mpa)

port A, B, P

to 35.0

To21.0(=);to16.0(~)If the operating pressure is above the pressure permitted at the T port.

port T

For ports A and B, the T port must be used as a drain connection

Max. flow L/min

To 80(=); To60(~)

Pressure Fluid

Mineral oil or Phospate ester

Viscosity range mm²/s

2.8~500

Temperature range ℃

-30~+80

Degree of contamination

Max. permissible degree of contamination of the fluid is to NAS 1638,class 9.β10≥75
Electrical
Voltage type

DC Voltage

AC Voltage

Available voltage V

12\24\42\60\96

42\110\120\230

110\180\205\220

50760Hz

Power requirement

30

Holding power

-

50VA

Switch-on power

-

220VA

Duty cycle

100%

Switch on time (ms)

25 to 45

10 to 20

Switch off time (ms)

10 to 25

15 to 40

Protection to DIN 40050

IP65

Switch frequency cycles times/h

15,000

7,200
Unit dimensions (Dimensions in mm)

Individual connections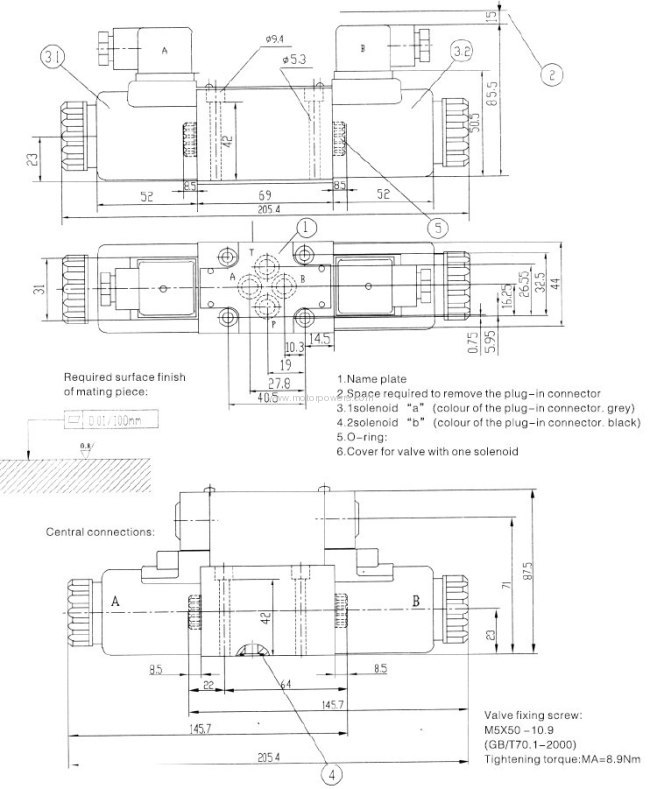 Individual connections