API 11AX Sucker Rod Pump
Sucker rodpumps are typically used when there is too much fluid to produce with an insert pump of the same tubing size. Zhongshi Production Solutions sucker rod pumps can be assembled with numerous types of plungers and components to suit your well's environment.

The subsurface pump also called sucker rod pump, is applied in Petroleum industry to extract oil out of the ground, it is assembled and connected to the lower end of the sucker rod under the ground, move up and down in the well as a unit, and fixed in the tubing by seating nipple pre-fitted in the tubing at the required depth(pump setting depth). The subsurface pump can be devided into several types. Rod pump have 3 types, they are traveling barrel bottom anchor rod pump, stationary barrel heavy wall botom anchor rod pum, stationary barrel heavy wall top anchor rod pump.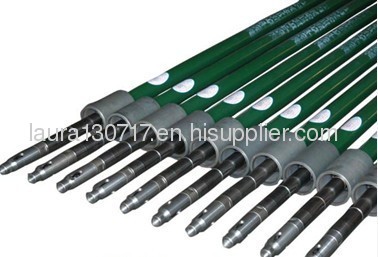 Standard
The executive standard of the products is GB/T18607-2008/API 11AX.


API Sucker Rod Pump Model:

THC, THM, TLE, RWAC, RWBC, RHAC, RHBC, TP, RHAM, RHBM, RHTM, RHTC, RWBM, RXBC, RXBM, RWTC, RWTM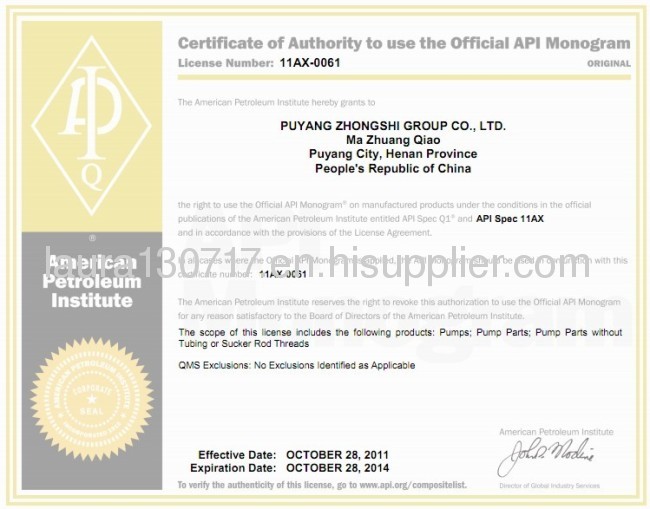 Property and Application

The sucker rod pump is connected to sucker rod after being assemblied on the surface then it is pulled down to the well bottom through the tubing. Thus it is convenient for the inspection and work over because they can be pulled up and down through the tubing and suitable for deeper well. The life span of tubing can be prolonged for decreasing the times of the thread of the tubing being turned on and off and the time of the work over.

Basic Pump Bore and Designation

Pump Bore
112
125
150
175
200
225
250
275
325
375
425
Pump Bore ø
Nominal mm
28
32
38
44
51
57
64
70
83
95
108
Pump Bore ø
Basic mm (in)
28.575 (1.12)
31.75 (1.25)
38.10 (1.50)
44.45 (1.75)
50.80 (2.00)
57.15 (2.25)
63.50 (2.50)
69.85 (2.75)
82.55 (3.25)
95.25 (3.75)
107.95 (4.25)
Clearance Code and Clearance Fit Range
Clearance Grade
Pump Bore Deviation
Metal Plunger
Clearance Range mm (in)
Code
Basic Size
Limit Deviation
1
+0.05/0
1
d-0.025
0/-0.013
0.025-0.088 (0.001-0.0035)
2
+0.05/0
2
d-0.050
0/-0.013
0.050-0.113 (0.002-0.0045)
3
+0.05/0
3
d-0.075
0/-0.013
0.075-0.138 (0.003-0.0055)
4
+0.05/0
4
d-0.100
0/-0.013
0.100-0.163 (0.004-0.0065)
5
+0.05/0
5
d-0.125
0/-0.013
1.125-0.188 (0.005-0.0075)