1.artificial grass for basketball
2.PP fibre 6600Detx
3.multiple color for options
4.environment friendly
1.artificial grass for basketball
2.PP fibre 6600Detx
3.multiple color for options
4.environment friendly
1.specification of artificial grass for basketball court
| | |
| --- | --- |
| TYPE | FTA61035 |
| YARN | Thiolon® PP/ FBY /6600dtex |
| PILE HEIGHT | 10mm |
| GAUGE | 3/16 inch |
| PRIMARY BACKING | Fleeced backing with PET yarn reinforced + PP Anti-UV backing |
| SECONDARY BACKING | CSBR LATEX |
2.Pictures of artificial grass for basketball court

3.template projects: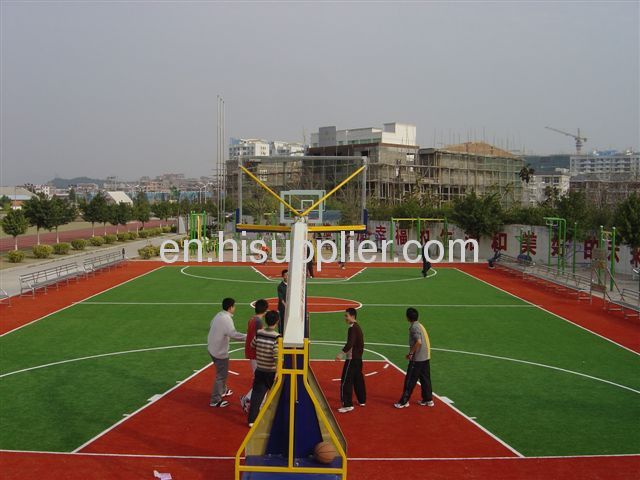 Advantages of our Artificial Grass
1) No weather limited: Artificial grass can be used in any climates, no matter rain or snow. All weather used.
2) Long life & Evergreen: When natural grass entered hibernation, artificial grass still can bring you the feeling of spring.
3) Environment-friendly: All materials are accord with environmental protection requirement; artificial turf surface can be reused.
4) Natural appearance: Artificial grass adopted the principle of bionics production, so there is no big difference between the natural grass and the artificial grass. Excellent flexibility let us feet comfortable.
5) Durability: Durable service, no fading, especially suitable for the primary sites for higher frequency.
6) Economy: General guarantees 8 years of life,with regular care.
7) Free maintenance: the lawn will need little maintenance.
8) Easy to install and maintain.
Why Maintenance for Artificial Turf field
The need to maintain an artificial turf field is fundamental for several reasons. These can be highlighted as follows:
- longevity
- playing performance
- safety
- aesthetics
An active maintenance programme will maximise the lifetime of the installation and ensure many satisfactory years of use. The maintenance regime is based around simple principles:- keeping the surface clean
- keeping the infill level
- keeping the fibre upright
- reporting minor defects before they become major problems
.About Suntex Sports-Turf (Kunshan)Corporation
We Suntex Sports-Turf (Kunshan)Corporation are a professional artificial grass /turf manufacturer and have engaged in producing all kinds of artificial grass for more than 9 years. So far, Suntex employs more than 100 workers and has 5 different gauge machines, which allow Suntex's annual production capacity to be 3,000,000 square meters.
Our sophisticated tufting machines can produce various artificial grass from 6-mm to 75-mm pile height that can be used for different applications, such as for landscaping in your garden/ yard/ bacony/ rooftop/ swimming pool etc,sports pitch like: football, tennis, basketball, golf, etc,leisure places like: roof, swimming pool area,office area,etc.
In short,we can produce any grass that can be used for anywhere you can image.
Suntex factory is about 1.5hours by car away from Shanghai Pudong international airport,and we welcom you to our factory for business inspection and negotiation!
Come to Suntex,we'll not let you down!