Item No.:BB-1217


15M Water Coil Hose With Double Color
1 x 15M double color water coil hose
1 x Plastic 8-pattern water hose nozzle
1 x 1/2"&3/4" female thread tap connector.
2 x 3/8" plastic quick connector

Spray nozzle of 8 water spray pattern is Jet,Shower,Flat,Cone,Soaker,Mist,Center,stream,it can fulfill most of water need.

Snap-in Quick connector is easy to joint the tap connector and water spray nozzle.

Hose is with 8.5MM inner diameter,11.3MM outside diameter.working pressure is 6 bar,the brust pressure is 18bar

The hose is double color,the half of ring is blue,the other of ring is black .Customized color instead of yellow and grey is welcome

Customer's logo can be printed on the product because of pad printed

When people take it,connector have assembled with water coil hose,the garden hose nozzle is separate.People only insert the snap connector of garden hose nozzle into quick connector of garden water hose,then tap connector go to joint outdoor water tap.turn on the water,people can use it to irrigate plant.


~~~~~~~~~~~~~~~~~~~~~~~~~~~~~~~~~~~~~~~~~~~~`
Package:
Color Box
Qty/Ctn:10pcs
Size:83*52*21.5cm


Various Package for Option:

**** Color box:3-layer 4 color box with laminating treatment at surface.
After connector joint to garden water hose,it will be putted in to color box,garden hose nozzle will be putted in to color box later.
3-layer thickness is enough for stock this light garden water hose.The garden water hose can not damage the color box,make sure the color box smooth when people take it.
4 color for color box can make sure color box can be print most of artwork for beautiful.
laminating treatment at surface of color box make sure the color box prevent from drip water.If even the color box meet rain,the color box still dry and smooth. (it is the cheapest package)



**** color box with window.3-layer color box with one PVC window,4 color print,laminating treatment at surface.

Compare to color box,another is same.only increase one transparent PVC window at the one side.From this transparent window,people can watch the garden water hose and water spray nozzle in the color box to identify the quality.( it is the economical package)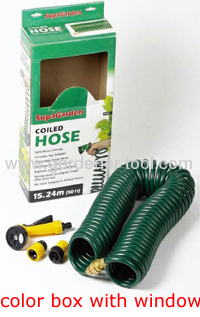 ****Double blister with insert color card.After garden water hose will assemble with connector,it is putted into channel of double blister,then put water spray nozzle on the channel too.Use the color paper to circle the garden water hose.close the double blister.It is ok.

There is two advantage of double blister with insert card.One is good tightness,it can make sure the product in the double blister clear.Two is double blister is transparent of whole body,people can watch the hose nozzle and garden water hose clearly,even every part of product to identify the product from another low price product.

Surprise we can heat seal the side of double blister.If that,supermarket do not worry the product in the double blister will lose when show.If people open the double blister,the double blister package will be damaged,then worker can select this damaged package for repair.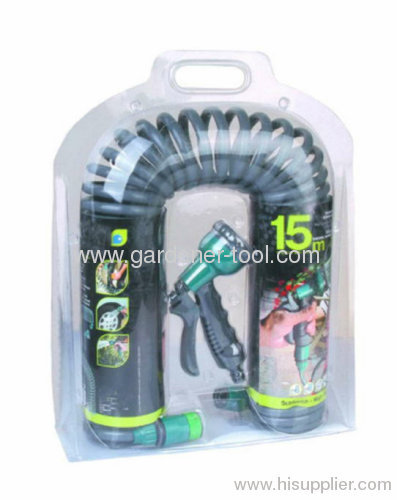 ~~~~~~~~~~~~~~~~~~~~~~~~~~~~~~~~~~~~~~~~~~~~~~~~~~~~~~~~~~~~~~~~~~~~~~~~~~~~~~~~~~~~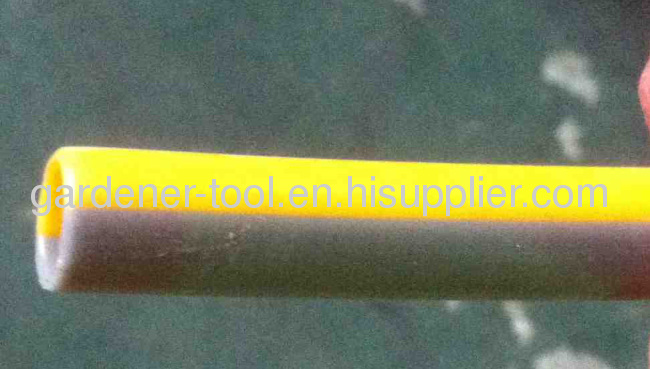 It is colorful garden water hose.Look,the hose is ring,half of ring is one color,the half of ring is the other color of grey.One garden water hose have two color.After coiled,the coil hose will be showed diferent color in different coil.It is magnificent.

The yellow and the grey color on the garden water hose can be instead of another color with pantone color code.Tks.



~~~~~~~~~~~~~~~~~~~~~~~~~~~~~~~~~~~~~~~~~~~~~~~~~~~~~~~~~~~~~~



****The high impact resistant plastic body with TPR soft grip.

****The high impact risistant plastic body is made of ABS plastic,it make the body surface look bright and smooth,also get a strong body preventing from accident drip to land,not damaged after dripped.

****TPR soft grip can prevent from hot or cold water.The wave lattice can increase the preesure between hand and spray nozzle,preventing from accident drip.






****High Strength nut and pull rod is made of POM plastic material,it is strong enough for high water pressure.Adjust the nut site on the pull rod to adjust the water flux.

****There is one channel on the nut,make sure the nut not be screwed out by child,preven from be swallow by child

****The stainless steel can push the trigger out away from body when work,keep the water spray continualy without fatigue.When not work,pleaser release the clip for long life.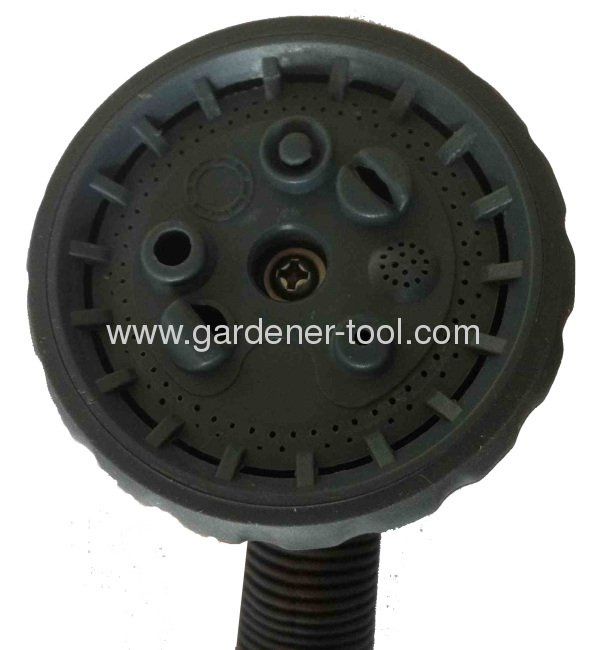 The 8-different water spray pattern can fulfill most of water need as garden water,pet wash,car washer and more.

To twist the ring at the nozzle to adjust the water spray pattern for what water need.