Product name:Microfiber Spin Pva Mop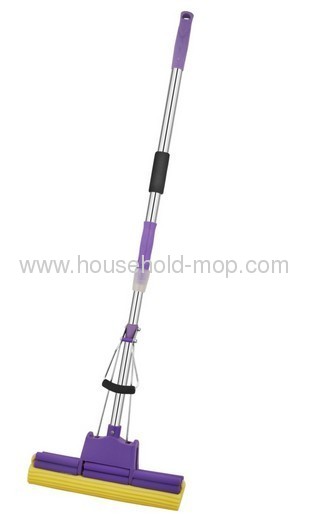 How to Use a PVA Mop
PVA mops are easy to use sponge mops. There are a variety of PVA sponge mop designs that can be used as disposable or reusable mops. Mops come with different sponge absorbency, head design and size to tackle different jobs. PVA mops are found in grocery stores, hardware stores and other home supplies stores and are an inexpensive but efficient way to mop your floor. How you use your mop will depend on the type of PVA mop you purchase.
Instructions
Mix one part water with one part cleaning solution. Warm water disinfects better than cold, according to University of California-Davis Animal Science.
Submerge the sponge part of the mop into the cleaning solution.

Pull the sponge out of the solution, holding it over the bucket or sink. Pull the lever above the sponge head to wring the sponge out. Most PVA models pull the sponge though two rods when the level is pulled up. This gets the majority of the water/solution out of the sponge.
Mop the floor starting in a corner and working your way out of the room. Re-submerge the sponge and wring it out as necessary. Some models have a nylon bristle pad on one edge to scrub heavy grime areas. Other models don't and require more forceful scrubbing with the sponge.
Allow the floor to dry. Clean the mop by running it under warm water. Allow the sponge to absorb water and then wring it while still under the water. Some models have removable or replacement sponges. If you have one of these models, remove the sponge with the release lever or slide it out. Clean the sponge as indicated by the manufacturer's label.
tem
Color
Name
item
AJP12
PVA MOP
Microfiber Spin Pva Mop
Product Detail
Mop Pole
Pole Material
Telescopic steel pole with plastic coating
Pole handle Material
PP
Pole Length(Max,Min)
130cm;70cm
Mop Head
Mop head base material
pva
Mop head base size
40cm*10cm
Mop Head Cloth
ClothMaterial
pva
Cloth Size
45cm*15cm
Joint(Pole with head)
Joint Style
Inner retracting button
Rotating
360°
Joint Material
PP
MOQ
3000
Packing Detail
Packing Method
1 PC product include
20PCS/CTN, Standard Carton Package
Export Brown Ctn
110*32*47CM
PCS/CTN
20
Loading Weight
N.W/CTN
14.48kg
G.W/CTN
16.68kg
Loading Quantity
20'FT
7010
40'FT
528CTN/ 10,060PCS
40'HQ
10,560