Feature of direct operated pressure relief:
-For subplate mounting
-For threaded connection
-For cartridge connection
. Sleeve with hexagon and protective cap
. Rotary knob
. Lockable rotary knob with scale


Functional description of Pressure relief valve, direct operated
The DBD pressure relief valves are direct operated poppet valves. They are used to limit the pressure in a hydraulic system.
The valves mainly consist of sleeve (1), spring (2), poppet with damping spool (4) (pressure stages 2.5 to
40 MPa) or ball (4) (pressure stage 63 MPa) and adjustment element (3). The setting of the system pressure is infinitely variable via the adjustment element (3). The spring (2) pushes the poppet (4) onto the seat. The P channel is connected to the system. The pressure present in the system is applied to the poppet area (or ball).
lf the pressure in channel P rises above the valve set at the spring (2), the poppet (4) opens against the spring (2). Now pressure fluid flows form channel P into channel T. The stroke of the poppet (4) is limited by a pin. In order to maintain a good pressure settings over the entire pressure range the pressure range is split into 7 pressure stages. One pressure stage corresponds to a certain spring for a maximum operating pressure which may be set with it.
Section of
direct operated pressure relief valve:

Symbol of
direct operated pressure relief valve:


Ordering details: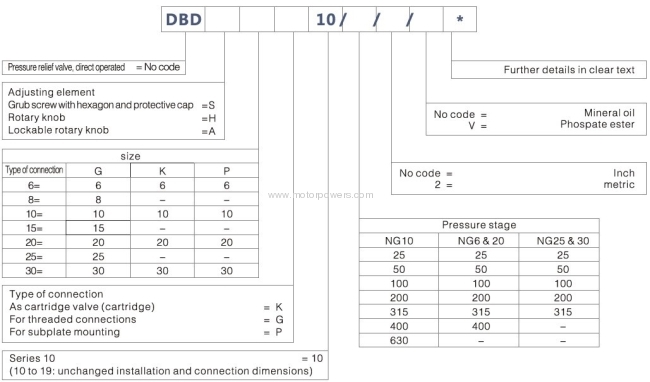 Technical data:

Size

6

8\10

15\20

25\30

Max. operating pressure

Port P

40

63

40

31.5

Port T

31.5

Max. flow L/min

50

120

250

350

Pressure Fluid

Mineral oil or Phospate ester

Temperature range ℃

-30~+80

Viscosity range mm²/s

2.8~500
Unit dimensions (dimensions in mm)