Manual Paper Creasing and Scoring Machine FC-38M3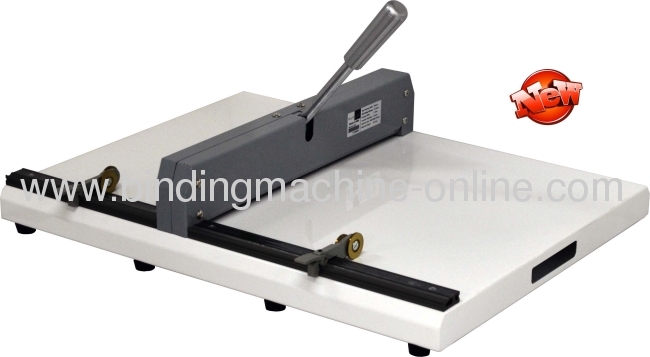 It is a manual, handfed and tabletop creaser unit which is made with durable parts and quality workmanship, and has a proven track record, providing a convenient, economical way to crease.




It provides a fast, easy way to channel score covers, cards and even laminated material without cracking.

It is a
ideal machinefor any environment looking for a short-run creasing solution to complement its digital printing systems.
Description:
Combine creasing and perforating into one unit
Manual operation and ease of use
Left or right handed operation

With:380mm(14")
Max creasing thickness:0.36mm
Creasing depth:0.4mm
Creasing width:1.3mm
Max thickness of sheets:275g
Type of paper stop:round slot
With two adjustable backstops for multiple creases on the same cover or for repeat jobs
Easy set-up with indicator scales showing the position of the creases
Solid alloy construction for long life use without require trouble service for years
This creaing and perforating machine is perfect for creasing book and presentation covers, invitations, menus, proposals, etc


The high quality creasing tooling provides a clean, sharp score that doesn't damage the printed image
Warranty:
1 Year Warranty, excluding wearables

New designed paper backstopper :new crease wheel design

provides a fast, easy way to channel score covers, cards and even laminated material without cracking.

It is to fix the distance and crease 2 lines which is widely used on the perfect cover spain .



Die can be made on request according to different demand :