Product name:Pva Sponge MOP ( folding pva mop)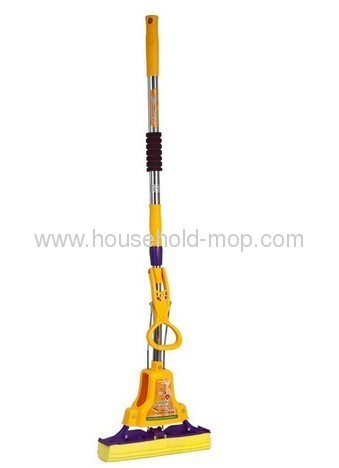 Cleaning a slate floor is relatively easy, especially if you take steps to keep the floor in good condition. The important thing to remember is that slate is very porous, even when a sealer is applied, which means that it can be stained by some cleaning fluids. Extremely alkaline solutions can sometimes cause cracks or pits in a slate floor, so they should be avoided. If you take good care of a slate floor, it should endure for many years of use.
Slate is a type of very fine grained, metamorphic rock that naturally forms in layers. It is often streaked with bands of rich and interesting colors, making it an attractive material for flooring tile. Slate floors are typically installed over grout, with more grout run between the individual tiles. At the time that the floor is installed, a commercial sealer should be applied, and it should be periodically stripped and renewed to keep the floor in good shape.
When you clean a slate floor, you want to remove dirt and stains without damaging the tile or staining it. Start by establishing a few house rules, like not wearing shoes on your flooring, which will help to reduce tracking. If you have slate tiles in the kitchen, use small throw rugs around the stove and the sink to catch spills before they hit the floor; do the same with a slatefloor in the bathroom. These steps will make it much easier to keep the floor clean.

The first step is to remove dirt and dust. You should always sweep or vacuum a slate floorbefore cleaning it, and running a dust mopover the floor is highly recommended. If you cleanthe floor with these techniques at least once a week, you may find that more intensive mopping is not required as frequently. Take the time to move furniture out when you clean the slate, as you want to keep the whole floor clean, not just the part you see. Consider putting felt pads on furniture with legs so that they will not scuff the floor.
If you need to mop, the best thing to use is plain hot water. Dip a clean mop into the hot water, squeeze it to get as much water out as possible, and then run it lightly over the floor, rinsing frequently. If the floor is very large, change the mop water partway through. If you have stubborn stains or the floor is in a high traffic area, add some vinegar to the water; this will also leave the floor with a nice, bright gleam. You can also use mild detergents, although be aware that you may have to clean the floor again with a vinegar mopping after using a detergent to remove any residue.

tem
Color
Name
item
AJP10
PVA MOP
Pva Sponge MOP ( foldingpva mop)
Product Detail
Mop Pole
Pole Material
Telescopic steel pole with plastic coating
Pole handle Material
PP
Pole Length(Max,Min)
130cm;70cm
Mop Head
Mop head base material
pva
Mop head base size
40cm*10cm
Mop Head Cloth
ClothMaterial
pva
Cloth Size
45cm*15cm
Joint(Pole with head)
Joint Style
Inner retracting button
Rotating
360°
Joint Material
PP
MOQ
3000
Packing Detail
Packing Method
1 PC product include
20PCS/CTN, Standard Carton Package
Export Brown Ctn
110*32*47CM
PCS/CTN
20
Loading Weight
N.W/CTN
14.48kg
G.W/CTN
16.68kg
Loading Quantity
20'FT
7010
40'FT
528CTN/ 10,060PCS
40'HQ
10,560