Product name: Telescopic stainless steel pva spong mop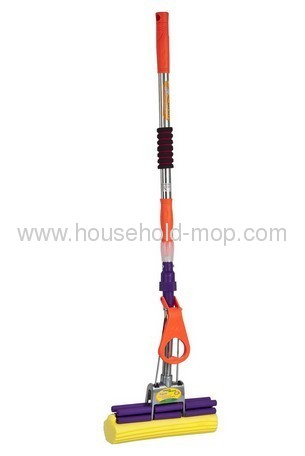 Product Name
Sponge Mop
Model No.
AJP01
NW.
0.7KGS
GW, .
0.75KGS
Handle Lenghth
99-123CM
Pole Thickness
0.4MM
Tube Material
Stainless steel
Mophead Material
Sponge
Palstic Material
New PP
Sponge Size
27*5.2CM
Features
1)Absorbs 10times more than any other mop
2)Easy operation keeps your hands free of dirty and water
3)Saves time and money
4)Can be used on floors, wall, surface windows, and ect.
5)Made of high quality, durable material for long life
Main market
South America, North America, Mid-East, Europe, Asia, Africa
Sweep and mop your floors at the same time. This advanced PVA sponge mop has ridges built into the head that will lift up and capture dirt and debris as you mop. The high quality head is made from pure PVA, and will absorb more than 10 times it's weight in liquid without ever dripping. It won't take the place of a good broom, but it will allow you to clean your floors in a fast an efficient manner. This mop is perfect for bathroom and kitchen floors, but can also be used to clean other hard surfaces like windows, siding, vehicles, cabinetry and more. The tough sponge-like material can be used with any floor cleaners you like, and it wont corrode or deteriorate like a regular sponge or string mop might. It is meant for a higher volume of liquid mopping application, so for hardwood floors, a microfiber mop is probably a better choice. Many professional cleaning companies, homeowners and janitorial services prefer this type of mop over any other because it can be used with a lot of liquid, and can also be used to absorb spills and other messes. Ideal applications include tile, linoleum, vinyl, concrete, marble and more.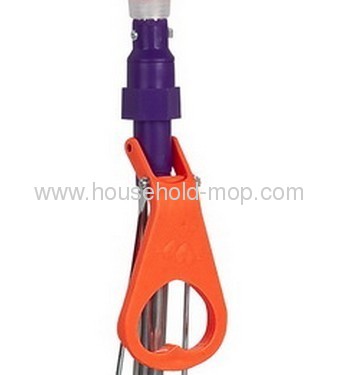 When compared to similar mops in the market this PVA Mop will clean better and last longer. It features high quality materials, a sturdy, telescoping handle, and a superior head. This means that you will find it easier to use, it will produce great results, and you won't have to be annoyed by less than sturdy components, or flimsy heads that just don't work. This mop has the advanced quad-ringer design, so each time you wring out the head, it will eliminate the maximum amount of liquid because it will roll the full length of the sponge. This means that all of that dirt and grime that you just cleaned up will be squeezed out, and drained into the sink or bucket. The advantage here is that you are returning to your mopping with a less dirty mop head, so your floors will be cleaner and you will spend less time working on it. The extra rollers and easy wring design make it an effortless process to remove dirty water from the sponge head, so people with arthritis and other strength or dexterity issues find it easy to use this mop. Use the adjustable handle to make it the perfect length for anyone to comfortably clean their floors. Most similar looking mops will have a substandard wringer, low quality pole, second rate head or all of the above. This PVA Sponge Mop will work great and last for years because it is made to last, and features components and a design that really works.
This PVA Mop is a sanitary option for cleaning your floors up to 12 times faster than the one you are using now. It will pick up pet hair and dirt particles like a magnet as you clean, and can be used with any cleansers or disinfectants you like. The high quality squeeze mechanism will not break like lesser quality models, and will keep your hands clean and out of the dirtiness you are mopping up. The head will also dry hard after you are done mopping which prevents the growth of mildew and bacteria when not in use. To make it squishy again, just soak for a couple minutes prior to use. No floor cleaners will harm the durable head, and it is totally gentle on any surface you use it on. It will never scratch or leave a mark on any floor type, and will allow you to gently scrub surfaces to get them sparkling clean in very little time. The specially designed grooves skim the surface of your floors to sweep up, and lock in small particles as the sponge washes the surface. The end result is an incredibly efficient mopping system that will allow you to do a better job, with less effort and time spent.

HOW TO USE IT:
Never start mopping or try to use the wringer with a dry head. Prior to mopping, soak the head for 2-3 minutes to make it soft and spongy, this will let you know it is ready to absorb and clean. Use with a good quality cleaner likeQuick n Brite or any of your favorite floor cleaning solutions. With this PVA mop, you will want to fill a bucket or sink with hot water and cleaning solution in the appropriate amounts. For really dirty floors, you will want to sweep first, but for floors with light debris, you can sweep and mop at the same time. Simply get the sponge head wet with cleaning solution and mop your floors clean. For flooring types that are sensitive to high amounts of moisture, wring the head to release some liquid prior to starting. Once and area of floor is clean, simply wring out the dirty water and keep going. Once you are finished, rinse the head clean and allow to dry. US e the integrated hanger in the handle to hang for storage.
Order Yours Today!
Item
Color
Name
item
AJP01
PVA MOP
Telescopic stainless steel pva spong mop
Product Detail
Mop Pole
Pole Material
Telescopic steel pole with plastic coating
Pole handle Material
PP
Pole Length(Max,Min)
130cm;70cm
Mop Head
Mop head base material
pva
Mop head base size
40cm*10cm
Mop Head Cloth
ClothMaterial
pva
Cloth Size
45cm*15cm
Joint(Pole with head)
Joint Style
Inner retracting button
Rotating
360°
Joint Material
PP
MOQ
3000
Packing Detail
Packing Method
1 PC product include
20PCS/CTN, Standard Carton Package
Export Brown Ctn
110*32*47CM
PCS/CTN
20
Loading Weight
N.W/CTN
14.48kg
G.W/CTN
16.68kg
Loading Quantity
20'FT
7010
40'FT
528CTN/ 10,060PCS
40'HQ
10,560