3528 FLEXIBLE LED STRIP WATERPROOF IP68 WITH SILICON TUBE AND GLUE
This waterproof led strip is very flexible but is in IP68 protection, it can be used in ourdoors even in water directly.‍

Products Show:

WATERPROOF: IP68 WITH SILICON TUBE ANDGLUE



3528 FLEXIBLE LED STRIP WATERPROOF IP68 WITH SILICON TUBE ANDGLUE



SMD 3528 FLEXIBLE LED STRIP WATERPROOF IP68: 60LED/M, 5M/REEL



3528 OUTDOOR FLEXIBLE LED STRIP IP68: WHITE PCB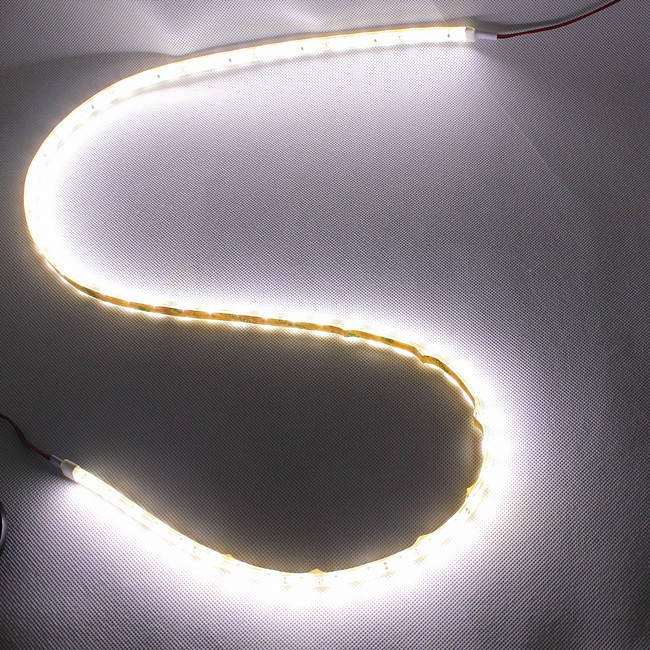 IF YOU NEED, WE HAVE BETTER PACKAGE FOR FULL SET(including led strip+controller+adapter)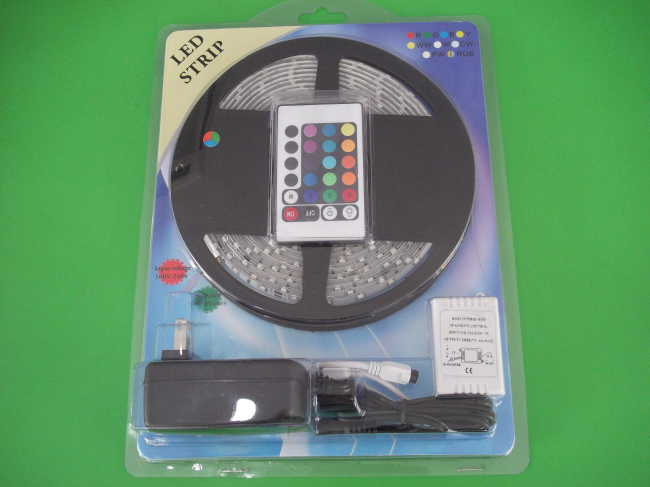 Real clear pic, pls kindly send inquiry to us for more details!!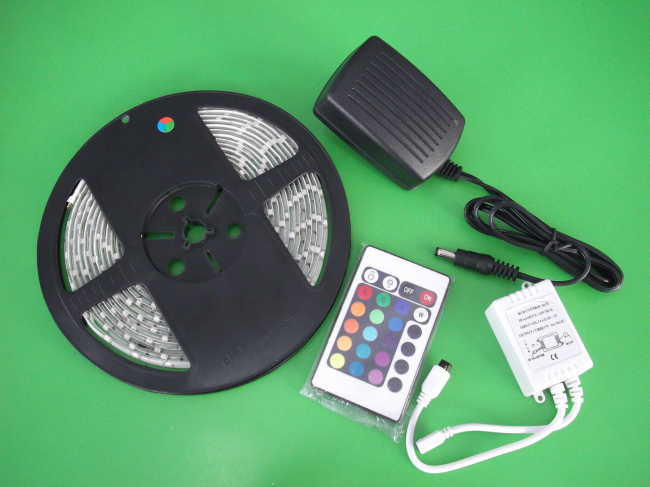 Features:
Superbright 3528 SMD top LED, high intensity and reliability.
Continuous length, packed with 5meter per reel, each reel is a selling unit.
Cuttable every 3 LEDs along thecutting marks, according to pratical requirement.
Long life span 50,000+hours
Flexible ribbon for curving around bends
Completely smooth and evenlight spread, solving the uneven luminous problem
Ultra-bright but running atlow temperature
Self-adhesive back with 3M double side adhesivetape
Certification: CE & RoHS
Low power consumption

Application:
Widely used for home decoration use, hotels, clubs, shoppingmalls
Architectural decorative lighting, boutique atmospherelighting
Extensively applied in Backlighting, concealed lighting, channelletter lighting
Emergency & security lighting, advertisement signlighting
Decorative lights for holiday, event, show exhibition
Applicablefor automobile and bicycle decoration, border or contourlighting

Specifications:
LED Type: 3528 SMD LED IP68
LED Quantity: 300 leds/5Meter or 60 leds/Meter
Color: RGB/SINGLE COLOR
Working Input Voltage:DC12V
Working Current: 2A /5 Meter
Power Consumption: 24W /5Meter
Protection Rank: IP68Waterproof (SILICONE TUBE+GLUE)
PCB Color: White
Is Trimmable: Yes(cuttableevery three LEDs)
Drive Mode:ContantVoltage
BeamAngle:120°
Viewing Angle: adjustable bymounting position
Working Tempreture:-20° to50°
Size: L500cm (5M) x W0.8cm x T0.3cm
Package: 5 Meters /Reel


Operationinstruction of controller:
working temperature:-20°to+60°
supply voltage :DC12V
output: three output
max load current:3A eachcolor
package dimension of controller:90*63*40mm
package weight ofcontroller:63g
net weight of controller:45g

PowerAdapter:
Type:12V 2A
Input:100-240V AC 50/60Hz
Out put : 12V 2.0A
Cable length: about 100CM
Output adaptor : 5.5mm x 2.1mm
Package size: 9.5 * 7 * 6cm
Package weight:144g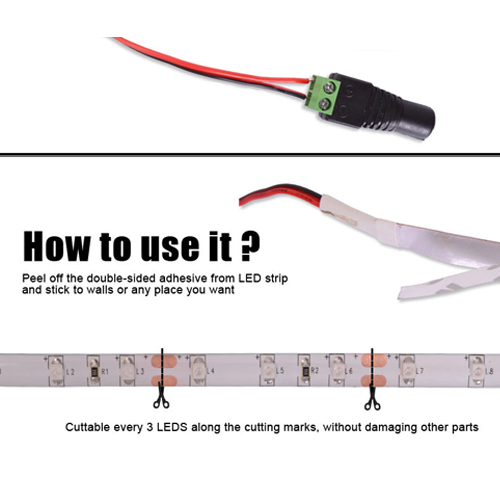 Installation Diagram:

EXAMPLE 1: CONNECT THE WIRES DIRECTLY TO THE POWER SUPPLY


EXAMPLE 2: CONNECT THE WIRES DC CONNECTOR, THEN TO THE POWER ADAPTOR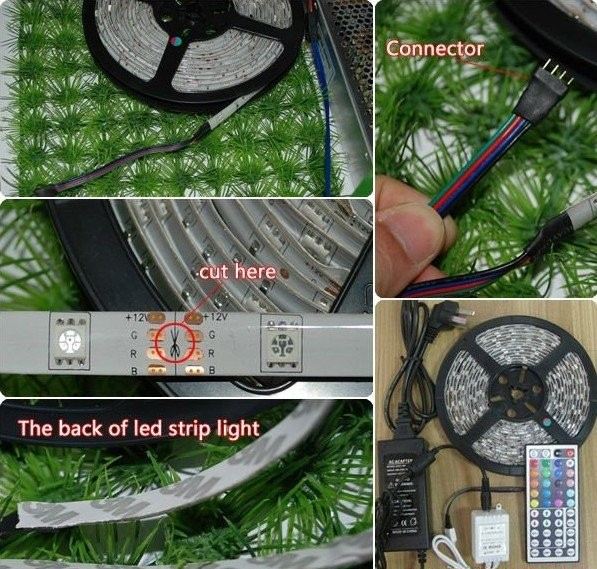 The difference between SMD3528 and SMD5050 LEDStrips:
Currently there are 2 maintypes of LED strips one uses SMD3528 LED chips whilst the other uses SMD5050 LEDchips. The difference between these is the sizes of the chip. The 5050 chip is5.0mm x 5.0mm and the 3528 chip is 3.5mm by 2.8mm. Another noticeable differenceis the width of the circuit board. The SMD3528 has an 8mm circuit board whilstthe SMD5050 has a 10mm circuit board.

Despite the size of the5050 being only slightly bigger it is x3 as bright as the 3528. This makes the5050 version extremely popular when high brightness is required in a small space. CMI LIGHTING supply both types and have healthy supply of stock at all times.We are a full LED solutions provider and will take the time to help you withyour requirements no matter how inventive they may seem!

Difference between NON-IP, IP65, IP67 AND IP68 waterproof LED Strip:
Non-waterproof -------Regular FLEX LED Strip: SMD LEDs are mounted directly on the surface of the flexible PCB(Printed Circuit Board), With 3M tape on the back, easy installationfor indoor use. It has no resistance to liquid and should be installed in areas where water or other liquids cannot make contact with it.
Epoxy Resin covering(IP65) ------- LED strips dropped with Epoxy resin adhesive / PU gule toget water resistant coat on the surface, widely used indoor and outdoor. It is ideal for bar areas however it should not be used in areas with heavy waterfall. IP65 is extremely difficult to cut, solder and re-seal as the epoxy resin must first be scraped away carefully before being soldered.
Silicon tube waterproof(IP67) -------LED Strips encapsulated with a Silicone(or PVC) jacket. It can reach water-proof class IP64. Easy to access solder points to rejoin. Wedon't recommend underwater usage but it is perfect for exterior environments. It is also easy to cut and re-seal as it comes with a mini sealing kit with everyreel.
Silicon tube+epoxy(IP68) -------High IP standard, PVC/ silicone tubeand sealed with silicone & PU, PVC & EPOXY inside. Widely used outdoorand under water. IP68 LED tape is ideal for use underwater. This is a very rigid strip that is suitable for water and underwater applications.


Safety and MaintenanceInformation:
1. SMD LED ribbon itself and all its componentsmay not be mechanically stressed.
2. Don't damage or destroy conductingpaths on the circuit board while installation.
3. Make sure SMD LED ribbonsare mounted to correct electrical polarity.
4. Parallel connection is highlyrecommended for its high safety.
5. Serial connection is not recommendedbecause unbalanced voltage drop may damage SMD LED strips.
6. Insufficientand unstable power supply may cause flexible strip damage.
7. Don't install SMD LED ribbons directly on metallic or any other conductive surfaces.

If you need more this kind items, please contact us. Thanks very much!