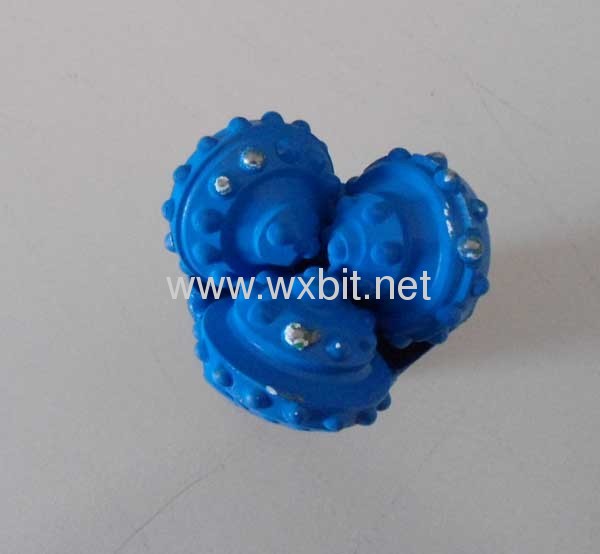 Tungsten Carbide Insert Cone Bit All Sizes Available
1. Superior Performance
2. Lower Cost, lower repair costs
3. Available Sizes
Size of Bit
in.
3 3/4
4 1/8
4 1/4
4 3/8
4 5/8
4 3/4
5 5/8
5 7/8
6
6 1/8
mm
95.2
104.8
107.9
111.1
117.5
120.6
142.9
149.2
152.4
155.6
Original Connection Thread
2 3/8
2 7/8
3 1/2
Selected Original Connection Thread
Bit Size
in.
6 1/4
6 1/2
6 3/4
7 3/8
7 1/2
7 7/8
8
8 1/4
8 3/8
8 1/2
mm
158.7
165.1
171.4
187.3
190.5
200
203.2
209.6
212.7
215.9
Original Connection Thread
3 1/2
4 1/2
Size of Bit
in.
8 5/8
8 3/4
9 1/2
9 5/8
9 7/8
11
12
12 1/4
13 5/8
13 3/4
mm
219.1
222.2
241.3
244.5
250.8
279.4
304.8
311.1
346.1
349.2
Original Connection Thread
4 1/2
6 5/8
Selected Original Connection Thread
Bit Size
in.
14 3/4
15
15 1/2
16
17 1/2
20
22
24
26
36
mm
374.6
381
393.7
406.4
444.5
508
558.8
609.6
660.4
914.4
Original Connection Thread
6 5/8
7 5/8
8 5/8
Selected Original Connection Thread
7 5/8
8 5/8
Can be tailored to any system, we welcome specific requests to meet your needs!
Please contact us for more information!
About Us
Hejian Wanxiang Drilling Equipments Co., Ltd. is a professional supplier of drilling tools and equipments in China. With flexible company structure and advanced technology, we have dedicated ourselves to supply the drilling industry with the best products available.
We take pride in offering prompt, courteous service to all facets of the Oilfield, Water Well, Mining and Construction Industries. We look forward to working with you to establish mutually beneficial relationship!