API Steel Tooth Tricone Bits
are rubber sealed journal bearing bits. The bits are adaptable for high WOB under normal RPM condition. With different cutting structure designs, this series bits are suitable for drilling very soft to very hard formations. High strength and high toughness carbide inserts are used on insert bits to achieve better wear resistance and excellent cutting abilities. New type of hardfacing material is applied to steel tooth bits to extend service life of the bit.
1.Good quality,reasonable price
2.ISO,API SGS certified
3.Can be customized.
4.Delivery on time.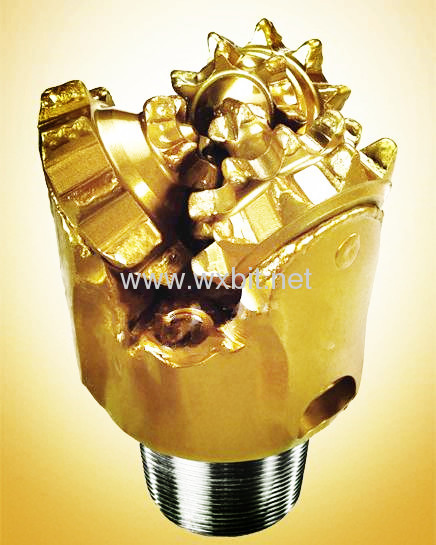 AVAILABLE by IADC CODE :
Milled tooth type:116, 117, 126, 127, 136, 137, 216, 217, 317.
Tungsten carbide insert type::417, 437, 447, 517, 527, 537, 547, 617, 627, 637, 737, 837
It is for Oil Drilling
Steel Tooth Tricone

1. This series of tricone bits use
Sealed Roller Bearing
structure. With rollers arranged in grooves recessed in the cone body, the size of the
Journal Bearing
is highly increased.
2.
Thrust bearing
surfaces are
hardface welded
and treated with
Anti-friction Technology
.
3. Ball Locked Cone, suitable for high rotary speed.