Heat Resistant Hand Made Glass Teapots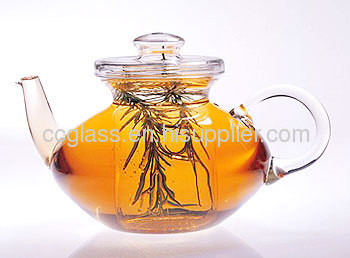 Best choice for coffee and hot tea!
Beautiful design, both practical value and artistic beauty, for many people, teapot is not only a vessel, but also a beautiful cohesion in the life, a method of decorate the space.


| | |
| --- | --- |
| Product Name | Heat Resistant Hand Made Glass Teapots |
| Model No | ST003 |
| Capacity | Client's Requirement |
| Craftsmanship | Mouth Blown |
| Material | Borosilicate Glass |
| Usage | Tea or Coffee |
| Production Capacity | 40000 pcs/month |
| MOQ | 1000 Piece/Pieces |
| Payment Term | Western Union, T/T |
| Packing | Client's Requirement |
| Delivery Date | Depending on Order Quantity |
| Means of Transport | Ocean, Air |
| FOB Port | Tianjin,China |
Borosilicate Glass Introduction
Borosilicate glass is a special type of glass renowned for its superior resistance to chemical corrosion,heat,thermal shock and scratches.In addition,it is much lighter in weight but more solid in structure and so more durable than traditional soda lime glass.
Borosilicate Glassware Features and Advantages
1,they are heat resistant,suitable for use in microwave,dishwasher and stove
2,offer a variety of application possibilities: baking and cooking, preparing and serving, cooling and freezing (down to -35°C/-31°F)
3.show a high resistance to sudden temperature changes with a temperature difference of 140°C/284°F(three times as high as normal glass or lead crystal glass)
4,are produced from clear borosilicate glass which is free of smell and flavor,does not discolor and show high chemical and mechanical resistance
5,do not give off any substances and therefore are suitable for allergy sufferers
6,are easy to clean and hygienic in use through the pore-free surface
7,come in superior and functional product design for an optimal preparation of beverage and meal
8,are most suitable as an individual and creative gift idea
Learning
Glass tea set on the surface is transparent, but inside there is a very big difference. General authentic tea set, glass thickness, sunlight is very transparent, and percussion sound under very crisp. Mostly through thermal processing, there will be no cracking.
Individual glass tea set, although the price is relatively cheap, but percussion some tightness, and relatively turbid, thermal performance in general. Particularly boiled herbal tea glass teapot, if heat resistance is poor, the risk is big!
Cleaning Method
(1)Using the metal bonle, can become black because of the dirt, such as the use of medium-sized cleaner also wash not to drop, usable vinegar soak, or can be easily detergent after soaking with bleach.
(2) Get rid of the cup or teapot tea scale, teacup, teapot with long, will be composed of a tea scale, friction with sponge dipped in salt and can be easily removed.
(3) Get rid of the small scale tea, it can be soaked in bleach or detergent powder in the solution, and placed a night, can remove the dirt.
(4)Can use toothpaste or broken egg shell scrub, reoccupy clear water rinse