MAIN CHARACTERISTICS:
single core PVC insulated
1.U0/U:300/500v 450/750v
2.StandardApplied: IEC 60227, GB/T5023, .
3.Max.working temperature:70°C, can be 90°C and 110°C as perrequirement
4.Conductor:solidor standard pure annealed copper
5.Insulation:PVC
6.cores:1core
7.Crosssection area:0.750~240mm2
8.Sheath:Without
9.Color:black or as per requirement
10.Flame retardent or Fire resistance or Low smoke andhalogen free or other property can be available
11.100m per roll or as as per requirement
12.Certification:ISO9001,ISO14001,CCC,etc.
13.OEMcan be available
14.Design and manufacture according to the requirements of customers
APPLICATION:
PVC insulated wires is suitable for laying atthe fixed places, such as:
1. power plant
2. electrical appliance
3. instrument
4. telecommunication equipment, etc.
SPECIFICATION:
CROSS SECTION AREA:
0.75, 1, 1.5, 2.5, 4, 6, 10, 16, 25, 35, 50, 70, 95, 120, 150, 185, 240mm² etc.
STANDARD:
According to GB/T5023, equivalent toIEC60227.
It can also be made complying with ASTM, BS,DIN standards.
Besides, we can design and manufacture theproducts to the buyer's requirements.
SERVICE PERFORMANCE:
1. Rated voltage: 450/750V
2. Long-term working temperature: not be higherthan 70°C
3. When laying the cable, the ambienttemperature should not lower than 0°C
4. Minimum bending radius: Bending radius≥4D ascable overall diameter≤25mm; Bending radius≥6D as
cable overall diameter>25mm.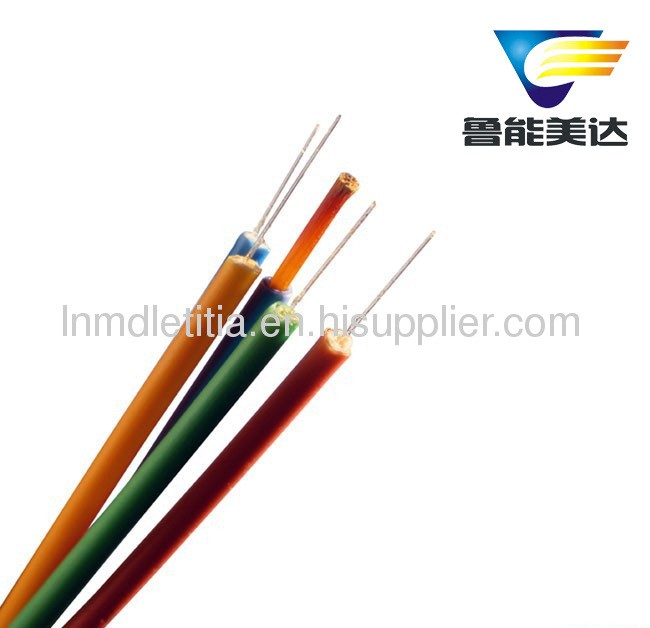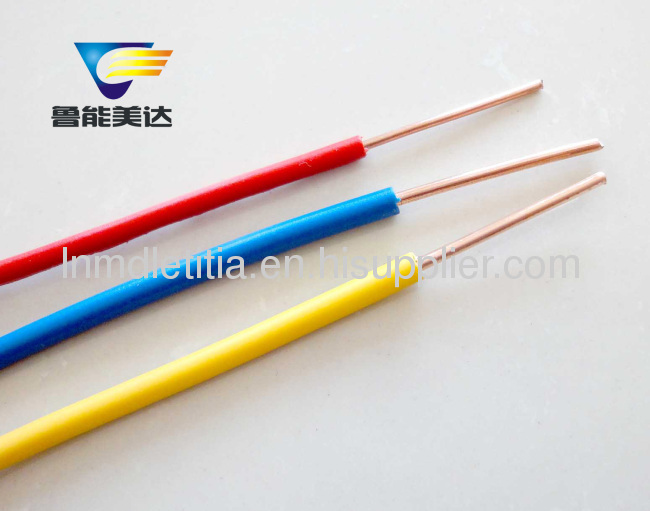 | | | |
| --- | --- | --- |
| Serial number | TYPE | Description |
| 1 | BV | Copper core PVC insulated wire |
| 2 | BLV | Aluminum core PVC insulated cable |
| 3 | BVR | Copper core PVC insulated wire |
| 4 | BVV | Copper core PVC insulated sheathed circular cable |
| 5 | BLVV | Aluminum core PVC insulated sheathed circular cable |
| 6 | BVVB | Copper core PVC insulated sheathed flat cable |
| 7 | BLVVB | Aluminum core PVC insulated sheathed flat cable |
| | | | |
| --- | --- | --- | --- |
| Nominal cross sectional area of conductor(mm2) | Insulation thickness | Maximum Overall Diameter mm | Weight/Km |
| 1 x 1.5 | 0.7 | 3.3 | 22 |
| 1 x 2.5 | 0.8 | 3.9 | 32 |
| 1 x 4.0 | 0.8 | 4.6 | 50 |
| 1 x 6.0 | 0.8 | 5.2 | 71 |
| 1 x 10.0 | 1.0 | 6.7 | 120 |
| 1 x 16.0 | 1.0 | 7.8 | 180 |
| 1 x 25.0 | 1.2 | 9.7 | 280 |
| 1 x 35.0 | 1.2 | 10.9 | 380 |
| 1 x 50.0 | 1.4 | 12.8 | 510 |
| 1 x 70.0 | 1.4 | 14.6 | 710 |
| 1 x 95.0 | 1.6 | 17.1 | 970 |
| 1 x 120.0 | 1.6 | 18.8 | 1200 |
| 1 x 150.0 | 1.8 | 20.9 | 1480 |
| 1 x 185.0 | 2.0 | 23.3 | 1900 |
| 1 x 240.0 | 2.2 | 26.6 | 2480 |
| 1 x 300.0 | 2.4 | 29.6 | 3100 |