Discount 6 cells replacement
battery for HP Compaq Presario CQ42
G62 G72 laptop battery
Specification
| | | |
| --- | --- | --- |
| 1 | Cell type: | Li-ion battery |
| 2 | Voltage: | 10.8V |
| 3 | Capacity: | 5200mAh |
| 4 | Cell QTY: | 6 cells |
| 5 | Color: | black |
| 6 | Warranty: | 12 months |
| 7 | Certification: | CE UL ROHS FCC |
Introduction
Replacement
battery for HP Compaq Presario CQ42
is a genuine Lithium-ion rechargeable battery that 100% compatible with the original Compaq presario cq42 Battery Compaq laptops. You can power your laptop with this 6-Cell Lithium-Ion Primary Battery from Compaq. This battery provides uninterrupted reliable performance you need to get the most out of your system. This product has been tested and validated on Compaq systems.
Compatible original Battery Code:
HP :
586006-321 586006-361 586028-341
588178-141 593553-001 GSTNN-Q62C
HSTNN-CB0W HSTNN-F01C HSTNN-F02C
HSTNN-Q47C HSTNN-Q48C HSTNN-Q49C
HSTNN-Q50C HSTNN-Q51C HSTNN-Q60C
HSTNN-Q61C HSTNN-Q63C HSTNN-Q64C
HSTNN-CBOW HSTNN-I78C HSTNN-I79C...
Compatible with thefollowing laptop Models:
HP Presario
CQ32 / CQ42 / CQ62 / CQ72 / CQ42-185TX CQ42-186TX CQ42-187TXCQ42-188TX CQ42-189TX CQ42-190TX CQ42-195TX / CQ56 / CQ42-253TU / CQ42-153TX /CQ42-116TU / CQ56
HP G42 / G62 / G72 / G62-100 / G62-100 CTO / G62-100EB / G62-100EE /G62-100EJ / G62-100SL / G62-101TU / G62-101XX / G62-103XX / G62-104SA /G62-105SA / G62-106SA / G62-107SA / G62-110ED / G62-110EI / G62-110EO /G62-110EY / G62-110SA / G62-110SO / G62-110SS / G62-110SW / G62-111EE /G62-112EE / G62-112SO / G62-113SO / G62-115SE / G62-115SO / G62-117SO /G62-118EO / G62-120EC / G62-120EE...
HP Pavilion
DM4-1001TU / DM4-1002TX / DM4-1008TX / DM4-1000 / DM4-1050 /DM4-1050CA / DM4-1009TX / DM4-1010TX / DM4-1013TX / DM4-1014TX / DM4-1015TX /DM4-1060US / DM4-1065DX / DM4-1160US
DV5-2050CA / DV5-2000 / DV5-2000 / DV5-2035dx / DV5-2045la /DV5-2046la / DV5-2048la / DV5-2077cl / DV5-3000...
Product images
Packing images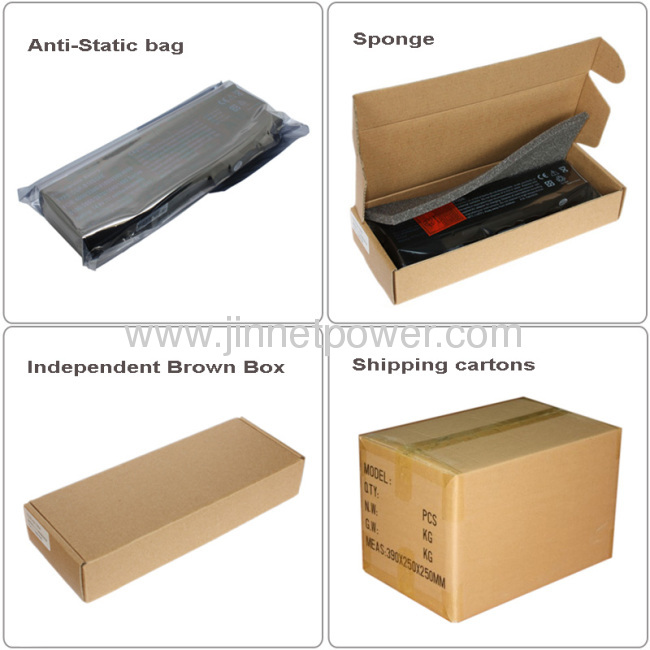 Factory images
Our certification
Shipping Terms:
We usually use express, such as UPS,FEDEX,EMS,DHL,TNT;
We can arrange air-express and ocean shipping as your require too.

Payment Terms:
T/T to our HK HSBC account; Western Union(500-2000USD); PayPal(100-5000USD).
Some tips when using the batteries
1. Please recharge when power left less than 5%. Don't wait run out and then recharge.
2. Try the li-ion battery for HP Compaq Presario CQ42 for your laptop. It can work long time than Non Li-Ion one.
3. Keep your laptop defragmentation regularly to prolong the laptop battery life.
4. Use some hard drive and optical drive spin-down software to reduce the power consumpition of laptop.
5. When long time without using laptop, Keep it in standby or sleep mode. It can both save the power and extend the battery life.
6. Store your battery in a cool and dry place when don't use, under the temperatures of -10~40°C the battery work prefectly.
7. If you usually keep your laptop plugged in fixed power or rarely use it. Please take down your battery. If not, it will hurt the battery life.
Thanks For Your Time to Brower Our Product ,We Will Do Our Best For You!