PPR Fitting PPR Equal Tee for PPR Pipe


This plastic tee for cold and hot water

Standard: DIN 8078 / 8077
Size:20mm-110m

Colors: white, other customized colors available

Advantages:sanitary,no poision,UV-resistant,high thermal resistant,easy assemble,over 50 years of lifetime.
1 Light weight, convenient to transport and handle
2 High strength and less resistance
3 Easy to install and long lifespan
4 Healthy and non-toxic, bacterial neutral, conforming to drinking water standards
5 Low cost and recyclable; thereby benefiting the environment.


We are the manufacture specialized in producing many different kinds of PP-R pipe fitting more than 15 years.If you are interested,please contact us for more information at anytime.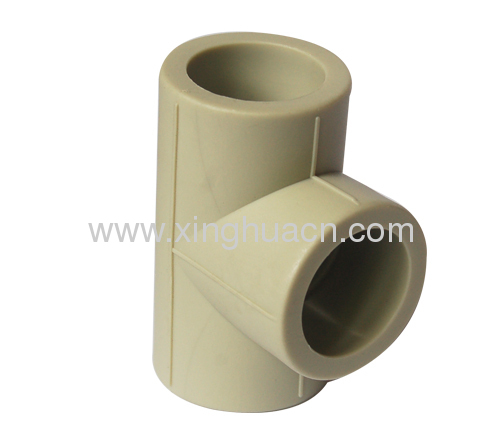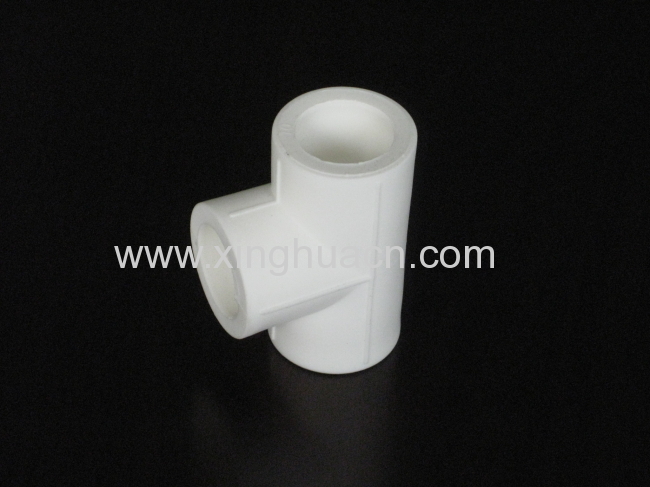 This PPR luxurous stop valve is intended for pipeline shutting-off; the valve is controlled above the building structure surfaces; the metal cover is chrome plated.
1)).Healthful, innocuous: the product belongs to environmental green protective building materials. It can be used in piping system of pure water and drinking water.
2)).Anticorrosion, anti-encumbrance: using the pipes can avoid the rustlings of laver and bathtub
which was given rise to by piping rust eaten and it also can avoid the clogging which induce by piping rust eaten
3)).High temperature and pressure resistance the water temperature that transport by the pipes can reach 95°C when working under the long term consecutive working stress.
4)).Heat preservation and energy saving: coefficient of heat passage of the piping just one of two
hundred as metallic conduit and the heat preservation and energy saving efficiency are very
good when used as hot water line.
4. Light weight: the piping specific gravity of the piping just as one of seven as metallic conduit.
5)).Beautiful shape: the inside and outside of the production is very lubricous, fluid resistance is
little color and luster is very meekness and it has attractive appearance.
6)).The fitting of the piping is very convenient and credible:adopting hot melts joint only needs
a few seconds and very on the safe side.
7)).The working life of piping is very long: its working life can reach at least 50 years under normal use.
Our factory produce a very good selection of of PPR pipe and fittings.If you're interested,please don't hesitate to contact us for operating parameters or more information at anytim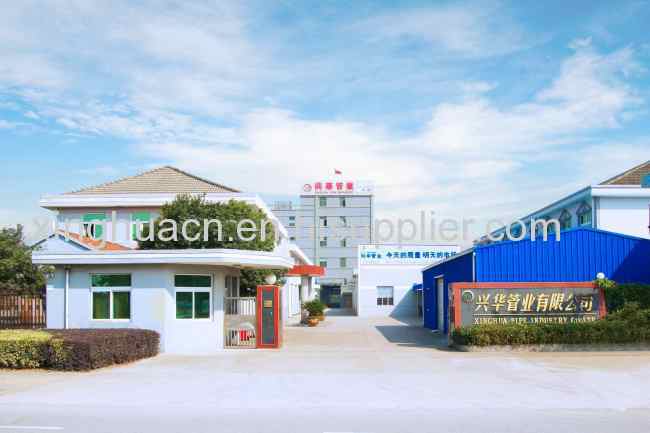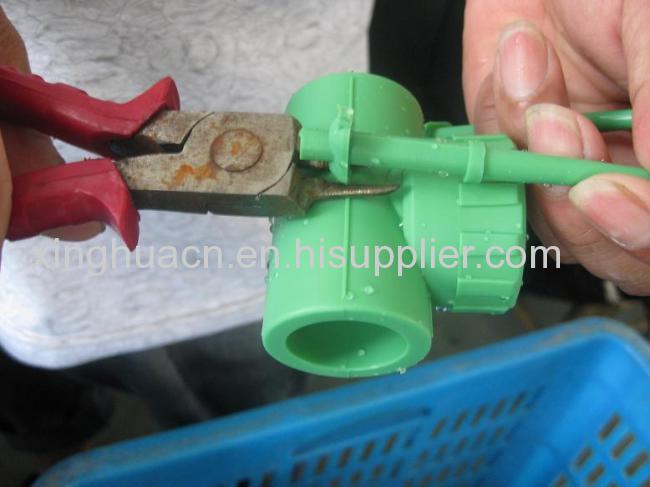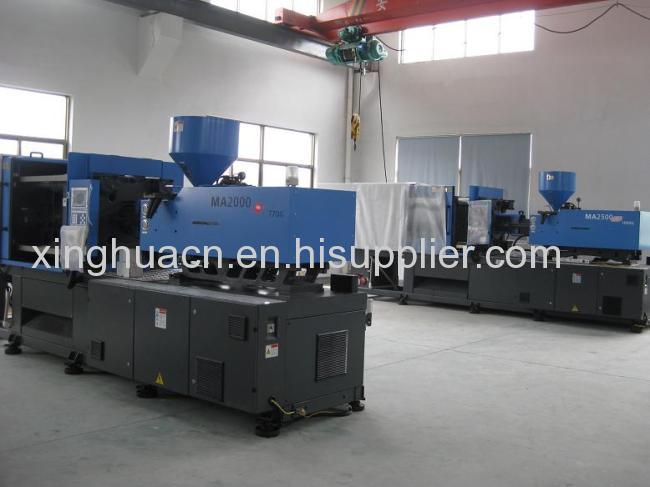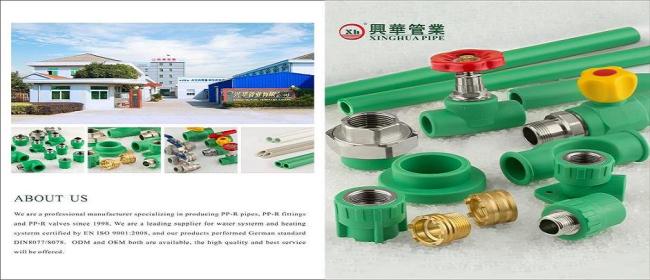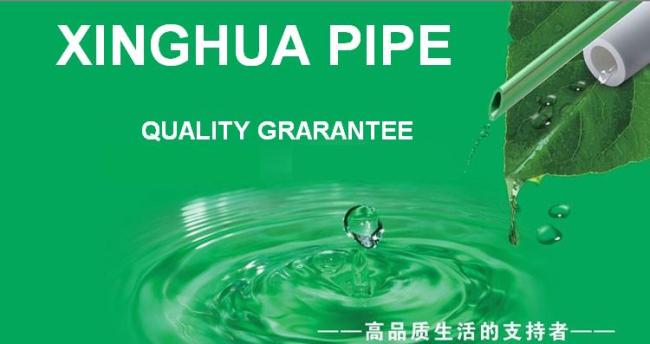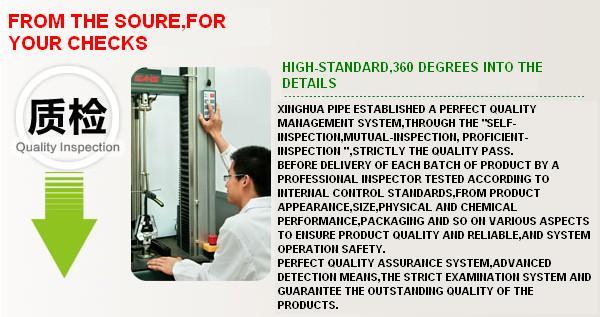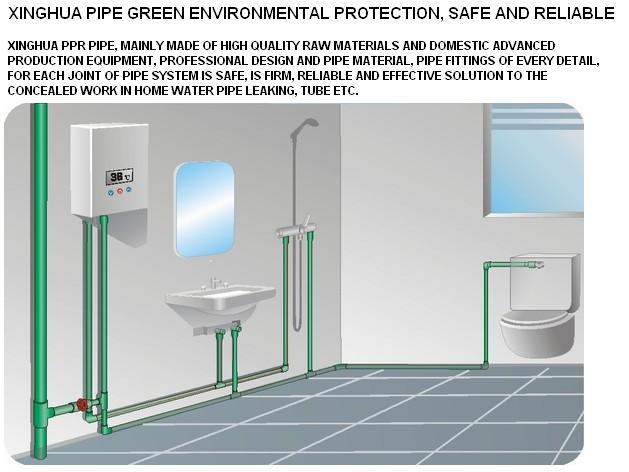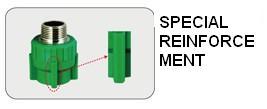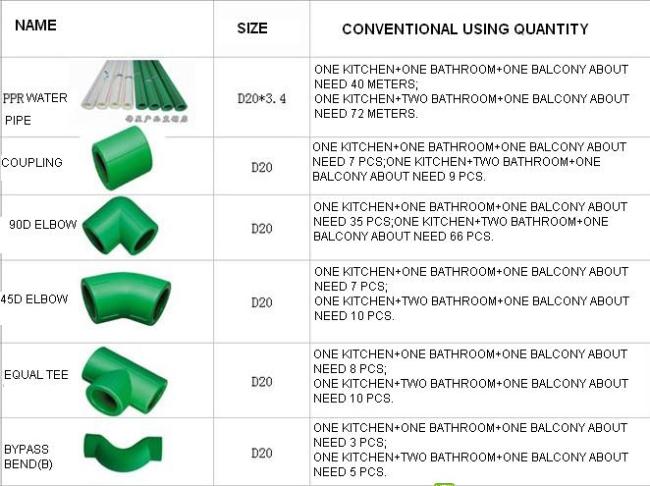 Q:What products you are specialize in producing?
A: We are a manufacturer specializing in producing PP-R, HDPE pipes and fittings and valves since 1998..
Q: what is the standard you are performed?
A: we are a leading supplier for water and heating system certified by EN ISO 9001:2008, and our products performed German standard DIN8077/8078.
Q: Can you produce any colors? How is the ODM and OEM?.
A: We can produce any colors that you need, ODM and OEM both are available for us.
Q: The price of your products is higher than others.
A: We can't promise you the best price, but we can promise you the best quality. We import row material from famous companies such as LG Chemical, Iydellbasell, Chervrom, Sinopec.
Q: What is the mainly products for pipe fittings?
A: It is contains PPR pipe, fiberglass pipes, ppr-al-ppr plastic pipes ,PPR coupling, elbows, tee, reduced tee, valve , ball valve, radiator valve ,filter valve, cross, plug, socket, flange ,pipe clamp, adapter union, bypass bend, cap. tools, accessories and the others.
Q: Where is your factory located in?
A: Our factory located in Yuyao City, which is only 1 hours away from Ningbo seaport and 2 hours Shanghai seaport.
Q: Can you provide us some samples for testing?
A: Of course, we are glad to offer free samples just only need you bear the freight .
Q: How is our customer service?
A: all our sales representatives can speak fluent English. all your concerns will be received our careful attention and prompt reply.