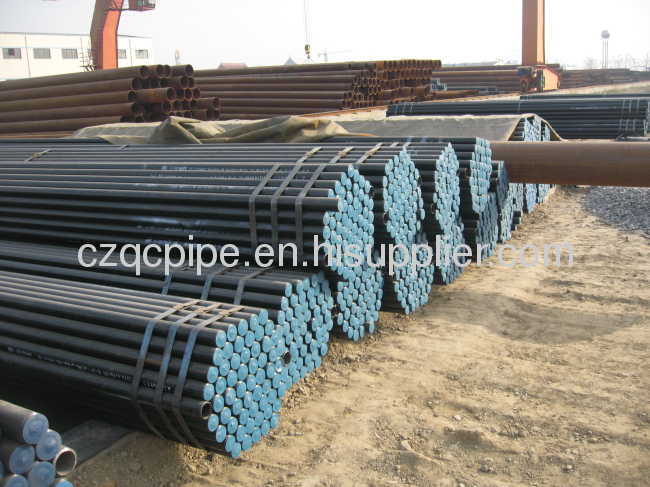 Item

Standard

Grade

Sizes

Kg/m

1

ASTM A106/ASTM A53/API 5L

16"*SCH40

123.00

2

ASTM A106/ASTM A53/API 5L

GR.B

14"*SCH40

84.67

3

ASTM A106/ASTM A53/API 5L

GR.B

12"*SCH40

79.70

4

ASTM A106/ASTM A53/API 5L

GR.B

10"*SCH40

60.30

5

ASTM A106/ASTM A53/API 5L

GR.B

8"*SCH40

42.55

6

ASTM A106/ASTM A53/API 5L

GR.B

6"*SCH40

28.26

7

ASTM A106/ASTM A53/API 5L

GR.B

5"*SCH40

5.50

8

ASTM A106/ASTM A53/API 5L

GR.B

5"*SCH40

21.77

Note

1,unit meter weight is theoretic weight foryour reference, not the reality weight.

2.Material:Gr.B X42 X46 X52 X56 X60 X65 X70

3.Length: 5.8m 6m 11.8m,12M or as clents'actual requirements
pipes are put on iron shelves.painting black,beveled ends
Company appearance:
Some other information about my company for your reference :
QIANCHENG STEELPIPE CO, LTD is a professional manufacturer of seamless steel pipe and pipe fittings .
1,All the products apply to API 5L or ASTM standard.
2,90% the products are exported overseas such as USA,RUSSIA,INDIA,MIDDLE EAST, etc.
3,made in CANGZHOU,HEBEI, CHINA---the famous steel pipe and tube fittings foundation, there are about 2000 manufacturers in this foundation.
4,our products mainly include two series ,one is steel pipe_ seamless steel pipe ,ERW pipe, SSAWpipe, etc .The other one is pipe fittings---elbow, flange , tee, etc