Electrostaticpowder coating equipment with automatic powder coating gun,especiallydesigned to meet the requirements of serial production in powdercoating, where reliability in automated operation, easy to handleoperation and security are the most projecting advantages for the user.
The type and the number of installed control units could make as your requirements.
The equipment included :
1,Auto Powder Spray Gun Lifter and China Reciprocator
Reciprocator for powder coating line
Move to a new level of powder coating efficiency with the Reciprocator.
Summary of Benefits:
Increased Uniformity Advanced digital control.
Smooth, Swift and Precise movement for speedy and uniform coating.
Reduce powder consumption.
Quick Job Change Pre-programmable preset settings for automatic selection of stroke and speed.
User-friendly touch screen control to control speed and stroke length.
Adjustable counterbalance weights allow perfectly balanced gun movement.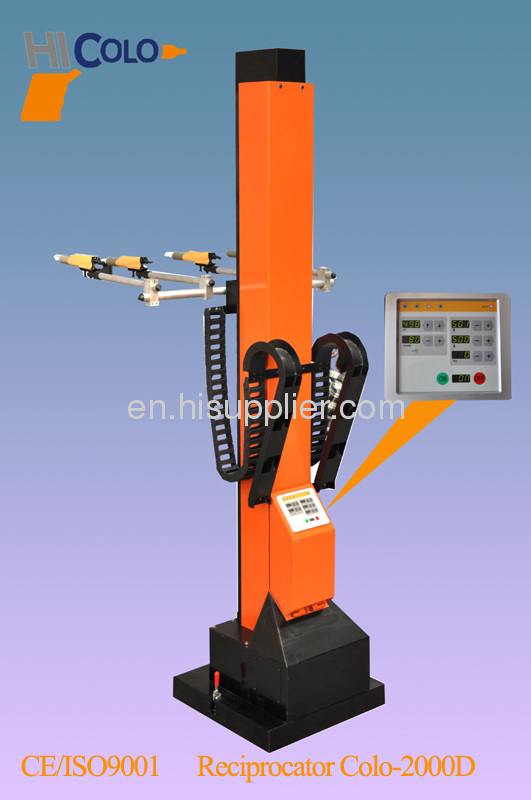 powder coating equipment Function description
the powder gun through the powder hose . The powder is electrostatically
charged at the nozzle of the gun. In addition, an electrostatic field is
created between the gun nozzle and the grounded object. The charged
powder spray remains adhered to the surface of the object.
The powder is fluidized by air forced through a porous plastic plate from
below. The powder acquires, thereby, fluid-like characteristics.
The conveying air, supplementary air, and rinsing air are set on the control
Unit
2,And the Central automatic spraying control cabinetalso could avaiable
for 4 ~ 10 sets electrostatic powder coating spray equipments.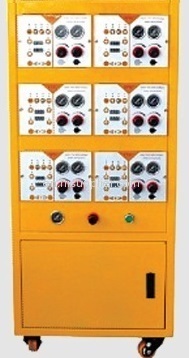 | | |
| --- | --- |
| Electrical data | |
| Mains input voltage | 100-240 VAC |
| Operating frequency | 50-60 Hz |
| Input power | 50W |
| Nominal output voltage (to the gun) | max. 12 V |
| Nominal output current (to the gun) | max. 1 A |
| | IP54 |
| Ambient temperature range | 0°C - +40°C (+32°F - +104°F) |
| Max. operating temperature | 85°C (+185°F) |
| Approvals | CE |
| | |
| Pneumatical data | |
| Compressed air connection | 1/4" male quick release |
| Max. input pressure | 10 bar / 145 psi |
| Min. input pressure (while unit in operation) | 6 bar / 87 psi |
| Max. water vapor content of the compressed | air 1.3 g/m³ |
| Max. oil vapor content of the compressed air | 0.1 mg/m³ |
4,Automatic powder cycling and recovery system could avaiable,you could order .
Powder sieving machine- Used in powder coating area, to go with the Automatic
reciprocator.

To Automatic recycling the powder lost in the process of
electrostatic powder coating on metallic workpieces.
Advantages and characteristics
The system is able to continuously sent the powder being dropped during the
process of spraying to the upper part of the butterfly powder screen and then
the selected powder is sent to the centralized powder supply barrel which is in
charge of continuously supplying powder to automatic guns or manual guns
Easliy cleaning and color alteration , and good airproof property
High powder utilization rate
Technical parameters
Input frequency stainless steel screenDiameter360mm50-100mm
optional
Powder pump24 optional
Vibration model electrical