Telescopic aluminum handle Microfiber Flat Floor Mop for cleaning


Specifications

1.Made of Aluminum, pp and microfiber etc.
2.Microfiber is 3 times absorbency than cotton.
3.Telescopic Alu handle can reduce shipping cost.
4.Replace the refill easily.
5.Color card packaging.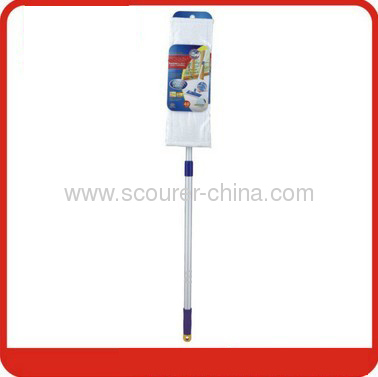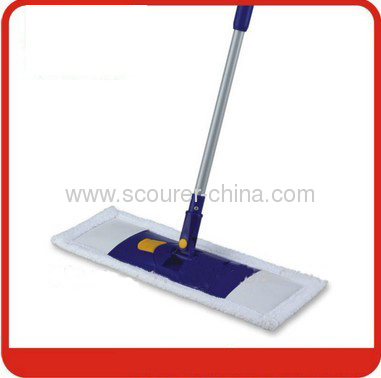 Packaging & Delivery
| | |
| --- | --- |
| Packaging Details: | color card;8592pcs/20ft |
| Delivery Detail: | 30 days when we receive buyer's deposit |
Perfect Clean Flat Mop Systems - Instructions for Use
The 100% safe ultramicrofibers on your new PerfectClean mop are only 3 microns in size and are naturally positively-charged ions, which means they pick up ALL the dirt they encounter including dust, crumbs, pet hair, lint and contaminants invisible to the naked eye. Further, the mop heads can hold up to eight times their weight in water.
What this means is that your new mop revolutionizes the way you clean your home - you'll get a far deeper clean, and it will be much easier to accomplish because your PerfectClean mop eliminates the need for constant bending and wringing and replacement of the water in your bucket that the old mops required. The strain on your body associated with typical mopping will be even more drastically reduced because of PerfectClean's durable but ultra-lightweight design and Easy Grip handle!
Below are recommended instructions for using your PerfectClean mop: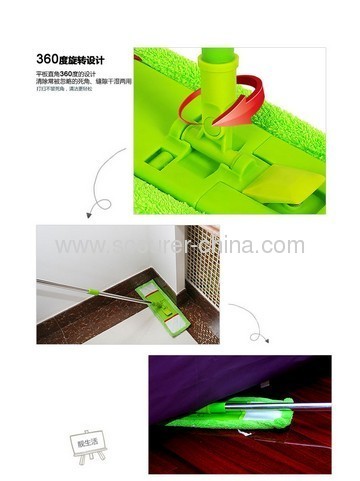 Assembly
NOTE: The complete PerfectClean mop system consists of three parts that are easily connected: the handle, the frame and the mop head. PerfectClean products are interchangeable, so these assembly instructions apply to the telescopic Easy Grip handle or ergonomic Easy Grip handle, and all sizes of the Mop Frames and Flat Mop Heads available (11', 16', etc.)
Attach the Mop Frame to the Easy Grip handle by pressing the two buttons on the mop frame's U-joint together and simply sliding into the handle end. Turn until the two buttons pop through the locking holes on the handle.

Place the Flat Mop Head on floor with the white side up. Note that if you choose the "e;LaRochelle Method"e; of washing your floor noted below, you should dip and wring out the flat mop head before placing on the floor.

Simply place the Mop Frame on top of the Flat Mop Head and, without you having to stoop at all due to the high-quality Velcro, it adheres.

Used Flat Mop Heads can be REMOVED with no stooping and little effort. Just step on either end of the Mop Frame and then step on the edge of the Flat Mop Head at opposite end. Pull mop handle slightly up and away from your foot holding down the Flat Mop Head. Mop peels off and is left on floor. You can pick up the Flat Mop Head manually or, to avoid stooping, just turn the mop handle until the frame is perpendicular to Flat Mop (forms a cross). Place frame lightly on mop, pick it up that way, and peel it right off.
Usage Instructions
Your PerfectClean mop system is a highly versatile home cleaning tool that can be used for dry dusting or any of the three ways below for damp-mopping, depending on both your needs and personal preferences.
Dry Dusting:Attach a clean and dry Flat Mop Head and you are ready to dust your floors, walls, ceilings, etc. Dusting in an "e;S"e; pattern versus straight forward is recommended for most effective cleaning.
Damp Washing:
Damp washing floors with your PerfectClean mop system via any method below results in a far deeper clean than washing with old conventional mops. You can simply dampen with water for a highly effective clean, as the cleaning power that gets down to a microscopic level is in the advanced ultramicrofiber construction. Some people still prefer to add cleaning solutions to the water; any cleaner/sanitizer can be used, but if you choose to do so, you can use far less cleaner than you would with the old type of mops.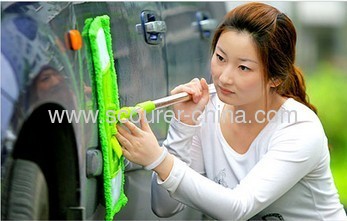 "e;LaRochelle"e; Method(most popular method): Before attaching the Flat Mop Head to the frame, roll the Flat Mop Head up (as if rolling up a towel) and submerge it in a bucket of water (or water with cleaning solution if you prefer.) Remove it and hand-wring it out. Then place it on floor with white side up and attach to mop frame and you are ready to damp mop an entire room -- you don't need to submerge it in the water or wring it out again!

Straight Out of Washer: After washing your Flat Mop Head, you can simply attach it to the mop frame and mop an entire room with it!

Spray Mist: Some people prefer to use a spray misting bottle and periodically apply the water (or water and cleaning solution mix) mist to either the Flat Mop Head or the floor. This also results in a highly effective clean.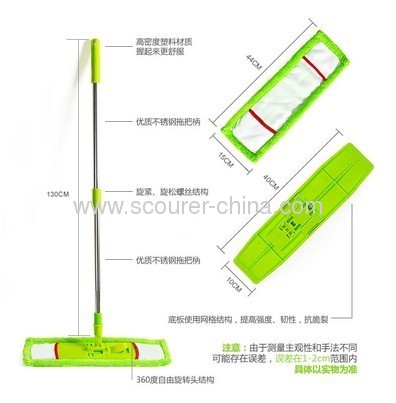 Damp Washing Recommendations
Instead of a back and forth cleaning motion, it is recommended that you damp wash floors in more of an "e;S"e; pattern for maximum clean

It is recommended that you start at the farthest point in the room you are cleaning and work your way to the door / entryway you will be exiting after cleaning that room

To prevent cross-contamination, it is recommended that after damp washing the bathroom floor, you use a cleanly laundered Flat Mop Head for the next room. It is also recommended you do the same after damp washing the kitchen floor. Some people prefer to do this for all the rooms in their home.

For this reason, most people have more than one Flat Mop Head on hand for maximum convenience and simply switch to the fresh one, but you can hand-wash your Flat Mop Head after each of these rooms before moving on to other areas. (Our highest recommendation is to reserve one Flat Mop Head for exclusive bathroom use in particular.)

For Cleaning Spills: PerfectClean's ultramicrofibers hold eight-times their weight in liquid, so nothing beats them for quickly cleaning up spills on your floor! When cleaning spills, use them lightly dampened. After cleaning spills simply remove the Flat Mop Head, wash it, and then replace it on the frame!

Laundering Flat Mop Heads

: Hospitals and other organizations that require impeccable cleanliness launder their PerfectClean flat mop heads a hundred or more times before replacing, so you can too! It is recommended that after cleaning, you simply throw all used Flat Mop Heads into your washing machine.
PRODUCT DESPRITION

We have more than 10-year experiences on cleaning products. We are a typical China supplier and have worked for home products. We also have factories in China in order to meet customers' needs.

Name

Value

Brand
MASTER CLEAN
Production Capacity
20000 Piece/Pieces per Month
Material
Chenille and microfiber
Terms
FOB Ningbo CHINA
Place of Origin
China
Feature
ECO-friendly,Stocked
Payment terms
30% deposit before we make the production, 70% balance paid after we finished the order.
Order delivery
30days after we recieve the deposit
Packing
Color card, 8592pcs/20ft
Shipment means
by sea, by air, by express etc.