PPR Male Adaptor Union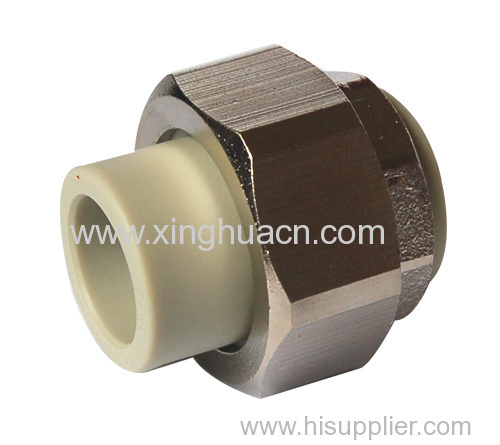 | | |
| --- | --- |
| CODE | SPECIFICATION |
| XH | 20-63MM |
Specifications
PPR fitting female adapter union
1.Material :ppr,brass
2.Size:20, 25, 32, 40, 50, 63
3.Cert.:ISO9001
4.Color:any color as you need
Detailed Product Description

PPR Fitting female adapter union
Material:ppr,brass
High quality PPR Pipe Fitting
ISO9001:2008 certificate
PN25
Standard:DIN8077,etc
OEM and ODM both ok.

Product feature
1. Reduced thermal expansion
2. For other special request, we can customize it for our clients according to customers' demand.
3. Health, non-toxic, can be used for pure water, drinking water pipeline system, the product is a green building materials.
4. Corrosion-resisitant, non-scaling;may be waived and basin was blocked pipes, the tub-shaped macular rust.
5. Pleasing in appearance: both the inner and outer side of our products are very smooth, flowing water with small force, soft color, and beautiful graphics.
6. Convenient and reliable installation: the use of the hot melt connection, no need to set silk, and it will just take a few seconds to complete a joint connections,and metal water pipes and connected to the use of high-quality copper insert, safe and reliable.
7. Long time life: the pipeing system under normal use life of up to 50 years.
Application fields
1. Hot water and cold water pipe for production and domestic use;
2. Pipe used for solar energy water heater;
3. Drinking water within a certain district, pipe used for reclaimed water project;
4. Pipes used for sleeve of wire or cable;
5. Pipes used for irrigation project in agriculture or garden;
6. Tubes used in beverage factory for edible fluid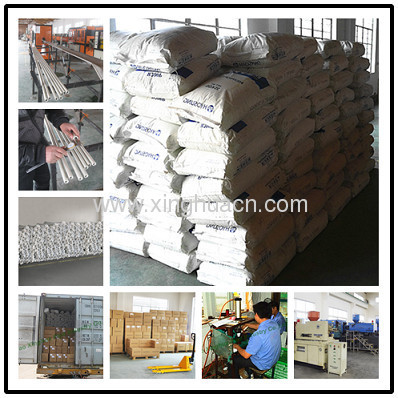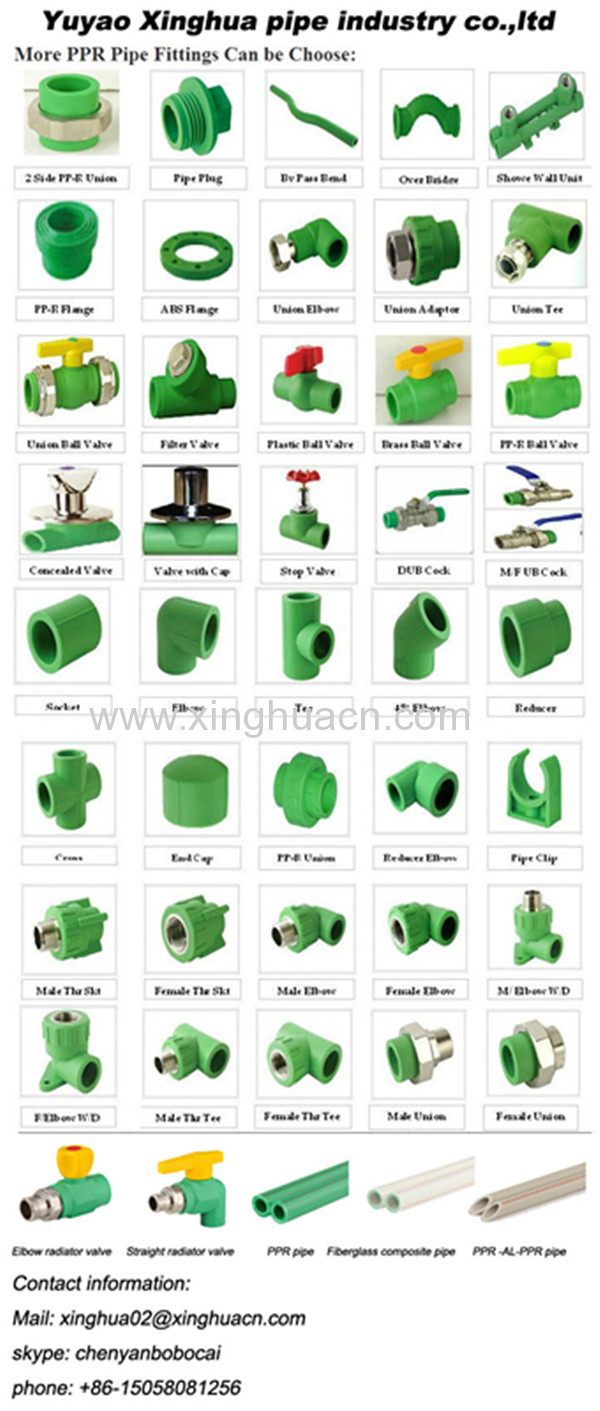 FAQ:
Q:What products you are specialize in producing?
A: We are a manufacturer specializing in producing PP-R, HDPE pipes and fittings and valves since 1998..
Q: what is the standard you are performed?
A: we are a leading supplier for water and heating system certified by EN ISO 9001:2008, and our products performed German standard DIN8077/8078.
Q: Can you produce any colors? How is the ODM and OEM?.
A: We can produce any colors that you need, ODM and OEM both are available for us.
Q: The price of your products is higher than others.
A: We can't promise you the best price, but we can promise you the best quality. We import row material from famous companies such as LG Chemical, Iydellbasell,  Chervrom, Sinopec.
Q: What is the mainly products for pipe fittings?
A: It is contains PPR pipe, fiberglass pipes, ppr-al-ppr plastic pipes ,PPR coupling, elbows, tee, reduced tee, valve , ball valve, radiator valve ,filter valve, cross, plug, socket,  flange ,pipe clamp, adapter union, bypass bend, cap. tools, accessories and the others.
Q: Where is your factory located in?
A:  Our factory located in Yuyao City, which is only 1 hours away from Ningbo seaport and 2 hours Shanghai seaport.
Q: Can you provide us some samples for testing?
A: Of course, we are glad to offer free samples just only need you bear the freight .
Q: How is our customer service?
A: all our sales representatives can speak fluent English. all your concerns will be received our careful attention and prompt reply.