materials: neodymium magnets,NdFeB magnets

plated: Ni, Cu, Black Ni,Ag,Au...

color: Nickle,Silver,Gold, Red,Bule...

quantity:216pcs/set

package: round / square mental box with/ without window

shipment: by sea/air/express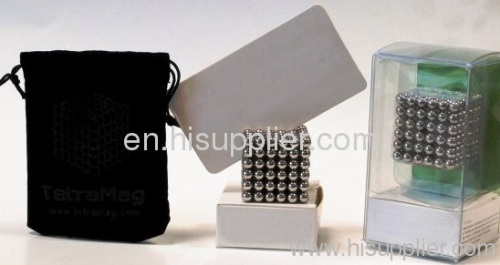 Using the NdFeB Magnet Spheres (Neocube) to create shapes could let both hemispheres of your brain get enough exercise. It will not only exert your creativity and spatial abilities, but also math skills and even your logic. So both hemispheres of your brain will become active at the same time then it will encourages you to be creative and constructive, Therefore it always used as an educational tool,why don't use it to create two-dimensional shapes three-dimensional shapesby this amazing NeoCube ?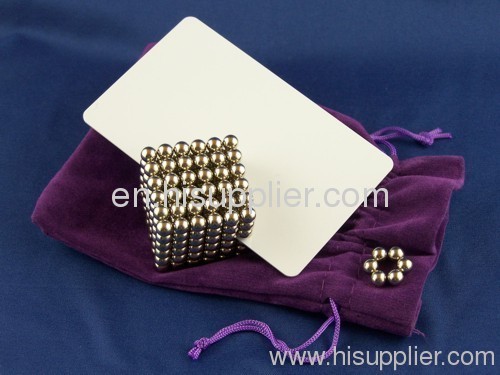 You are welcome to visit our website for more information .
Ningbo Bestway Magnet Co., Ltd. is located in Ningbo, China, and was established in 2000. We manufacture various of magnets. We specialize in: magnet balls (Neocubes), sintered NdFeB magnets, bonded NdFeB magnets, alnico magnets, SmCo magnets, ferrite magnets, rubber magnets, and some magnetic machinery.

For the magnet ball, we are proud of obtain the CE Certificate. We can produce it according to customers' requests.
Size: From D2mm-D50mm
Tolerance: +/-0.02mm, +0.03/-0.01vmmGrade: N35, N38, N40, N42, N45 and so on. Coating: nickel, black nickel, silver, gold, blue, and red.

Our magnets are commonly used in the following applications:
Electric motors: permanent motors, mini (libration) motors, electric bicycle motors.

Electronics: speakers, telecommunications, computer optical drives, OA equipments, Home appliances, meters.

Industry: magnetic separators (for food, mineral, glass and coal), magnetic cranes, salvage machineries, magnetic chucks.

Civil: magnetic jewelries, toys, magnetic buttons.

Medical: magnetic therapy, nuclear magnetism resonance, homeopathic health care.

Every aspect of our operation rests upon one service principle: "Bestway is your best choice for magnets." We sincerely welcome your business, and look forward to good cooperation.