Hydro-electric pressure switches type HED 1 are piston pressure switches.
Type HED 1 pressure switches have the task of switching on or off an electrical circuit dependent on pressure. The live electrical terminals are covered by an isolating strip.
Adjusting of the switching pressure
To adjust the switching pressure, the name plate must first be removed and the locking screw loosened.
The switching pressure is set by rotating the adjustment screw. Finally, the adjustment screw must be secured by the locking screw and the name plate refitted.
Section of
piston pressure switch 1.2 kg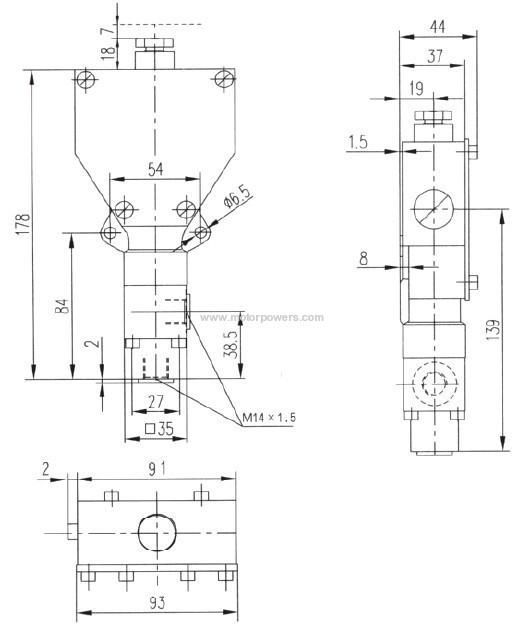 Ordering codes of
piston pressure switch 1.2 kg
: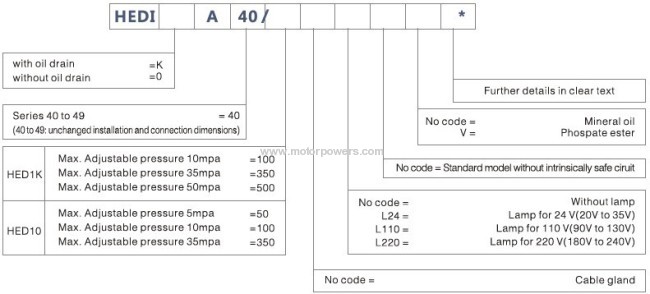 Technical data of
Hydro-electric pressure switches 1.2 kg
:
Fluid

Mineral oil or Phospate ester

Temperature range ℃

-30~+80

Viscosity range mm²/s

10~800

Switch frequency (repeatability)

Set pressure ±2%

Switch frequency

HED1KA4XB/…

Up to 300time/minute

HED10A4XB

to 50time/minute(briefly also…100 time/minute)

Pressure at drain port Mpa

To 0.2


Settable range for HED 1 KA 40B/…
Max. operating pressure

Recovering pressure

Action pressure

Pressure rating

Briefly

Min.

Max.

Min.

Max.

10

60

0.3

9.2

0.6

10

35

60

0.6

32.5

1.0

35

50

60

1.0

46.5

2.0

50


Settable range for HED 10 A 4XB/…
Max. operating pressure

Recovering pressure

Action pressure

Pressure rating

Briefly

Min.

Max.

Min.

Max.

5

8

0.2

4.5

0.35

5

10

35

0.3

8.2

0.8

10

35

35

0.6

29.5

2.0

35

Electrical connection

Cable gland

Contact loading

DC voltage

460V;15A

AC voltage

40V;1.0A/125V;0.4A/250V;0.2A

Insulation to DIN 40050

Weight kg

1.2