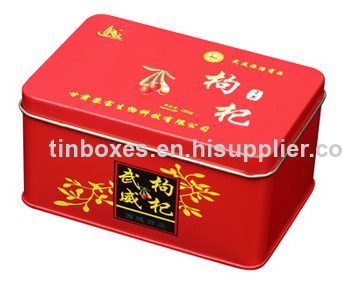 Detailed Discription of the tea can, tea tin box

- Item No.: F03017

- Size: 120 x 80 x 60 mmH

- Metal material: 0.21-0.23 mm tinplate

- CMYK Printing

- Any design or logo available

- OEM welcome

- Factory deirectly

- Protect varnish: Glossy, matt, crackle, wrinkle, pearl etc. can be available

- Packing: Carton packing or palletized carton

- Pass FDA test,safe for food

Your good idea and design, our reasonable prices, quality goods & excellent services will create a win-win situation on both sides.
FAQ:
Q: How do you print on the tins? Is it silk screened or offset printed ?
A: Metal decoration is an offset printing process utilizing CMYK colors. Printing is done on large metal sheet first, then slitting into smaller piece for stamping and formation.
Q: Are printed tins safe for food ?
A: Tinplate is a steel plate electrolytically coated with a fine layer of tin for protective purposes. Tinplate is a high quality safe packaging material for food items such as cookies, candies, chocolate, etc. Food grade lacquer is coated on the inside of the tin to prevent corrosion and interaction of the tin with the food product and thus make it suitable for food storage.
Q: How should I design on a tin?
A: Before designing any graphics on a particular tin, we will furnish a dimensional layout for positioning graphics. According to the tin construction, this positioning information is very important to ensure the proper placement of artworks onto each panel of the tin.