We have large site stock.
timely delivery
complete quality control system
high quality material


Cangzhou Qiancheng Steel-Pipe Co., Ltd., seated in the Industrial Zone, Yanshan County,
Hebei Province, one of the large-scaleenterprises in North China specializing in producing
and marking steel pipe and pipe fittings. It is of convenient transportation as it isonly
200 km away from Xingang, Tianjin, China.
Our company covers an area of 80, 000 m2 with a total assets of 90 million Yuan. There
are 360 staff members including 80technicians in our company. We also establish a effective
complete quality control and assurance system. In 2003, our companyobtained the certificate
of ISO9001 Quality System Authentification, and it started to control the quality in
accordance withAPI 5L and API 5CT in 2004.
Our company is equipped with sophisticated manufacturing and testing equipments, and a
complete testing system hasestablished, which includes advanced testing equipments such as
X-ray detector, ultrasonic wave detector, hydrostatic tester,tension tester, metallurgical
analyzer and physical & chemical lab, etc. Such equipments and technologies guarantee that
theproduction and testing processes are up to relevant standards, so that the products
satisfy the requirements of clients doubtlessly.
We cangzhou Qaiancheng Steel-pipe Co., Ltd specializes in manufacturing many specifications
of API 5L/5CT casing steel pipes.


spiral welded steel pipe
1

Product Description

Spiral welded steel pipe

2

Producing Type

Hot Rolled,Cold Drawn,Hot Expand ,Cold Rolled

3

Materail

API 5L GRB/ API 5L X42/API 5LX52/API 5L X60/API 5LX70

4

Standard

ASTM, JIS,EN, DIN, GB,ISO

5

Specification

WT: 8mm-60mm

OD: 219mm-3000mm

Length:5.8m,6m,11.8m or random

6

Pipe surface

Blackpainted;oil-anti-rust;FBE;3PE OR AS CUSTOMER REQUEST

7

Pipe ends

Plain endsor beveled ends or as customer request

8

Packing

Standardexport packing-

1.plasticcap with both ends 2.Coated with anti-rust oil 3. bundle package 4. woodencase package 5:container or bulk 6. special according to customer request.

9

Application

This pipeare widely used in below fields:

1).Petroleum,Chemical enterprise, superheater of boiler, heat exchanger

2).High temperature resistant transmission fluid pipe in power station

3).Ship with pressure pipe

4).The exhaust purification devices

5). Construction and ornament
Other Features
FIRST:
we have professional and strictly producing control system as below:
1>Before Formed pipe : Assurance of compliance
Review of Sub-vendor ; quality plan ;
Review of samples certification (MTC)
Chemical analysis
Tension &Mechanical tests
2>Formed pipe : NDT operator qualification
Eddy current testing
Ultrasonic tesing
3>Finished pipe : MT testing for Edge of Pipe(If Exist)
Visual examination
Thickness measurment (Continous Ultrasonic)
Inside/Out Side/Lenght dimension control.
Straightness
Visual & Dimention check of edge
Weight control
Marking
Material & NDT retest (if required)
4>Ready for delivery : Protection coating
Certificate of compliance
Packing check
Shiping mark and number check

SECOND:
1.Mill Test Certificate is supplied with shipment, Third Part Inspection is acceptable
2.Our product are export Southeast Asia, Mid East, Africa, Eastern Asia, Western Europe and So on.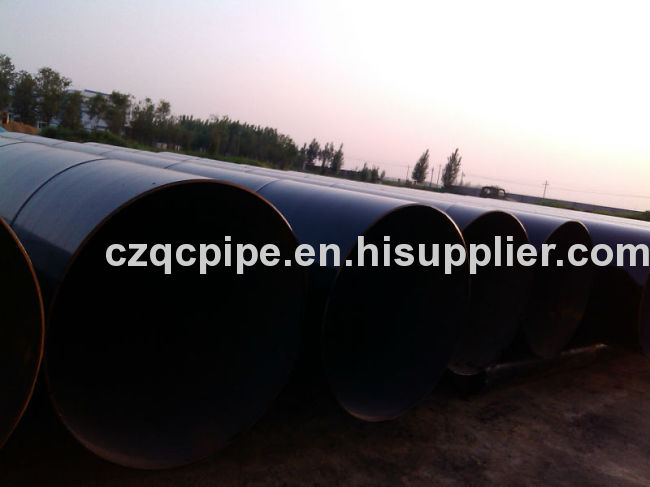 big diameter spiral welding pipes