Ferrites are a class of chemical compounds with the formula AB2O4, where A and B represent various metal cations, usually including iron. They are generally composed of iron and barium or strontium oxides. Ferrite magnets are very hard, but brittle ceramic products. They are characterized by a vey high normal and intrinsic coercive force, but a rather low residual induction and are virtually free from the effects of a self-demagnetization. They posses a very high electrical resistivity that makes them ideally suited for high frequency applications as the eddy current losses are almost negligible.

Corrosion resistance property of ferrite is very good and as such ni surface treatments are required.


Machining
Ferrite magnets are prone to chipping ad cracking due to their brittleness. Special machining techniques such as grinding with diamond tools are required for matching the dimension specifications.
Properties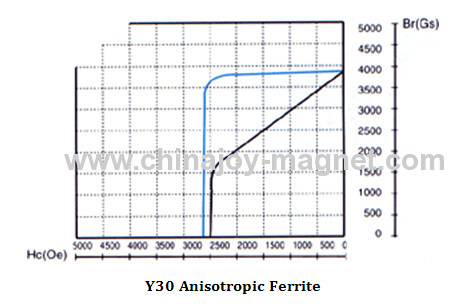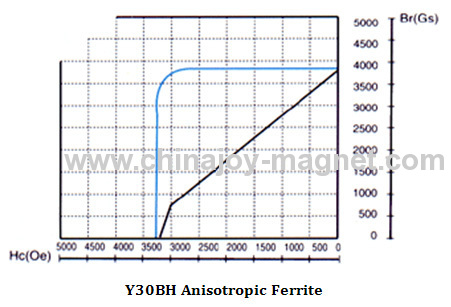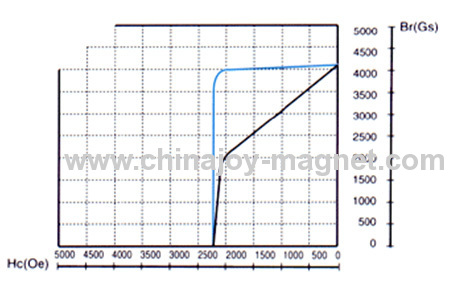 Y35 Anisotropic Ferrtie
Material

Iso / Anisotropic

Remanence

Coercivity

Intrinsic Coercivity

Max. Energy Product

Br(Gs)










bHc (KA/m)

bHc Oe

iHc (KA/m)

iHc Oe

BH max (KJ/m3)

BH max (MGOe)

Y10 T

Isotropic

>2000

128 - 160

16000 - 20000

128 - 160

1600 - 2000

6.4 - 9.6

0.8 - 1.2

Y20

Anisotropic

3200 - 3800

128 - 192

16000 - 24000

140 - 180

1750 - 2250

18.36 - 21.5

2.3 - 2.7

Y25

Anisotropic

3600 - 3900

135 - 170

17000 - 2140

140 - 200

1700 - 2510

22.5 - 28.0

2.8 - 3.2

Y30

Anisotropic

3800 - 4000

175 - 210

2200 - 2640

180 - 220

2200 - 2770

26.0 - 30.0

3.3 - 3.8

Y30 BH

Anisotropic

3800 - 4000

230 - 275

2890 - 3460

235 - 290

2950 - 3650

27.0 - 32.5

3.4 - 4.1

Y35

Anisotropic

4000 - 4200

160 - 190

2010 - 2380

165 - 195

2070 - 2450

30.0 - 33.5

13.8 - 4.2