CEcertificate Split pressurized evacuated tube with heat pipe Solar collector (made in China )

Workingprinciple:


1.The heat pipe series solar collector are always connected with existing heating supply device.
2. The selective coating on the inner Cover of the evacuated tubes converts solar energy into heat energy
and transfers heat to the heat pipes by aluminium fins.
3. Theliquid in the heat pipe changes into vapour which rises to thecondenser.
4. The heat then passes through the heat exchanger and the vapour becomes liquid, returning to

the base of the heat pipe.
5. The heat conducts to the heat transfer liquid (anti-freezing liquid or water) via acopper pipe.
6. This transference of heat into the liquid creates a continuous circulation as long as the collector is heated
by the sun.
Features:


1)Reliable and efficient twin-glass solar tubes;
2) Easy plug-in installation;
3) Free maintenance;
4) Suitable for mains pressure water (up to 1.0 bar);
5) Corrosion resistant silver brazed copper header;
6) Aluminum frame;
7) Powder coated (black, brown or silver) aluminum casing;
8) Stable solar conversion during the day;

9) The perfect solar collector for domestic solar water heater systems
10) Ideal for commercial solar water heating applications.

Primarycompetitive advantage


1) Have passed CE, ISO, CCC, SRCC, solar keymark testing

2)Superior inquality, reasonable in price and elegant in style

3)Prompt delivery

4)Environmental protection

5) Small order and OEM order accepted;

6)Easy installation and be installed on the roof or at ground level.
7) 5 Years for the full system /15 Years for the vacuum tube
Specifications:( We can customize according to your requirement )
1. Manifold(interior) : 0.8mm thickness Red copper

2. Manifold(exterior) : 2.0 mm thickness Aluminum alloy

3. Glass tubedimensions : 58mm x 1.800mm
4. Tube quanlity : 15/18/20/24/30tube

5. Insulation layer: 50mm thickness rock wool
6. Heat preservation : 72-96hrs

7. Hail resistance :25mm

8. Max pressure : 6bar

9. Coating of vacuumtube : ss-c/cu
10. Frame :2.0mm thickness Aluminum Alloy
11.Mounting Angle: 15-50C
12.Test Pressure: 10 bar
SolarCollector Material Specification
Flowtype

Heatpipe

Heat pipe material

0.6mm thcikness TU1 copper

Heat pipe size

Top:Ø14* 1mm; Body: Ø8* 0.6mm

Tube diameter

φ58/1800mm

Solar vaccum glass tube

Highboron-silicon

Coating of absorber on glass tube

Al-N-Al,Copper,Stainlesssteel

fins around heat pipe

single long Aluminum(1.68m)

Manifold pipe material

TP2 copper (Ø35x0.8mm)

Manifold casing material

Aluminum alloy (2.0mm)

Insulation material in manifold casing

Glass fiber

Thickness of insulation(mm)

45

Density of insulation (kg/m3)

90

Frame material

Aluminumalloy frame(2.0mm)

Sealing Materials

EPDM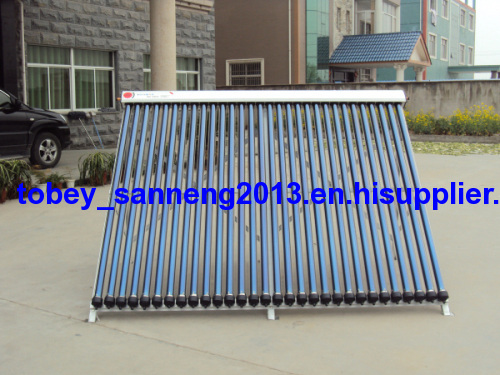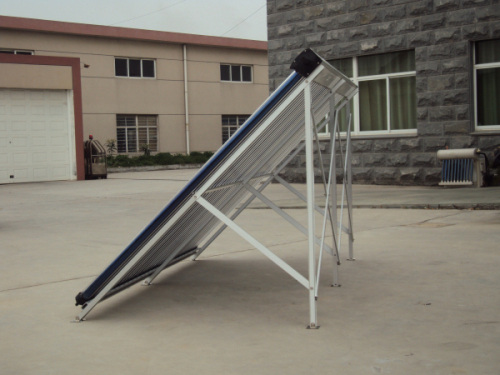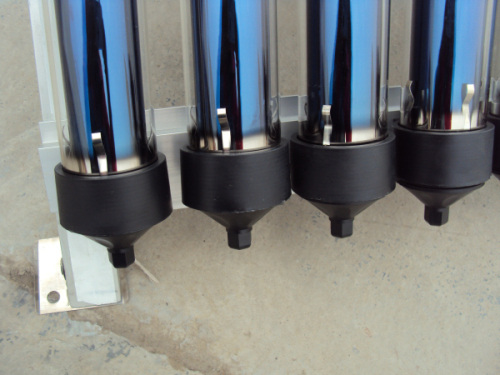 Remarks:


1.MOQ:1set

2. FOBPrice:from USD 186 to USD 988

3. Loadingport:Shanghai/Ningbo

4. Paymentterms:T/T or L/C

5.Supplyability:70000 sets per year

6.Delivery time:Within 7 days after recieve your deposit.

7.Shippingpacking: 1)Standard export cartons for container with foaming.

2)Standardexport wooden case for sample