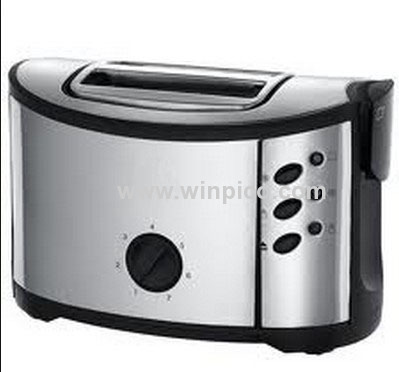 IMPORTANT SAFEGUARDS

When using electrical appliances, basic safety precautions should always be followed. These include the following:

·READ ALL INSTRUCTIONS

·Do not place any part of this toaster in water or any other liquid.

·To protect against electrical shock do not immerse cord, plugs, or (sate specific part or parts in question) in water or other liquid.

·Prior to first use, the toaster should be used for a few minutes without bread in it. There will be some smoke at first: this is entirely normal.

·Do not touch the hot surface. Use handles or knobs.

·Unplug from outlet when not in use and before cleaning. Allow to cool before putting on or taking off parts.

·If the cord is damaged, it must be replaced by the manufacturer or by an authorized technical service.

·Do not use outdoors.

·Keep the toaster out of reach of children.

·Use only pre-sliced bread.

·Do not insert oversized foods, metal foil packages, or metal utensils into the toaster. This may result in electric shock.

Do not use the toaster neat curtains, upholstery or other decorative fabrics, as they can easily catch fire and cause a safety hazard.

·Do not remove food from the toaster while the plunger is down.

·Do not remove the crumb tray while the toaster is plunged in . Disconnect from power supply, wait for tit to cool, then remove the crumb tray.

·Bread may burn. Therefore toasters must not be used near or below curtains and other combustible materials. They must be watched.

·The temperature of accessible surfaces may be high when the appliance is operating:

a) A short power-supply cord (or detachable power-supply cord) is to be provided to reduce the risk resulting from becoming entangled in or in tripping over a linger cord.

b) Longer detachable power-supply cords or extension cords are available and may be used if care is exercised in their use.

c) If a longer detachable power-supply cord or extension cord is used:

1) The marked electrical rating of the appliance:

2)The cord should be arranged so that it will not drape over the countertop or tabletop where it can be pulled on by children or tripped over unintentionally.

·This appliance has a suitable plug. To reduce the risk of electric shock, this plug is intended to fit into a suitable outlet only. If the plug does not fit fully onto the outlet, reverse the plug. If it still does not fit, contact a qualified electrician. Do not attempt to modify the plug in any way.

Do not operate any appliance with a damaged cord or plug or after the appliance malfunctions or has been damaged on any manner. Return appliance to the neatest authorized service facility for examination, repair, or adjustment.

·The use of accessory attachments not recommended by the appliance manufacturer may cause injuries.

·Do not let cord hang over edge of table or counter , or touch hot surfaces.

·Do not place on or near a hot gas or electric burner , or in a heated oven.

·Do not use appliance for other than intended use.

·Avoid contacting moving parts.

PLEASE KEEP THESE INSTRUCTIONS

Note this appliance is intended for household use only.

SAVE THESE INSTRUCTIONS



Packing Detail:

6pcs/ctn
Ctn meas(LxWxH): 310x4195x200mm
G.W.:10.8kgs
N.W.:9.5kgs
20"FCL: 2118pcs
40"GP: 4386pcs
40"HQ: 4884pcs
IF YOU ARE INTERESTED IN OUR PRODUCTS ,PLEASE DO NOT HESITATE TO CONTACT US !