Product description:
1. HS-R1610 auto-feeding laser cutting machine is very suitable for garment and leather industries. The auto-feeding system/rotating work table enable the machine cut soft material on rolls automatically, so it can reduce much time and manual work.
2. Applicable industries and materials: it mainly used for garment, shoes, bags and leather industries, can cut fabric, leather and other non-metal materials and so on.
3. The machine's big advantage is that can reduce time, manual work and materials.
4. Auto-feeding laser cutting machine HS-R1610 features:
(1) Adopting special-made aluminum strip work table,3-axle chain driving, to ensure no feeding aside.
(2) Equipped with imported drift corrector, feeding precision is up to ±1mm.
(3) Adopting motorized double laser heads, saving more materials when processing.
(4) Automatically joining materials during cutting, to ensure infinite cutting in length.
5.Technical parameters of auto-feeding laser cutting machine HS-R1610:
Technicalparameters

1

ProcessingArea

1600mm*1000mm

2

Max.Cutting Speed

36m/min

3

X/YPositioning Accuracy

0.05mm/m

4

X/YRepeated Positioning Accuracy

±0.1mm

5

PowerSupply

220V±10%50Hz

6

LaserPower

80-150W

7

Powerconsumption

less than and equal 2KVA

8

TransmittingSystem

Subdivisionstep motor and belt

9

GraphicFile Formats Supported

CDRBMP PLT GPEG DXF DST

10

Applied Materials

Fabric,leather and other non-metal materials
Sample: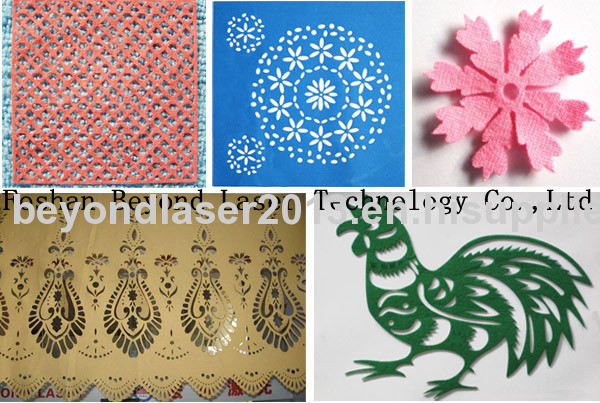 Packing:

About HSG laser:
HSG laser is the best laser cutting bed manufacture in China and HSG laser also is the number hot-sale laser cutting bed producer in China.
HSG laser advantages:

1. HSG laser is the only one manufacturer carrying out 100% testing in the whole Chinese laser industry.
2. HSG laser is the only one Chinese supplier provides 3 years guarantee for the machine in China.
Company certificates:
CE certificate.
ISO certificate.
FDA certificate.
Contact information:
Tel: +86-757-89919799
Fax: +86-757-89919700