commodity:Diesel Engine auto starter housing parts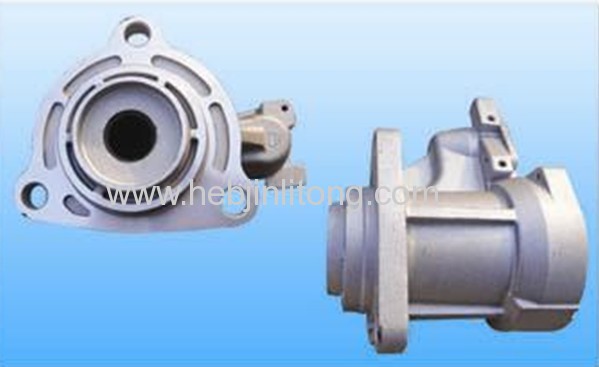 Diesel Engine auto starter housing parts
Product Description
Details:
1. Process: Die casting
2. Material: Aluminum alloy, Japan ADC12
3. Surface treatment: Sand blasting, painting or polishing
4. Color: Silver
5. Components:
Element: Cu/ Si/ Mg/ Zn/ Fe/ Mn/ Ni/ Sn/ Al
Pencentage(%): 1.5-3.5/ 9.6-12.0/ ≤ 0.3/ ≤ 1.0/ ≤ 0.9/ ≤ 0.5/ ≤ 0.5/ ≤ 0.3/ 81-85.4
6. Process:
Die casting - Sand blasting - Clean burrs - Machining - Cleaning - Testing - Packing

Customized products and OEM are available.
Hebei Jinlitong Auto Parts Co., Ltd. is a professional manufacturer and exporter of auto stater, and auto stater housing,auto alternator housing. Integrating design, development, manufacture, sales and foreign trade into an organic whole. More than 20 years experience on starter motor housing, alternator housing manufacturing and sales, high degree of specialization and knowledge can be offered.
The company takes the lead in implementing 5S standard management. to ensure product's quality, the company positively carries out ISO9000 quality standard, and the the perfect quality assurance system has been established from the material entrance,production processes to accessories delivery.
Now Jinlitong Auto Parts achieved demand throughout the country, also gained a global sales network reaching Europe,Middle East, Asia,USA, Russia, Australia etc. other countries and regions.