PPR plumbing material PPR Reduced Tee from China

Overview:
Xinghua brand polypropylene (pp-r water pipe), using imported raw materials and equipment, produce strictly according to GB/T18742.2-2002 standard, through 8760 hours at night thermal stability and 50 times pressure double uthority cold pressure cycles.We got ISO9001 / ISO14001 and OHSAS18001 certifications successively which is lead in the trade.Also got 10 million yuan from ping an insurance company accept insurance, truly useful for life.
Features:

Health, non-toxic: this product belongs to green building materials, and can be used for water, drinking water piping system,

Corrosion resistance, not by scaling: can avoid pipeline corrosion caused by the rust, bath tub, macular scaling from pipeline corrosion caused jams,

Resistance to high temperature, high pressure: in the long-term continuous working under pressure, water transport comes to 95℃;

Insulation energy-saving: thermal conductivity is only one percent of metal pipe, water pipe insulation energy-saving for better effect,

Light quality: the proportion of weight is only one of seven points of metal pipe,

Appearance:smooth wall, small fluid resistance, downy colour and lustre, beautiful modelling,

Convenient installation and reliable:melt connection, finish soon, safe and reliable,

Long service life:life can reach more than 50 years under normal use
PP-R Pipe Price Sheet of Xinghua pipe industry factory
Product
Sizes(mm)
Length(m/branch)
Package(m/bundle)
S5PN1.25Mpa cold water color line is blue, words are black
25×2.3
4
100m
32×2.9
4
40m
40×3.7
4
40m
50×4.6
4
20m
63×5.8
4
20m
75×6.8
4
8m
90×8.2
4
8m
110×10.0
4
8m
160×14.6
6
6m
S4 PN1.6MPacold watercolor line is blue, words are black
20×2.3
4
100m
25×2.8
4
100m
32×3.6
4
40m
40×4.5
4
40m
50×5.6
4
20m
63×7.1
4
20m
75×8.4
4
8m
90×10.1
4
8m
110×12.3
4
8m
S3.2 PN2.0MPahot watercolor line is red, words are black
20×2.8
4
100m
25×3.5
4
100m
32×4.4
4
40m
40×5.5
4
40m
50×6.9
4
20m
63×8.6
4
20m
75×10.3
4
8m
90×12.3
4
8m
110×15.1
4
8m
S2.5 PN2.5MPahot watercolor line is red, words are black
20×3.4
4
100m
25×4.2
4
100m
32×5.4
4
40m
40×6.7
4
40m
50×8.3
4
20m
63×10.5
4
20m
75×12.5
4
8m
90×15.0
4
8m
110×18.3
4
8m
PS:PN1.25 Mpa, Dia20mm for cold water pipe is not often used. Pipe length can be customized
according to your needs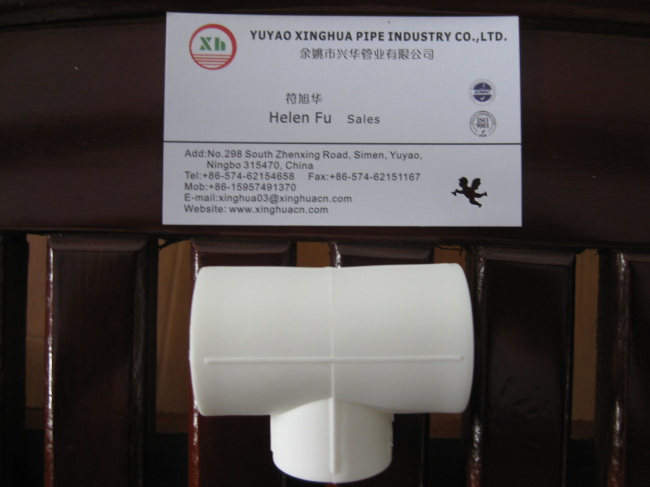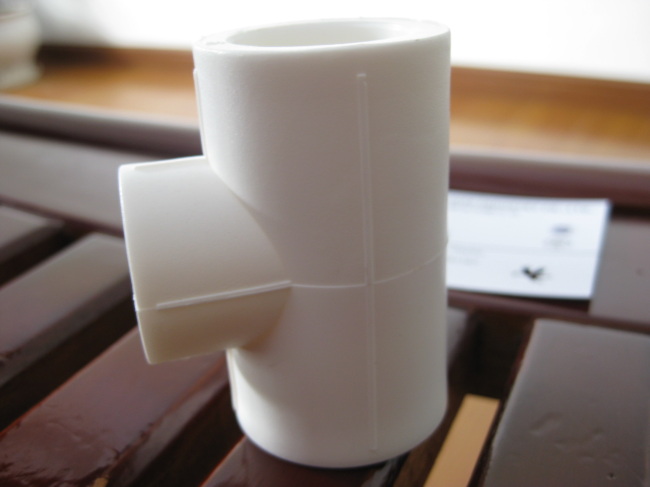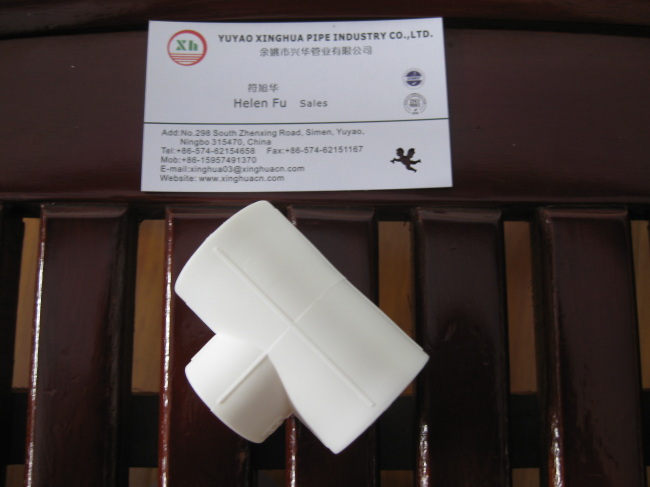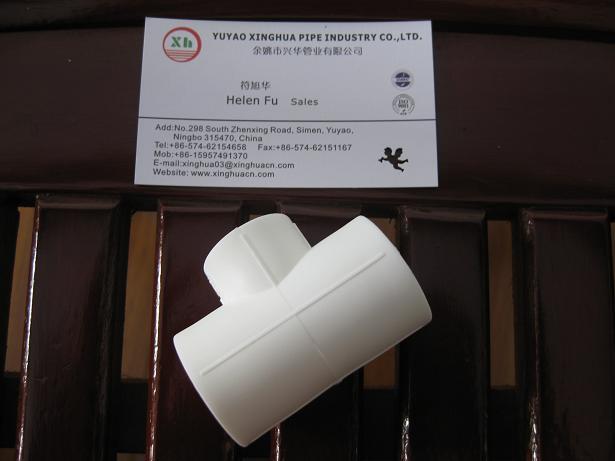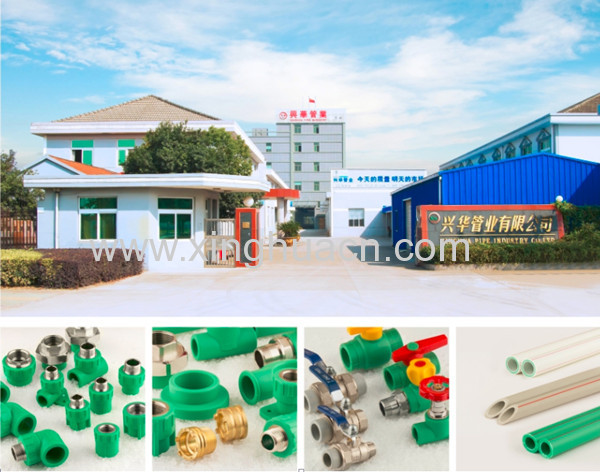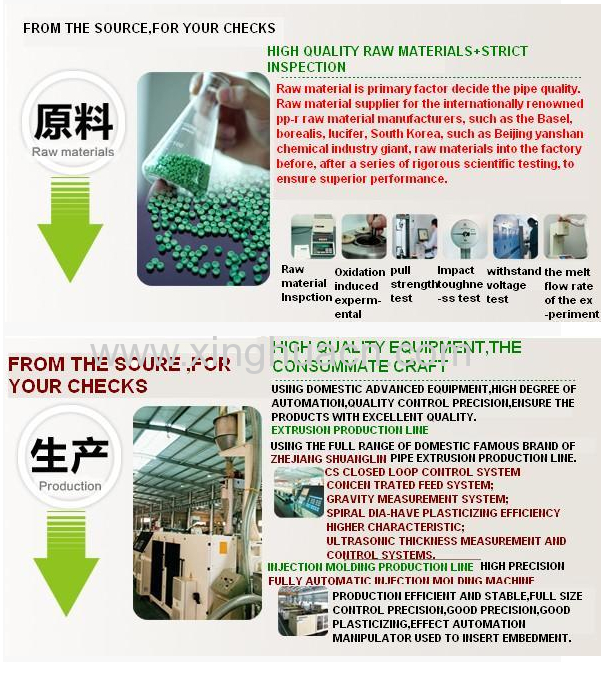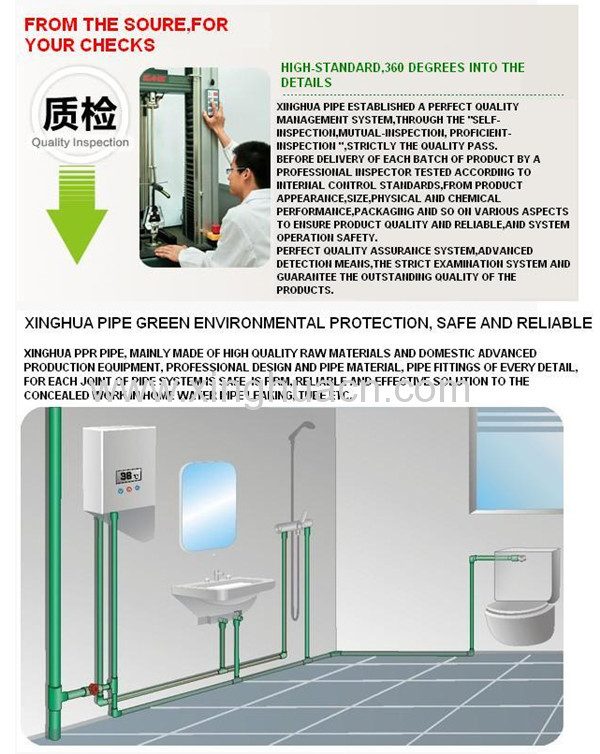 FAQ:
Q:What products you are specialize in producing?
A: We are a manufacturer specializing in producing PP-R, HDPE pipes and fittings and valves since 1998..
Q: what is the standard you are performed?
A: we are a leading supplier for water and heating system certified by EN ISO 9001:2008, and our products performed German standard DIN8077/8078.
Q: Can you produce any colors? How is the ODM and OEM?.
A: We can produce any colors that you need, ODM and OEM both are available for us.
Q: The price of your products is higher than others.
A: We can't promise you the best price, but we can promise you the best quality. We import row material from famous companies such as LG Chemical, Iydellbasell, Chervrom, Sinopec.
Q: What is the mainly products for pipe fittings?
A: It is contains PPR pipe, fiberglass pipes, ppr-al-ppr plastic pipes ,PPR coupling, elbows, tee, reduced tee, valve , ball valve, radiator valve ,filter valve, cross, plug, socket, flange ,pipe clamp, adapter union, bypass bend, cap. tools, accessories and the others.
Q: Where is your factory located in?
A: Our factory located in Yuyao City, which is only 1 hours away from Ningbo seaport and 2 hours Shanghai seaport.
Q: Can you provide us some samples for testing?
A: Of course, we are glad to offer free samples just only need you bear the freight .
Q: How is our customer service?
A: all our sales representatives can speak fluent English. all your concerns will be received our careful attention and prompt reply.