product name: high quality piston accumulator station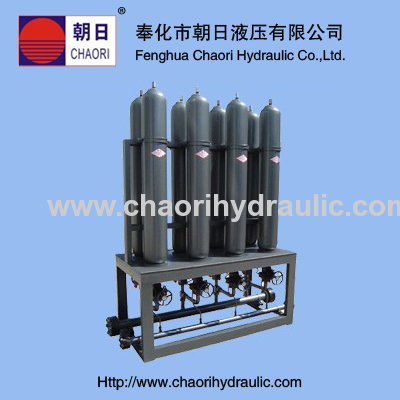 1. general description.

Our company can provide a complete set of piston accumulator, piston accumulator station including fixed bracket, piston accumulator, the control valve, ball valve, safety valve, gas, and the nitrogen bottle group, etc.

2. model code.


HZ - # - # / # - #
1 2 3 4 5


1. product name: bladder accumulator station
2. Quantity of the bladder accumulator: number
3. volume of per accumulator:L
4. working pressure: Mpa
5. medium: Y-hydraulic oil
R-emulsion

3. structure and dimension.




4. inspection and repair.

When accumulator is not used for a long period,the check-valve shall be closed to ensure that the oil pressure is abouve that charging pressure. If the accumulator does not take effect,check whether there is leakage,If there is no nitrogen in the bladder and oil is out of gas-valve,please check the bladder.

Drain the oil before demount accumulator.First let out the nitrogen with the charging device,then the parts can be demount.If thereis leakage because of loosenng of nuts in the process of transportation and testing,please check that seal ring is in the slt.Place the seal ring in the right place and resolve the nut.

5. product packing.