Feature of for direct in-line mounting throttle check valve:
-Suitable for direct in-line mounting
-Pressure and viscosity dependent

Functional description of Type MK (throttle check valve):
With flow passing through the valve in throttling direction, the spring and the fluid presses the poppet onto its seat, thus blocking the flow. Fluid flow via the side drillings to the throttling point, which is formed between the housing(2) and the adjustable sleeve(1). In the opposite direction, fluid pressure acts on the face of the poppet, thus lifting it from its seat and allowing fluid to flow freely, unthrottled, through the valve. At the same time, part of the fluid flowing through the annular clearance produces the desired self-cleaning effect.
Symbol of
for direct in-line mounting throttle check valve: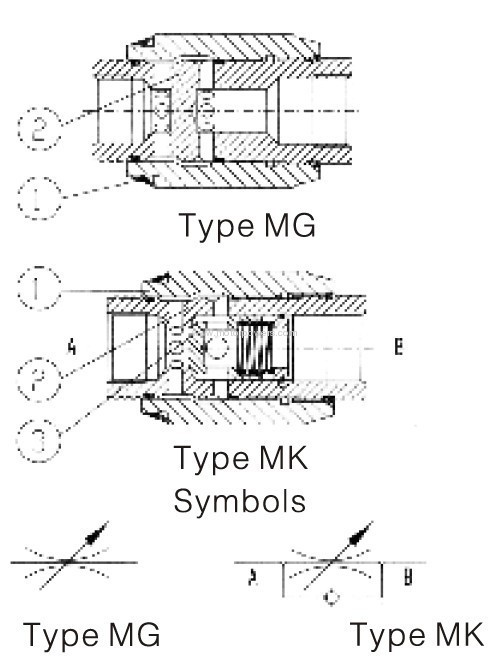 Ordering codes of
2013 hydraulic throttle check valve factory supply:

Technical data
2013 hydraulic throttle check valve factory supply:

Size

6

8

10

15

20

25

30

Flow (L/min)

15

30

50

140

200

300

400

Pressure Mpa

To 31.5

Pressure Fluid

Mineral oil or Phospate ester

Viscosity range mm²/s

10~800

Temperature range ℃

-30~+80

Cracking pressure Mpa

0.05(type MK)
Unit dimensions (dimensions in mm)