DST tools 7" Shock Absorber

Drill stem Testing tools
Standard: American Petroleum Institute(API)
product model:Shock Absorber
Type:Halliburton
Class:Radial
Working pressure:10000psi ~ 15000psi
Working condition:HPHT
Standard: API
Service:H2S, CO2
usage: drill stem testing tools
Briefly Introduce
Halliburton offers two types of shock absorbers:
• Vertical
• Radial
Shock absorbers protect pressure-measuring equipment or other sensitive components in the workstring for shock loads transmitted through the workstring by firing of TCP guns.
Operation
The vertical shock absorber is designed to protect pressuremeasuring components from vertical shock loads and is normally run below the packer. It is always run between the gauge carrier and perforating guns. It is recommended that the vertical shock absorber be run in conjunction with a drag block assembly for effective shock absorption.

A 3 3/8 in. OD vertical shock absorber is available with a blank ID. When run in the workstring, this absorber is located below the TCP guns and above the gauges.
In radial shock absorbers, spring-loaded drag blocks absorb radial shock waves transmitted through the workstring. The drag block assembly is located below the packer and between the gauges and TCP guns.

Specifications:

1. Halliburton type, all could change with Halliburton parts.
2. All equipments are produced according to API standard NACE MRO175-2002

Below are specfor you reference: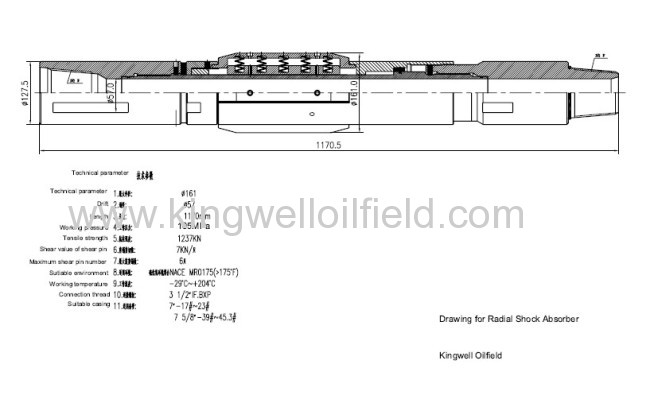 Meets NACE-0175 requirements [175°F (79°C)]

*Service temperature up to 450°F (dressed with 600 series o-rings and PEEK™ backup seals)
The tensile strength value is calculated with new tool conditions. Stress area calculations are used to
calculate tensile strength.
**Pressure rating is defined as the differential pressure at the tool. (Differential pressure is the difference
in pressure between the casing annulus and the tool ID.)
***The values of tensile, burst, and collapse are calculated using new tool conditions at ambient
conditions, Lame's formula for burst and collapse, and stress area calculations for tensile.
These ratings are guidelines only. For more information, consult your local Halliburton representative.
PEEK is a trademark of ICI Americas, Inc. Poly-Ether-Ether-Ketone.


KINGWELL INTRODUCTION
Xi'an KINGWELL OILFIELD MACHINERY Co., Ltd. (KINGWELL), is a highly reputable supplier for oilfield equipment and services to Oil & Gas industries and provide complete solutions.
With over 10 years developing, we were developed from the beginning drilling service to manufacture factory who produce OCTG, DST tools and Solid control products.
Accordingly most innovative and reliable toolsKingwell set up a long-term science and technology cooperation, with xi'an petroleum University, daqing/ changqing oil&gas institute and jianghan machinery Research institute.
KINGWELL have experienced team, stronger enough to meet any challenge, we do believe honest is the base of business and cooperation, our aim is to build solid relationship with any part of honest. kingwell can provide highly efficient services to its clients resulting in accurate and timely deliveries at the best prices. Our products have been exported to Europe, American and Middle East.

The followings are some pictures about our Workshops & Equipments





Product delivery
- Payment : TT/LC
- Delivery : 30 days
- Origin : China
- Minimum Order : 1 set
- Packaging :wood case or steel carton
-Delivery Date:within 1-2 month(s) after receiving prepayment

We have some other related products as follows: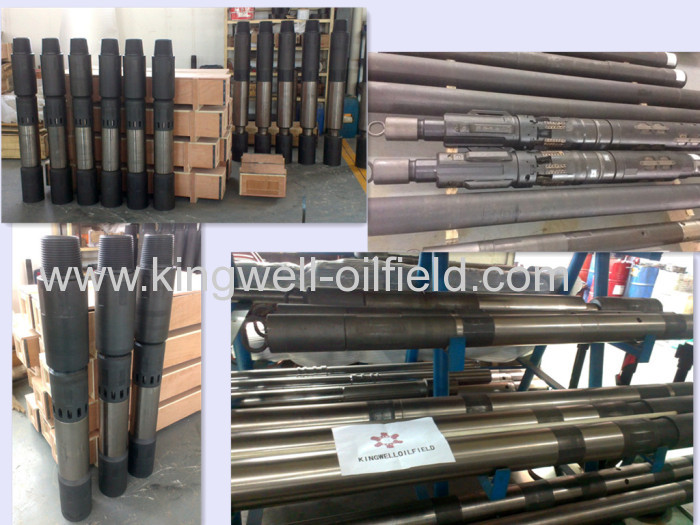 Any enquiry of above products or relative parts, PLS feel free contact back, and we will offer you a good price and show you our best service.