Characteristics:]
This machine applies PLC controller and touch screen control system to finish the autocycle process of opening-closing mould, feeding, heating, heat preservation, cooling, demoulding and releasing.
This machine is welded by high quality square profile steel and steel plate, which is subjected to heat treatment,to ensure the machinehas no deformation,and has high durability after being assembled.
This machine applies unique and advanced EPS heat penetration process,which make high quality plates whose six faces and interior are the same perfect.It also reaches remarkable energy saving effect.
Advanced EPS heat penetration technique,reasonable pipeline system and unique design construction, which improve productivity,and make this machine leading in domestic EPS industry.
Most of the main components are of world-famous brand,with reliable performance,stable quality,long service life and low maintenance cost.
This machine applies hydraulic pressure transmission, hydraulic ingot stripping,it makes steady running and tight locking.
High production efficiency.The production cycle of each plate is 4-8min.Automatic pneumatic charging shorten the production time.
This machine applies high-efficient vacuum system and cooling device to improve moulding speed and reduce the moisture content. Vacuum supported machine is high efficient for making high-density thick plate.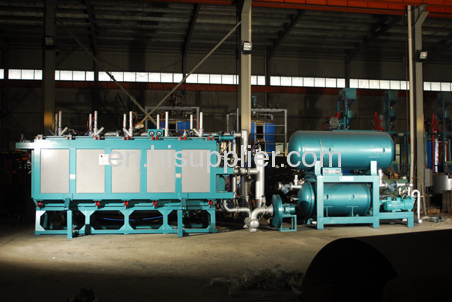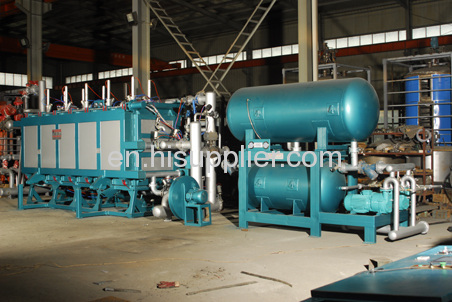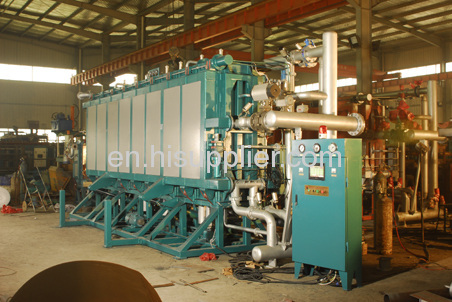 Technical data



Item
Unit
SPB2000V
SPB3000V
SPB4000V
SPB6000V
SPB8000V
Machine Cavity Size
mm
2040*1240
*1030
3060*1240
*1030
4080*1240
*1030
6080*1240
*1030
8150*1240
*1030
Block SIZE
mm
2000*1200
*1000
3000*1200
*1000
4000*1200
*1000
6000*1200
*1000
8000*1200
*1000
Steam
Entry
mm
DN80
DN80
DN100
DN150
DN150
Consumption
kg/cycle
25-45
45-65
60-85
95-120
115-160
Pressure
Mpa
0.6-0.8
0.6-0.8
0.6-0.8
0.6-0.8
0.6-0.8
Compressed Air
Entry
mm
DN40
DN40
DN50
DN50
DN80
Consumption
m3/cycle
1.5-2
1.5-2.5
1.8-2.5
2`3
2.5-3
Pressure
Mpa
0.6-0.8
0.6-0.8
0.6-0.8
0.6-0.8
0.6-0.8
Vacuum Cooling Water
Entry
mm
DN40
DN40
DN40
DN40
DN40
Consumption
m3/cycle
0.4
0.6
0.8
1
1.2
Pressure
Mpa
0.2-0.4
0.2-0.4
0.2-0.4
0.2-0.4
0.2-0.4
Drainage
Vacuum Drain
mm
DN108
DN125
DN125
DN159
DN159
Down Steam Vent
mm
DN100
DN100
DN150
DN150
DN150
Air Cooling Vent
mm
DN100
DN100
DN150
DN150
DN150
Capacity @15kg/m3
min/cycle
4
6
7
8
8
Connected Load/Power
kw
19.75
23.75
24.5
32.25
40.25
Overall Dimension(L*W*H)
mm
5700*4000
*2800
7200*4500
*3000
11000*4500
*3000
12600*4000
*3100
15700*4600
*3500
Weight
kg
6000
7500
11000
15000
18000
certification
.




Hangzhou Fuyang Dongshan Plastic Machinery Co.,Ltd. is a professional EPS machinery manufacturer integrating R&D, production, sales and service. The company has been rapidly developing into one of the biggest and most competitive corporation in EPS machinery industry after years of efforts.
Dongshan company focuses on the quality and technological innovation of the machinery. With the dedicated technical force and accurate manufacturing ability, the company can now produce a wide range of EPS machinery to meet different requirements of clients. The technique, quality and practical values of DONGSHAN MACHINERY are leading in domestic EPS industry, particularly The series of Block Moulding Machine and Pre-expander Machine, which are better compared with the advanced machinery in developed countries, some technology and technique lead in top level, it is one of the best EPS machinery in the world. The company carries out scientific management, and all production procedures are under strict supervision and subjected to rigorous inspection, we successively passed ISO9001: 2000 quality management system authentication and CE authentication, providing a solid guarantee for product quality.
DONGSHAN machinery are highly appreciated and so popular at home and abroad. Nowadays, the marketing net extends all over the world, the company has become one of the biggest EPS machinery supplier in China and the products sold in more than fifty countries around the world, especially our Auto Block Moulding Machiney is all well known and shares one of the biggest market in China.