Any time, we provide power service, then power tools.

AWLOP 2000W Electric Wood Shredder Machine Chipper Shredder•SS5460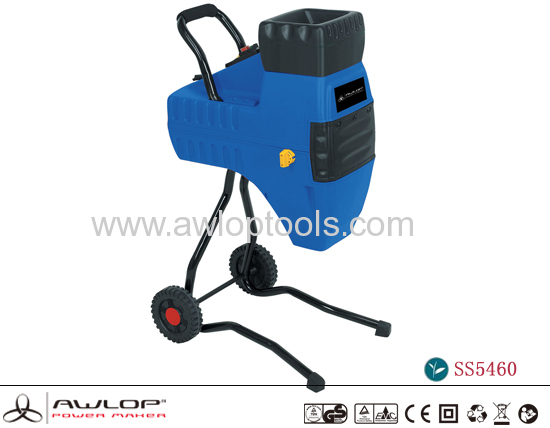 Product Specifications
| | |
| --- | --- |
| Voltage | 230V~50HZ /120V~ 60HZ |
| Input power | 2000W |
| No-load speed | 4700/min |
| Max. cutting diameter | 40mm |

Product Description:
♥ Powerful motor for reliable results when shredding and chipping your yard debris
♥ Maximum cutting diameter of 1 4/7" allows you to clear most of your trimming debris and optimize your natural resources for a healthy lawn
♥ Integrated cord lock prevents cord from disconnecting
♥ Push paddle makes feeding materials into the hopper safe and simple with a large collection bag for easy disposal when done
♥ Footwheels makes relocating a breeze

Responding to the need for an easy-to-use machine that takes care of your yards, AWLOP developed the Shredder, a electric shredder with the convenience of an electric unit. In addition to its hard-working shredding capacity it can reduce leaves, sticks, and small branches down to a nutrient-rich compost that you can use to fertilize your plants.

Our Advantages:
1. Trade directly experience who has over 20 years' history.
2. Professional team.
Perfect quality.
Perfect service idea.
3. Competitive price.
4. Best manufacturer in Southeast China.
5. We accept all kinds of payment & trade terms.

Related Keywords:
Shredder. Chipper. Wood Shredder. Leaf Chipper

Want To Know More?
You can send us an email or dial +86-574-87105171 for help or get advice.
Any question, pls contact us with no hesitation.