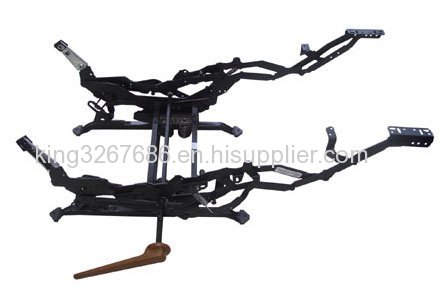 Rocker recliner 4151
1.The ottoman adopts the design of wide heavy gauge links and built-inarticulating elevated mid-ottoman. Profile shape designed for safety andappearance without pinch points. Articulating designs allows use of wider &higher mid-ottoman for elimination of entrapment areas and for leg support.
2. The system adopts the geometrically balanced design to balance chairoperation. It is consistent and easy for operation by any person. The occupant'sweight is used to balance operation. Meanwhile it controls the sitting positionand reclining position. Springs here are only used for locking and the initialstart of the opening.
3. The customer has several options as to how toactivate the mechanism. There is cable style, outside handle style and insidehandle style. Easy operation. Customer can choose to use handle or leveractivation to open the mechanism and the color of the handle or lever. Slightfootrest pressure will allow closing the ottoman.
4. The system uses directdrive with double locks. The direct drive with double over-center locks enablesmaximum synchronization of side positive locking of both sides. Square drivetube connects to and controls both left and right sides. Ottoman is lockedclosed on both sides.
5. Minimum stack-up design. The adoption of the flatterlinks and wider base mounting points enables greater bending resistance andgreater stability and strength. It improves weight capacity and durability. Themechanism base width is closer to seat width while maintaining sufficientclearance between links to eliminate possibility of interference.
6. Metalrocker base assembly. The welded base assembly ensures the maximum strength anddurability. All tubular cross members for maximum resistance to twisting andbending. Flat plastic glide allows base to be longer for resistance to tippingover without interfering with chair frame when rocking backward-more rock andshorter frames.
7. The system uses the extended life rivet joints design. All rivet jointshave either acetal or bronze rivet bushing and acetal spacers to eliminate anysteel to steel contact. No metal to metal noises when links contact nylon stoppins.
8. Interchangeable on wood frame design. The wood frames designed forthe rocker recliner, motorized lift are all interchangeable.
9. The back ofthe chair adopts the KD sleeve design for easy packaging and installation..