Any time, we provide power service, then power tools.

AWLOP 1600W Electric Portable Blower And Vacuum with Leaf Bag Garden Tools • BV1600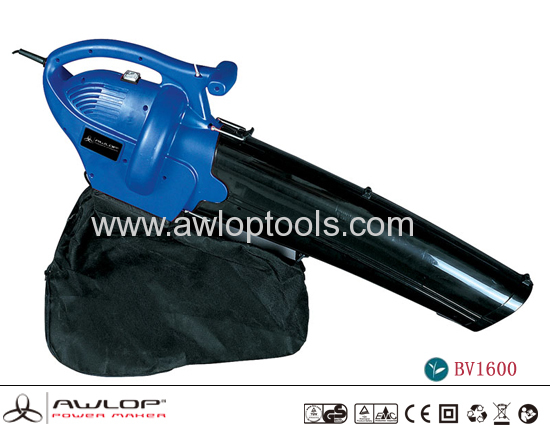 Product Specifications
| | |
| --- | --- |
| Voltage | 230V~50HZ /120V~ 60HZ |
| Input power | 1600W |
| No-load speed | 15000/min |
| Max. air speed | 270km/h |
| Max. air volume | 12cbm/min |
| Mulching ratio | 10:1 |
| Supplied with debris collection bag 35L 45L & shoulder belt | |
| Variable speed | option |

Product Description:
♥ Includes a Leaf Blaster nozzle, vacuum attachment with tube, leaf bag with zipper, adjustable shoulder strap, and air concentrator.
♥ Front wheels and shoulder belt for you easy to carry and work.
♥ Three-in-one blower, vacuum, and mulcher keeps your yard and driveway neat and tidy.
♥ Handles even wet piles of leaves; 270 MPH blow speed and 14 CBM air volume

The AWLOP Blow Vac converts easily to a 385 CFM lawn vacuum when you want to collect loose leaves, twigs, and grass clippings. The internal mulching mechanism grinds everything down, compressing as much as 16 bags of debris down to one. The included bag detaches easily to empty your mulch in flower beds, gardens, or compost piles.

An included shoulder strap adds extra support when you're using the Leaf Hog. Weighing in at just 8.1 pounds makes the blower/vacuum light enough for anyone to use for extended periods.

Our Advantages:
1. Trade directly experience who has over 20 years' history.
2. Professional team.
Perfect quality.
Perfect service idea.
3. Competitive price.
4. Best manufacturer in Southeast China.
5. We accept all kinds of payment & trade terms.

Related Keywords:
Portable blower and vacuum ,Mini vacuum blower , Vacuum blower

Want To Know More?
You can send us an email or dial +86-574-87105171 for help or get advice.

Any question, pls contact us with no hesitation.