Tubing Head

Tubing head has the design of universal straight hold, which can be fitted with all types of single or double-string completion tubing hanger.
-Straight hole design with the design of 45° shoulder and large load capability
-Side outlet connection
-Thread cutting Flange side outlet
-With VR block thread
- Top wire assembly
-Designed with complete top wire assembly Locked anti-wear sleeve
Tubing head has the design of universal straight hold, which can be fitted with all types of single or double-string completion tubing hanger.
- Design of 45° shoulder and large load capability
- Side outlet connection: Thread cutting Flange side outlet with VR block thread
- Top wire assembly : Complete top wire assembly and locked anti-wear sleeve
- Secondary seal mechanism is designed at the bottom, which can be adjusted to meet different requirements of height by cutting casing.
- Tubing hanger and upper flange can be penetrated directly by cable or penetrated by cable penetrating rod
Tubing head and upper flange can be connected with several control pipeline connections at the same time.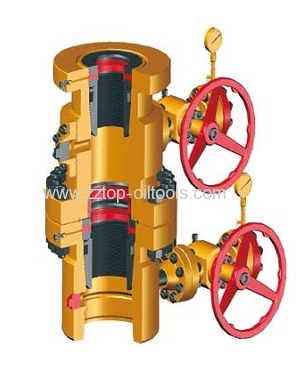 Bottom flange

Top flange

Size

W.P. (psi)

Size

W.P. (psi)

A mm (in)

B mm (in)

C mm (in)

7-1/16"

5, 000

7-1/16"

5, 000

600 (23.62)

122 (4.80)

180 (7.09)

10, 000

7-1/16"

10, 000

600 (23.62)

122 (4.80)

180 (7.09)

10, 000

7-1/16"

10, 000

600 (23.62)

160 (6.30)

180 (7.09)

15, 000

7-1/16"

15, 000

640 (25.20)

160 (6.30)

180 (7.09)

11"

2, 000

7-1/16"

2, 000

500 (19.69)

160 (6.30)

180 (7.09)

2, 000

7-1/16"

3, 000

560 (22.47)

122 (4.80)

180 (7.09)

3, 000

7-1/16"

3, 000

560 (22.47)

122 (4.80)

180 (7.09)

3, 000

7-1/16"

5, 000

600 (23.62)

160 (6.30)

180 (7.09)

3, 000

9"

3, 000

660 (25.98)

209 (8.23)

220 (8.66)

3, 000

9"

5, 000

660 (25.98)

209 (8.23)

220 (8.66)

5, 000

7-1/16"

5, 000

630 (24.80)

160 (6.30)

180 (7.09)

5, 000

7-1/16"

10, 000

635 (25)

160 (6.30)

180 (7.09)

5, 000

9"

10, 000

790 (31.10)

209 (8.23)

220 (8.66)

10, 000

7-1/16"

10, 000

635 (25)

160 (6.30)

180 (7.09)

10, 000

7-1/16"

15, 000

700 (27.56)

160 (6.30)

180 (7.09)

10, 000

9"

10, 000

830 (32.68)

209 (8.23)

220 (8.66)

10, 000

11"

10, 000

680 (26.77)

160 (6.30)

280 (11.02)

10, 000

11"

15, 000

700 (27.56)

160 (6.30)

280 (11.02)

13-5/8"

2, 000

7-1/16"

3, 000

590 (22.23)

160 (6.30)

180 (7.09)

2, 000

9"

3, 000

590 (22.23)

209 (8.23)

220 (8.66)

2, 000

11"

3, 000

590 (22.23)

230 (9.06)

280 (11.02)

2, 000

11"

5, 000

600 (23.62)

230 (9.06)

280 (11.02)

2, 000

13-5/8"

3, 000

580 (22.83)

230 (9.06)

350 (13.78)

3, 000

7-1/16"

3, 000

660 (25.98)

160 (6.30)

180 (7.09)

3, 000

7-1/16"

5, 000

660 (25.98)

160 (6.30)

180 (7.09)

3, 000

9"

3, 000

660 (25.98)

209 (8.23)

220 (8.66)

3, 000

9"

5, 000

680 (26.77)

209 (8.23)

220 (8.66)

3, 000

11"

3, 000

660 (25.98)

230 (9.06)

280 (11.02)

3, 000

11"

5, 000

660 (25.98)

230 (9.06)

280 (11.02)

3, 000

13-5/8"

5, 000

600 (23.62)

230 (9.06)

350 (13.78)

5, 000

7-1/16"

5, 000

640 (25.20)

160 (6.30)

180 (7.09)

5, 000

7-1/16"

10, 000

650 (25.59)

160 (6.30)

180 (7.09)

5, 000

11"

5, 000

630 (24.80)

230 (9.06)

280 (11.02)

5, 000

11"

10, 000

680 (26.77)

230 (9.06)

280 (11.02)