product name
magnetic tile formotor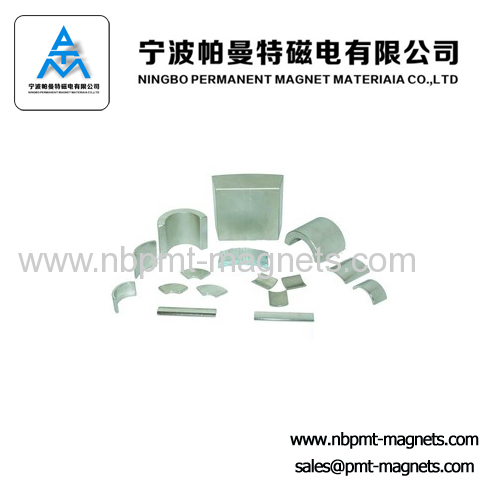 feature
1.applied:industrial magnets
2.shape:Arc
3.Grade:N35-52,M,H,SH,UH,EH
5.size:According to customer requirements
6.apply :motor
7.material :Neodymium Magnets
8.cladding material :Nickel, nickel and copper, nickel, zinc, gold, silver, and the passivation, black epoxy resin
9.Max Working Temperature: 80 ℃
As an original manufacturer for permanent Neodymium magnets and related magnetic products, we can supply the Neodymium magnet in many different grades rank from N35 to 33AH, shapes can be disc, ring, block, segment and other irregular shapes such as t-shape, half-ball..... We can also supply many different surface coatings for the Neodymium magnets like Nickel, Ni-Cu-Ni, Zn, Silver, Black Epoxy.....
Our neodymium permanent magnet is mainly composed of neodymium, iron, boron and a few transition metals, it is the third generation of the rare-earth permanent magnets.

Neodymium permanent magnet is the strongest permanent magnets available in the world by now, it possess high Remanence, Max. Energy up to 53MGOe and wonderful coercive force.
At present, there are 7 series we could produce towards neodymium permanent magnet: N, M, H, SH, UH, EH, AH. We can provide various kinds of surface coating and complicated shapes of magnet, as well as multi-pole magnetizing.
Surface treatments
The corrosion resistance of NdFeB (Neodymium) magnets is considered poor. Surface coating or plating is therefore highly recommended for NdFeB (Neodymium) magnets. All kinds of surface coating are available, like Nickel, Zn, Ni-Cu-Ni, Gold, Silver, Sn, Chrome and etc.


Application
Widely used in automobiles, mobile phones, digital cameras, jewelry, clothing, all kinds of hardware accessories, electrical, laser heads, toys, gifts, speakers, packing, leather goods, medical equipment and adverying, Switchboard, voice coil motors (VCM's) in hard disk drives, high performance motors, brushless DC motors, magnetic separation, magnetic resonance imaging, sensors, loudspeakers etc.