Innovative Design Hand Blown Glass Teaware Set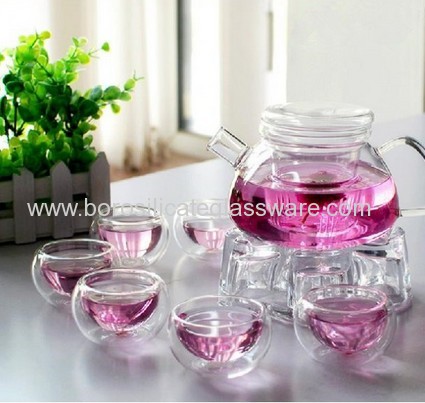 Best choice for coffee and hot tea!
Beautiful design, both practical value and artistic beauty, for many people, teapot is not only a vessel, but also a beautiful cohesion in the life, a method of decorate the space.


| | |
| --- | --- |
| Product Name | Innovative Design Hand Blown Glass Teaware Set |
| Model No | GTS006 |
| Craftsmanship | Mouth Blown |
| Material | Borosilicate Glass |
| Usage | Tea or Coffee |
| Production Capacity | 40000 pcs/month |
| MOQ | 1000 Piece/Pieces |
| Payment Term | Western Union,Paypal,T/T |
| Packing | Client's Requirement |
| Delivery Date | Depending on Order Quantity |
| Means of Transport | Ocean, Air |
| FOB Port | Tianjin,China |
The History of Glass Teapots
Heat-resistant, clear glass teapots are a 20th century creation. Glass teapots showcase the process of making tea. They enable the tea to be brewed to just the right strength based on the color as the tea leaves or teabags diffuse their goodness through the boiling water. Many glass teapots come with detachable infusers in which to place the tea. Some also have warmers so that the tea stays hot. Glass teapots are as attractive on the tea table as they are practical. They are easy to clean, and many are also dishwasher safe.
Types of Glass Teapots
If you are looking for the aesthetics of a glass teapot to enjoy loose leaf and blooming teas as they steep, consider purchasing a borosilicate glass teapot. Borosilicate glass is more resilient than regular glass and will stand up to more heat and handling. Tempered glass can also be used in teapots as it is highly heat-resistant, durable and shatter-proof. While borosilicate and tempered glass are strong, they are not indestructible and, if dropped, will crack rather than shatter.

Choosing a Glass Teapot
Glass teapots are considered more versatile than other types of teapots and have gained popularity because of their attractiveness and resistance to picking up tea flavors. When choosing a glass teapot, confirm that it is 100% lead-free and has a double wall, or two layers of glass, so that the tea stays hot longer and the exterior of the teapot remains touchable. Also look for a locking lid and a heat-proof handle for safe pouring.

Glass Teapot Safety
A few basic safety tips should be kept in mind when using a glass teapot. Always handle a glass teapot with care to avoid breakage and scalding injuries. Never place a glass teapot directly on a stove top to boil or stay warm, as this could cause the glass to break. Glass teapots are meant only to contain steeping tea; drastic temperature changes from cold to hot or hot to cold should be avoided.