Class FCorrugated DMD Combined Flexible Material 5155FC
Classe F Ondulado DMD Combinado 5155FC Material Flexível
Clase F Corrugado DMD Combinado 5155FC Material Flexible


COMPONENT: Class F DMD 5155FC is a triple-layer flexible insulation material, PET film is covered on both sides with Polyester fiber non-woven, then press into corrugated shape. Its temperature index is 155°C of Class F.


COMPONENTE: Classe F DMD 5155FC é um isolamento de filme PET de material flexível de camada tripla é coberto em ambos os lados com fibra de poliéster não-tecido, em seguida, prima em forma ondulada. Seu índice de temperatura é de 155° C da classe F.


COMPONENTE: Clase F DMD 5155FC es un material aislante flexible de tres capas, la película de PET está cubierto por ambos lados con fibra de poliéster no tejido, y luego presione en forma ondulada. Su temperatura es de 155 ° C Índice de Clase F.


PROPERTIES & APPLICATION: It has excellent electrical, mechanical property. It is mainly used an upright type round wire winding high voltage coil insulating structure, comprises a glass fibre grid cloth, is set on the glass fibre grid cloth the outer layer of the corrugated DMD, of said corrugated DMD is non-planar the wave shape DMD insulated paper, the corrugated DMD of glass fibre grid cloth after the combination is set with the loop circular conducting wire is jointed with. This adopts corrugated DMD to replace the flat DMD plate and the glass fibre rod the combination of the product is reduced material and manual work, the cost is low and it solves the problem of the lead insulation, and it is easy to be damaged, it solves the problem that it improves the electric property.


PROPRIEDADES E APLICAÇÕES: Tem excelente propriedade elétrica, mecânica. É usado principalmente um fio redondo tipo vertical enrolamento bobina estrutura de alta tensão de isolamento, compreende uma rede de fibra de vidro pano, situa-se na grade de fibra de vidro pano da camada externa da DMD ondulado, do referido DMD ondulado é não-planar da forma de onda papel isolado DMD, o DMD ondulado da fibra de vidro pano da grade após a combinação é definida com o fio condutor circular laço é articulada com. Este adota ondulado DMD para substituir a placa DMD plana e a haste de fibra de vidro, a combinação do produto é reduzida de material e de trabalho manual, o custo é baixo e que resolve o problema do isolamento do fio, e é fácil de ser danificado, resolve o problema que melhora a propriedade eléctrica.

PROPIEDADES
Y APLICACIONES
:
Tiene excelentes propiedades eléctricas, las propiedades mecánicas. Se utiliza principalmente un alambre redondo vertical tipo bobinado estructura aislante bobina de alta tensión, comprende una tela de fibra de vidrio de la red, se establece en el paño de la rejilla de fibra de vidrio de la capa externa de la DMD corrugado, de dicho DMD corrugado es no plana la forma de onda aislados con papel DMD, la DMD ondulada de vidrio paño de red de fibra después de la combinación se ajusta con el hilo conductor circular bucle es articulado con. Este adopta corrugado DMD para reemplazar la placa de DMD plana y la varilla de fibra de vidrio de la combinación del producto es material y reduce el trabajo manual, el coste es bajo y que resuelve el problema del aislamiento del cable, y es fácil de ser dañado, se resuelve el problema de que mejora la propiedad eléctrica.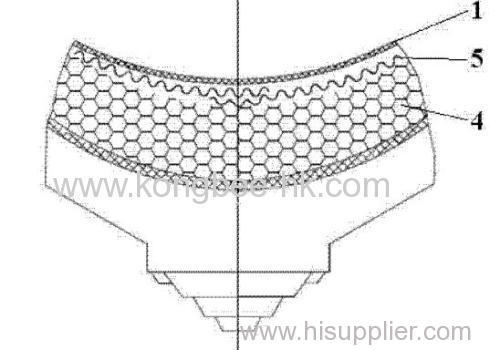 .

1 GLASSFIBER NETTING IMPREGNATED WITH RESIN 7019155E / Fibra De Vidro Impregnada Com Compensação EPOXY RESINA 7019155E/ FIBRA DE VIDRIO Compensación Impregnadas En Resina 7019155E
4 CONDUCTING WIRE / Fio Condutor / Cable Conductor
5 CORRUGATED DMD 5155FC / DMDCORRUGATED5155FC / DMDCORRUGADO5155FC


Item

Item

Artículoc

Specification

Especificação

Especificación

Thickness

Espessura

Espesor

(mm)

0.50 +0/-0.05

Weight

Peso

Peso

(g/m2)

570±6%

Tensile strength

Resistênciaà Tração

Resistenciaa La Tracción

(N/10mm)

≥400

Wave Length

ComprimentoDe Onda

LongitudDe Onda

(mm)

18±2

Wave Height

OndaAltura

AlturaDe Las Olas

(mm)

2.5±0.5

Breakdown Voltage

Tensão de Ruptura

Tensiónde Ruptura

(KV)

≥15,0

Test Method

Métodode Teste

Métodode Ensayo

IEC 626
PACKAGING / EMBALAGEM / PACKAGING:
Length of roll: more than 50 Meter, no more than 50 ± 5 kgs. No more than 4Pcs, each piece due to be more than 10 meter. Diameter of paper core is 76 mm, width can be cut according to user's requirement. Standard width is no more than 1400mm.


Comprimento do rolo: mais de 50 metros, não mais de 50 ± 5 kgs. Não mais do que 4Pcs, cada peça devido a ser mais do que 10 metros. Diâmetro do núcleo de papel é de 76 mm, largura pode ser cortado de acordo com a exigência do usuário. Largura padrão não é mais do que 1400 milímetros.


Longitud del rollo: más de 50 metros, no más de 50 ± 5 kgs. No más de 4 piezas, cada pieza debe ser de más de 10 metros. Diámetro de la base de papel es de 76 mm, anchura puede ser cortado según el requisito del usuario. Ancho estándar es de no más de 1400 mm.

Storage / Armazenamento /Almacenamiento:
With 12 months under 35°C.
Com 12meses em35°C.
Con 12
meses en
35
°
C.