Technical Parameters:
sheet 1

Materials of Parallel twin screw and barrel
Base Materials

1)38CrMoAlA(JIS SACM645) 2)Cr12MOV(JIS SKD-11)
3)4Cr5MoSiV1(JIS SKD-61)4)42CrMo(AISI 4140)

Bimetallic

1)Fe-based alloy 2)Ni-based alloy
3)Co-based alloy 4)NiCo-based alloy
5)Tungsten carbide/Wolfram carbide

Tungsten Carbide

Level A - containing Tungsten of 40%

Level B - containing tungsten of 25%

Level C - containing tungsten of9.5%
Sheet 2
Plastic material application
Plstic material application

1)General Plastics

2)ABS,PA,PC,PE,PET,PP,PS,EVA,PU,PVC,U-PVC,etc

3)PA + GF(Glass Fiber)

4)Flame-resistant Reinforced Plastics

5)Modified Engineering Plastics

6)All kinds of Mixed Recycled Material(in Scrap orGranule),etc
Sheet 3
Surface Treatment

Heat Treatment

High Frequency Treatment

Nitriding treatment(120 Hours)

Depth of Nitrided Layer: 0.5-0.8 mm

Hardness of Nitrided Layer: 900-1020Hv(HRC56°-65°)

Hard Chrome Plating treatment

Thickness of Hard Chrome Plating Layer: 0.05-0.10mm

Hardness of Hard Chrome Plating Layer: ≥950HV

Bimetallic treatment

Bimetallic Barrel/Cylinder: Centrifugal Casting (InlayAlloy)

Bimetallic Screw: Plasma Alloy Coating Spraying

Depth of Bimetallic Layer: >2mm

Hardness of Bimetallic Layer:HRC55°-72°
sheet4
Basic information

| | |
| --- | --- |
| Roughness of the surface | Ra0.4um |
| Linearity of the screw | ≤0.015mm |
| Linear axis limit | ≤0.02mm |
| Hardness after Hardening & Tempering | HB240-280 |
| Fragility of Nitration | ≤Two class |
Basic Alloy Steel Material We use:
Normal Material we use as following:
1.38CrMoAlA(JIS SACM645),
2.Cr12MOV(JIS SKD-11)
3.4Cr5MoSiV1(JIS SKD-61)
4.42CrMo(AISI 4140)
The foreign material we used as following:
1. Germanysteel, GH113 ,2250 ,2842 ,1.8509 ,1.442 ,1.6582 ,1.6523 ,1.2080,1.4542,
2. USA steel, P20,420,L6,H13,W110,D3,A2,D6,O1,S1,M35,8620,3115,K52440
3. Sweden steel, 718S,718H,S136,S136H,STAVAX,ASP-23,ASP-30
4. Australia Steel, M202,M300,W302,K460,W300,K900,K100,W321
5. Hardnesssteel, YG6X,YG 6A,YG 6,YG8N,YG8,YG8C,YG11C,YG 15,YT5,YT14,YT30
6. Japan Steel, SKT 4,YXM 4,YXM 42,SNC 815,SK -3,SKS 3,and etc.
Production steps:
Custome Order--Product Design(Customer Drawing)—Production Flow Arrangement—Material Procurement—Hardening&Tempering—Drilling—Rough Turning—Rough Thread Rolling(Alloy Spray Welding)—Alignment—Fine Thread Rolling—Mixing—Alignment—High Frequency Treatment—Alignment—Polishing—Grinding—120Hours Nitriding Treatment—Acid Piclking—Polishing—Chrome Plating—O.D.Grinding—Packaging&Shipping

Processing
Advantages of Parallel twin screw:
--Good plasticization, high productivity, small shear force,stable pressure,less wear and tear and low cost.
--Good at feeding,especially for powder.And also have the superiority in bad heat-stability plastic materials and mixture palstic materials.
Applicatio of Parallel twin screws
:
Paralleltwin-screw and barrel issuccessfully applied in PVC plate,pipe,profile,pellet and mould,at the same time, it solved the technical problem of low foaming,high foaming,high filling, wear and corrosion.
Compare to single screw barrel,
It is betterthan single screw barrel in the followings: mixture materials,exhausting,self-cleaning.
Compare to conical twin screw,
Paralleltwin-screw and barrel is widely used in PVC products processing,especially forthe production of PVC products with the output over 350Kg /h, because the parallel twin-screw and barrel costsless than conical twin-screw and barrelwhile it has more mature technology.

Materials and products: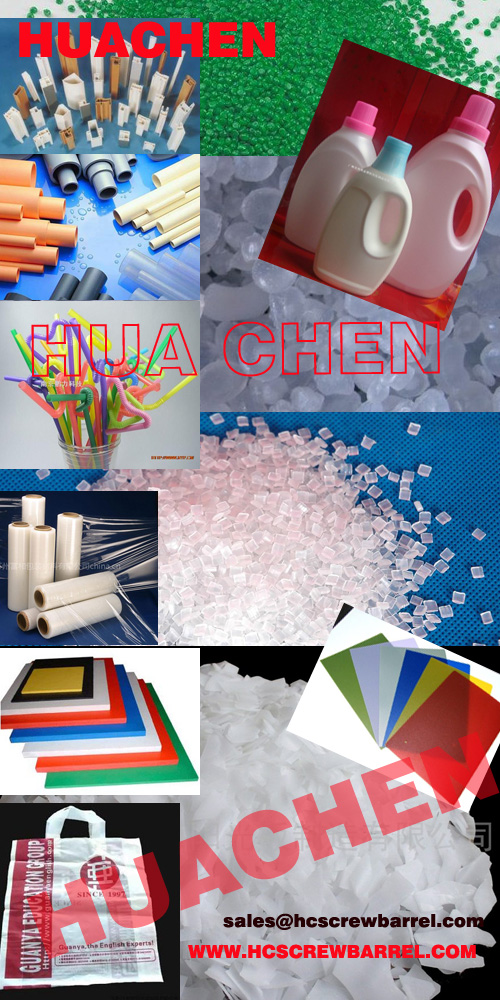 Our Quality Control:
We strictly control our quality as the ISO 9001:2008. We test our products from the raw materials to final product.
Quality is our main forte and we follow variedindustry policies for achieving it. Furthermore,our quality consciousness has ensured that we manufacture premiumquality Screw & Barrel for the clients.We conduct various quality tests onour range that start from the time of procuring raw material till the final supply of products. Apart from this,our quality controllers continuously check the entire range on different parameters soas to ensure its defect-free nature. Our quality testing laboratory is well-equipped with modern machines and technology that are necessary for bulk production.

Our certificate of ISO 9001:2008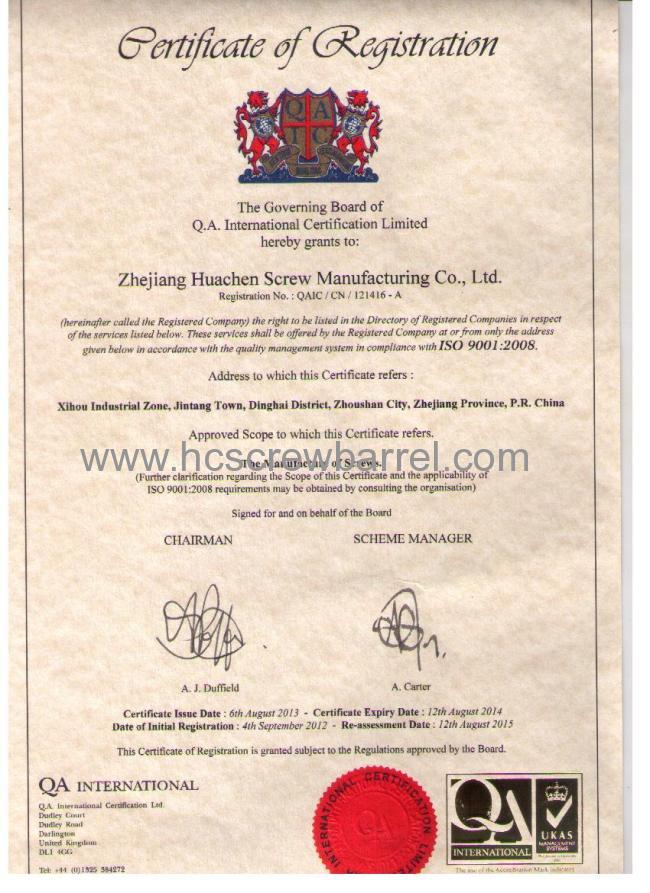 Product show: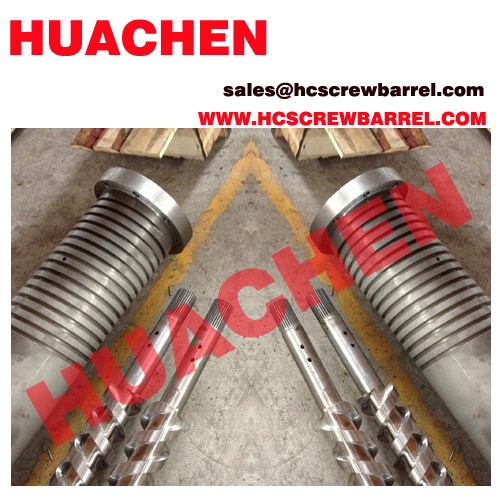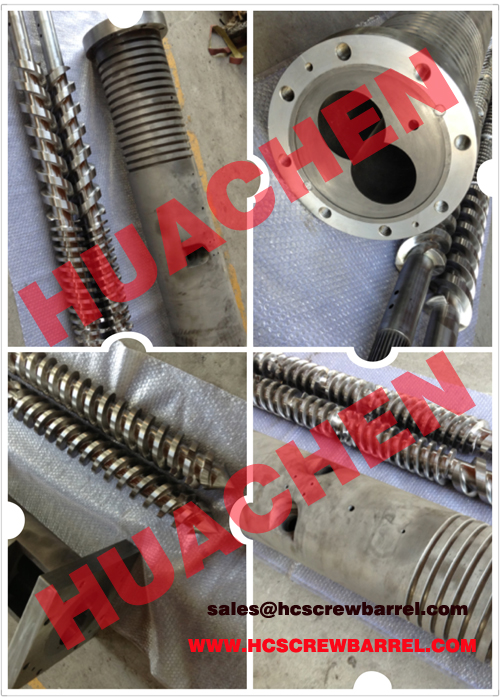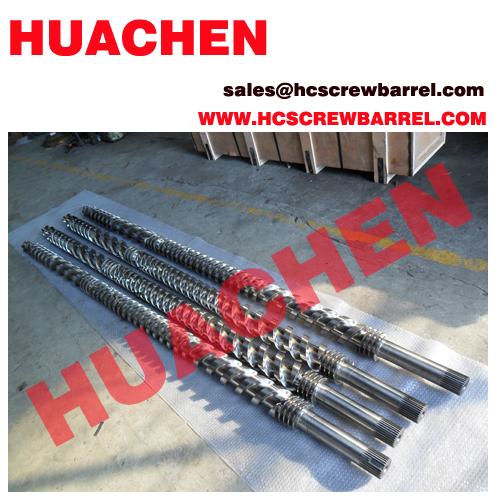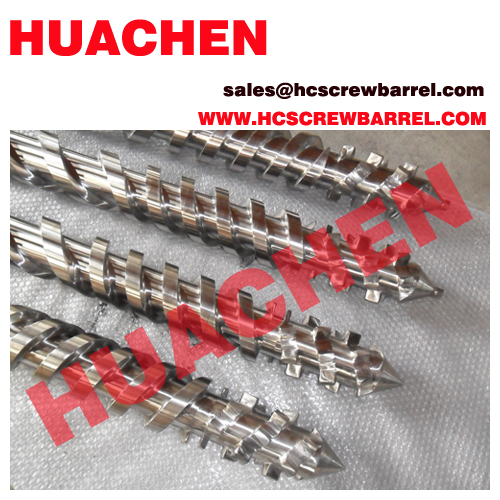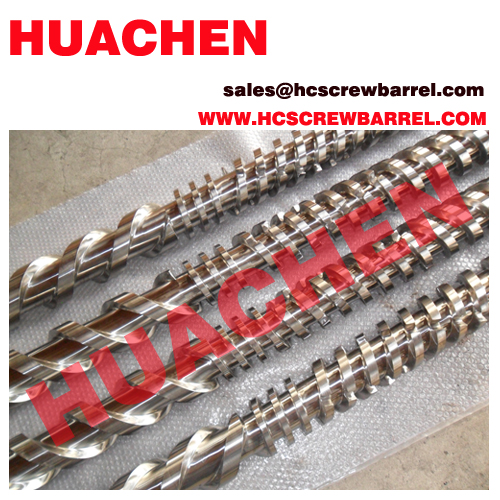 About HUACHEN :

Our Strength: We have an experienceofmorethan 20 year of manufacturing and designing Plasticmachines,variedScrews and Barrels and spares. We concentrate on improving quality,updating design and enhancing service.
Our products:Screws Barrels for Injection, Extrusion, and Blow Molding applications; relevant accessories(such as die head, gearbox, filter screen changer and so on); plastic processing machinery.
Location advantage: Near Ningbo/Shanghai Port.
Market areas: global sales network reaching South America, Eastern Europe, Southeast Asia, Africa, Oceania and the Mid-East
We promise: We assure the customer benefits, provide competitive price, emphasis On Cooperation.

HUACHEN COMPANY
Please contact us,if you have any questions. Mail,phone,skype all are OK.
Myskype:lillianyao0421