1: Forged alloy hollow bar 42CrMo4/ C45/ SCR440/ 41Cr4
2: size: WT 100mm, OD:450mm
3: processing: finish machining
4: ISO
1: Forged alloy hollow bar 42CrMo4/ C45/ SCR440/ 41Cr4
2: size: WT 100mm, OD:450mm
3: processing: finish machining
4: ISO
Main use: kinds of machine parts, other more fields.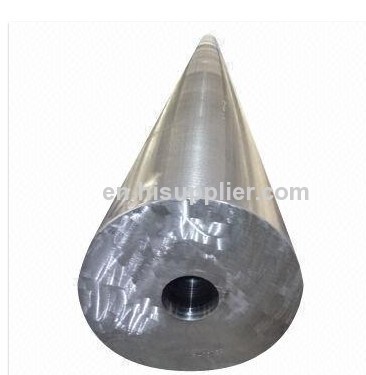 Specifications
Special steel of forged round bar,square bars.shaft,hollow.
Size from Dia.90mm to Dia.800mm For black and Rough machined.
Hot Forged steel round bar
Steel grade:
Carbon steel:
Chinese Standard:20#,25#,35#,45#,50#,60#;
Japan Standard:S20C,S25C,S35C,S45C,S55C,S60C;
US Standard:AISI1020,AISI1040,AISI1045,AISI1050;
Europe Standard:CK15,C.22,C45,CK45,C60,CK60;C45E;
Alloy Steel:
Chinese Standad:16Mn,20Mn,30Mn2,30Mn5,40Cr,Q345D,Q345E,Q390;42CrMo,
20CrMo,38CrMoAl,40CrNiMo;48CrMo,5CrNiMo;
Janpan Standard:SCM415,SCM420,SCM440,SNCM439,SNCM220; SACM645
USA Standard:SAE4140,SAE4130,SAE9840,SAE4340,AISI4145H,SAE4150,SAE8620,
Europe Standard:42CrMo4,25CrMo4,34CrNiMo6,39CrNiMo3,17NiCrMo6,18CrNiMo7-6,
S355J2G3,ASTM A105,ST52-3,16MnCr5,20MnCr5,16MnCrS5,20MnCrS5,21CrMoV511,
56NiCrMoV7,18NiCrMo5,30CrNiMo8,34NiCrMo16,41CrAlNi7,34CrAlNi7,B7,B16,F11,
F12,F22,F5,F9,51Cr4.
Tool Steel:1.2714,H13,H11,P20,SKD61;
Delivery condtion:Hot forged+Normalzied+Rough Machined+Q/T
Size:Dia90mm- Dia800mm.
Steel ingot:EAF+LF+VD.
Ultra-sonic test: as per SEP 1921 Group III C/c,D/d,E/e;
As forged condition straightness: ≤4mm/m, RT bar straightness: ≤2mm/m
As forged diameter tolerance: -0/+8mm; RT diameter tolerance:-0/+3 mm
Grain size: as per ASTM E112-96 Grade 5 or finer for normalized/annealed/QT condition
Non-metal inclusion: as per ASTM E45 A/B/C/D heavy≤2, thin≤2.5
Quantity: 15MT or double per size
Mill certificate as per EN 10204/3.1.B
Payment:L/C at sight.
Delivery time:Within 60 days after L/C date
Welcome to inquiry!
ceritificate