Extruder screw barrel for film blowing
Film blowing screw is a special design for film blowing machines.The sample of this set screw diameter is D90mm,total length is 2460mm,Barrel diameter is D170mm, total length is 1777mm, and as our customer's request, we processed two flanges,one size is D340*80mm,the other size is D360*65mm.
Treatment of sample: screw and barrel both nitrided.
Sample picture: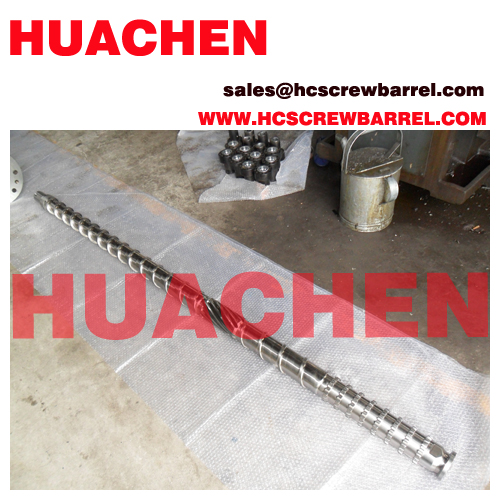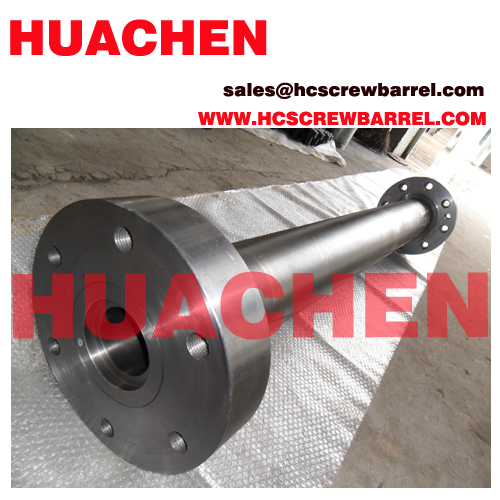 Details: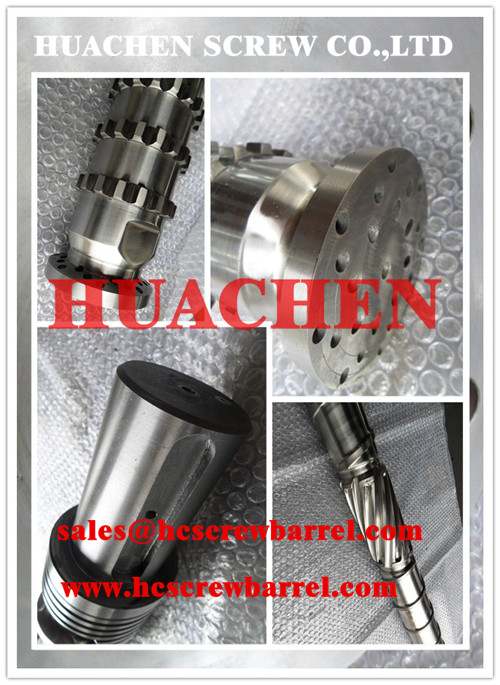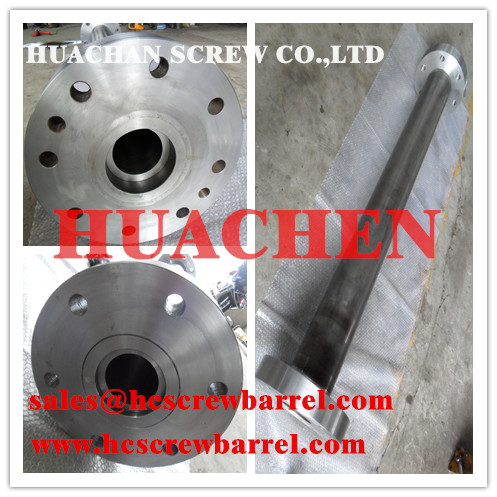 Features Specifications: Screw
Instructions for Screw:
1.We are a professional company specialized in manufacturing many types of screw, the barrel can be applied on all types of injection moulding machine,rubber hot-feeding extruder, rubber cold-feeding extruder, pin barrel cold feed extruder, plastic extruder with different specifications.
2.The models of screw include:
Variable pitch and variable depth, variable pitch and equal depth, variable depth and equal pitch, and equal depth and pitch.
Groove multi-die type, composite type, mixing type and separating type.
3. The material of screw: manufactured with high-quality nitroalloy steel, applying the method of hardening and tempering andnitriding, thus it enjoys the characteristics of long working life, wearresistance, and anti corrosion. Besides, the technique of hard alloyspraying or chrome plating can be used on the working surface of screw,which will make it have better using effectiveness
Techincal Parameter:
single screw barrel Base Materials:

1)38CrMoAlA(SACM 645)

2)42CrMo(AISI 4140)

3)Cr12MoV(SKD11)

4)4Cr5MoSiV1(SKD61)

5)9Cr18MoV

6)40Cr

Bimetallic Alloy Materials:

1)Fe-based alloy

2)Ni-based alloy

3)Co-based alloy

4)Tungsten carbide

Bimetallic alloy level

Alloy powder including 40% Wolfram Carbon

Alloy powder including 25% Wolfram Carbon

Alloy powder including 9.5% Wolfram Carbon

Processing Technology:

Heat treatment

High-frequency quenching

Nitriding treatment

Hard-chrome electroplating

Bimetallic alloy welding

Technical Parameter:

Nitrided layer depth:0.50-0.80mm

Nitrided hardness: 950-1100HV

Nitrided brittleness: Less than 2 level

Surface roughness: Ra 0.4

Linearity of screw: 0.015mm

Hard-chrome plating hardness after nitriding: ≥950HV

Chrome-plating layer depth: 0.025~0.10mm

Bimetallic layer depth: 3-5 mm

Bimetallic hardness: HRC60-70

Suitable Plastic Material:

PP, PE, PVC, ABS, AS, PS etc.

Terms and Conditions

Means of transport: Ocean, Air, Express

Production time:About 20-30 days after we receive the advanced

payment
Besides screw barrel for film blowing,we also have special screw for sheet,pipe bulk,and according to materials such as PVC,PP,PE,ABS and so on,we also have special designs.
Our screw barrel range: extruder screw barrel,injection screw barrel,conical twin screw barrel, parallel twin screw barrel, rubber screw barrel, planet screw barrel and so on.

About Huachen
HUACHEN SCREW CO.,LTD. SHOW: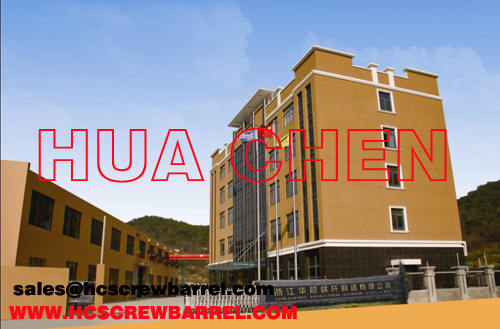 HUACHEN Equipment for process film blowing screw barrel:
CNC Miller machine processing screw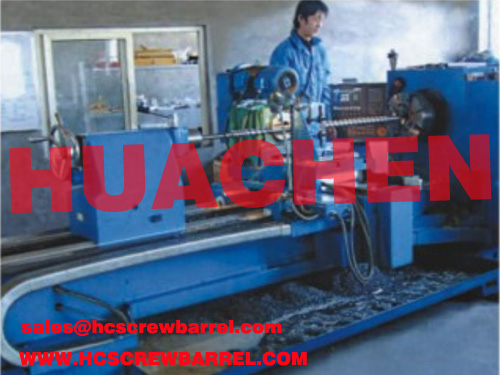 Machine is processing barrel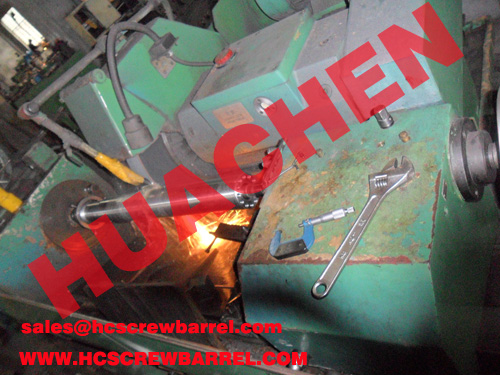 Machines are milling the inner hole of barrel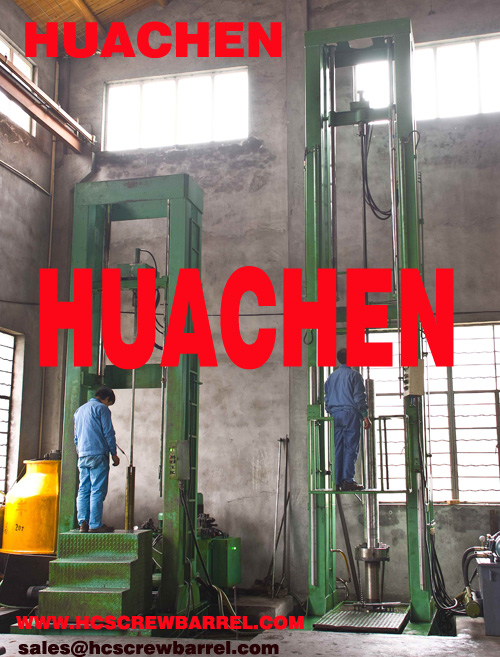 Bimetallic Oven
Our single screw barrel workshop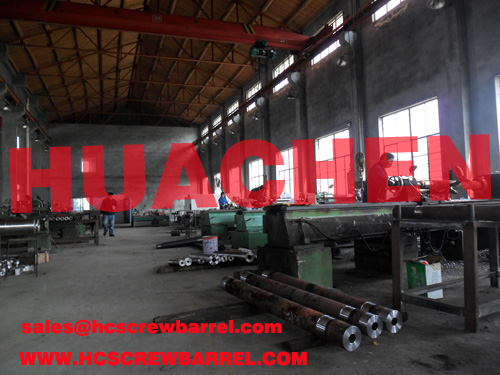 Nitrogen Oven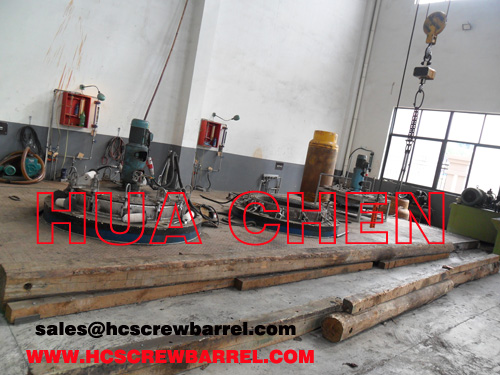 HUACHEN SCREW CO.,LTD. has proven experience of over 20 years in producing various kinds of screw and barrels, such as twin screw barrel (conical twin screw and barrel, parallel twin screw and barrel), single screw barrel (extruder screwbarrel, injection screw barrel), rubber screw barrel (cool feedingrubber screw barrel, hot feeding rubber screw barrel and pin rubberscrew barrel) and planet screw barrel.
All HUACHEN Brand screw barrels include bimetallic, nitrided, WC coating, bimetallic-WC coating and etc.
Choosing us is the best thing you have ever decided, and it's also our honour to be friends with u. Have a try.
My Skype: lillianyao0421