Rendering Equipment Condensing Processing Unit of Waste Gas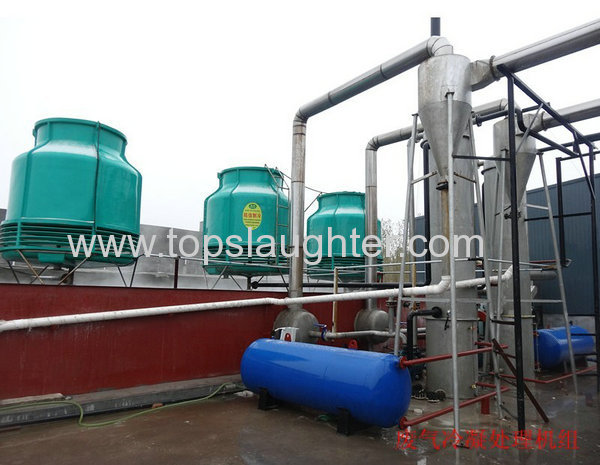 Working Principle:
1. Waste gas processed by the vacuum cooling and drying equipment to turn most waste gas into waste water. In this way, it can save water resources.
2. Next, the residual gas will be processed by horizontal condensation treatment. Stainless steel radiator pipe used to enhance heat transfer area.
3. At last, a mall mount of the waste gas will be processed by spay to reach emission standard.

Technique Parameter

Waste Gas Processing Equipment

1

Waste gas treatment

For Hydrolyser

Vacuum

drying

equipment

Φ800

Specification:1000X1000X4500mm

●Outer case of main body use SUS304, δ=6mm;

●Cooling pipe withΦ32×2.0 SUS304

Catcher Φ600X1500

●Catcher Φ600X1500, all made of SUS304

stainless steel δ=3mm;

SK-6 water ring vacuum pump

●Power:P=11kw;SUS304 stainless steel

●Pipeline pump:power=5.5kw;

Waste water storage tank Φ800X2000,

●casing made of Q235B carbon steel, δ=6mm

2

Horizontal

Condensation Treatment for Waste Gas




Condenser Φ1500X4000

Specification:4000X1500X2000mm

●Cooling pipe Φ32×2.0 all made of SUS304

●casing of main body use SUS304 δ=6mm;

● Cooling tower

1. To cool down hot

circulating water , FRP material

2. processing capacity:150m³/h;

3 Power P=4kw;

●circulating pump: P=5.5kw;

●Cooling water circulation tank

●Casing made of Q235B carbon steel ,

δ=4mm

●Stainless steel Induced Draft Fan :Y6-41

P=11kw;

3

Residual Gas

Treatment

Φ1200X4000

Spray Tower Φ1200X4000

●All made of stainless steel SUS304,δ=4mm;

●Equipped with sprayer, stainless steel

punching hole mesh to enhance contact area

●vortex pump: p=5.5kw

●Biological deodorant

4

Waste gas

Collecting Pipe




●High pressure air exhaust for hydrolyzer: with DN108X6 carbon steel;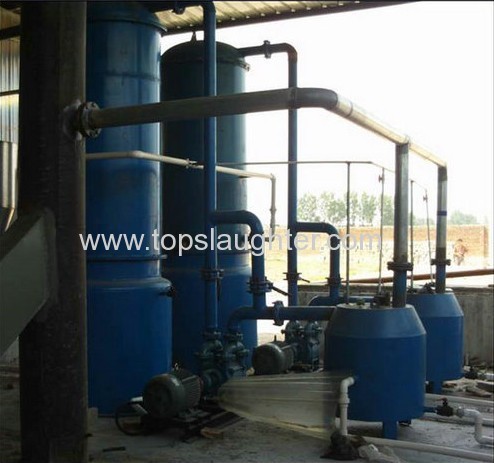 Rendering Plant Equipment Waste Gas Processing Unit