DST(Drill Stem Testing) tools 9 5/8" API standard RTTS Packer

Product mode:DST tools 9 5/8" RTTS Packer
Size: 9 5/8"
Service:H2S, CO2
Application:oil well testing
Working pressure:10000psi ~ 15000psi
Standard: API (Application Program Interface)
Usage: drill stem test
Working condition: High pressure high temperature(HPHT)
Condition: New
Briefly Introduce:
The RTTS packer is a full-opening, hookwall packer used for testing, treating, and squeeze cementing operations. In most cases, the tool runs with a circulating valve assembly.

The packer body includes a J-slot mechanism, mechanical slips, packer elements, and hydraulic slips. Large, heavy-duty slips in the hydraulic holddown mechanism help prevent the tool from being pumped up the hole. Drag springs operate the J-slot mechanism on ≤ 3 1/2-in. (88.9-mm) packer bodies, while larger packer sizes ≥ 4-in. (101.6 mm) use drag blocks. Automatic J-slot sleeves are standard equipment on all packer bodies.

The circulating valve, if used, is a locked-open/locked-closed type that serves as both a circulating valve and bypass. The valve automatically locks in the closed position when the packer sets. During testing or squeezing operations, the lock prevents the valve from being pumped open. A straight J-slot in the locked-open position matches with a straight J-slot (optional) in the packer body. This combination eliminates the need to turn the tubing to close the circulating valve or reset the packer after the tubing has been displaced with cement.
Features and Benefits
• The full-opening design of the packer mandrel bore allows large volumes of fluid to pump through the tool. Tubing-type guns and other wireline tools can be run through the packer.
• The packer can be set and relocated as many times as necessary with simple tubing manipulation.
• Tungsten carbide slips provide greater holding ability and improved wear resistance in high-strength casing. Pressure through the tubing activates the slips in the hydraulic holddown mechanism.
• An optional integral circulating valve locks into open or closed position during squeezing or treating operations, and opens easily to allow circulation above the packer.
Operation
The tool is run slightly below the desired setting position to set the packer and is then picked up and rotated several turns. If the tool is on the bottom, only a half-turn is actually required. However, in deep or deviated holes, several turns with the rotary may be necessary. To maintain position, theright-hand torque must be held until the mechanical slips on the tool are set and can start taking weight The pressure must be equalized across the packer to unset it. As the tubing is picked up, the circulating valve remains closed, establishing reverse circulation around the lower end of the packer. The circulating valve is opened for coming out of the hole when the tubing is lowered, rotated to the right, and picked up.
Specifications:
1.Halliburton type, all could change with Halliburton parts.
2.All equipments are produced according to API standard.
Below are specfor you reference:

Casing Size in

(.)

Casing Weight

Range lb/ft

Nominal Tool

OD in. (cm)

Minimum

ID in. (cm)

Top Thread

Connection

(female)

Lower Thread

Connection

(male)




9.5

3.79 (9.63)

1.80 (4.57)

3 3/32 in. 10 UNS

2 3/8 in. 8 RD EUE

41/2

15.1-18.1

3.55(9.02)

1.51 (3.84)

2 11/16in. 10 UNS

2 3/8 in. 8 RD EUE




11.6-13.5

3.75(9.53)

1.80 (4.57)

3 3/32 in. 10 UNS

2 3/8 in. 8 RD EUE




23

3.75 (9.53)

1.80 (4.57)

3 3/32 in. 10 UNS

2 3/8 in. 8 RD EUE

5

15-18

4.06 (10.31)

1.80 (4.57)

3 3/32 in. 10 UNS

2 7/8 in. 8 RD EUE




11.5-13

4.25(10.79)

1.80 (4.57)

3 3/32 in. 10 UNS

2 7/8 in. 8 RD EUE




23-26

4.25(10.79)

1.90 (4.83)

31/2 in. 8 UNS

2 7/8in. 8 RD EUE

51/2

20-23

4.38(11.13)

1.80 (4.57)

3 3/32 in. 10 UNS

2 7/8in. 8 RD EUE




13-20

4.55(11.56)

1.80 (4.57)

31/2 in. 8 UNS

2 3/8 in. 8 RD EUE

6

15-23

5.06 (2.85)

1.90 (4.83)

31/2 in. 8 UNS

2 7/8 in. 8 RD EUE

6 5/8

24-32

5.43(13.79)

1.90 (4.83)

31/2 in. 8 UNS

2 7/8 in. 8 RD EUE

7

17-38

5.65 (14.35)

2.40 (610)

3 7/8 in. CAS

45/32 in. 8 UNS

2 7/8 in. IF

31/2 in. CAS

2 7/8 in. 8 RD EUE




49.5

5.25 (13.34)

2.00 (5.08)

3 1/2 in. 8 UNS

2 7/8 in. 8 RD EUE

7 5/8

20-39

6.35 (16.13)

2.40 (6.10)

4 5/32 in. 8 UNS

2 7/8 in. 8 RD EUE

31/2 in. IF

3 7/8 in. CAS

85/8

24-49

7.31 (18.57)

3.00(7.62)

4 1/2 in. API IFT.J.

4 1/2in. API IFT.J.

95/8

40-71.8

7.80 (19.81)

3.00 (7.62)

4 1/2 in. API IFT.J.

4 1/2in. API IFT.J.




29.343.5

8.15 (20.70)

3.75 (9.53)

4 1/2 in. API IFT.J.

4 1/2in. API IFT.J.

103/4

32.75-51

9.30 (23.62)

3.75 (9.53)

4 1/2 in. API IFT.J.

4 1/2in. API IFT.J.




55.5-81

8.85 (22.48)

3.75(9.53)

4 1/2 in. API IFT.J.

4 1/2in. API IFT.J.

113/4

38-54

10.20 (25.91)

3.75 (9.53)

4 1/2 in. API IFT.J.

4 1/2in. API IFT.J.




60-71

10.10(25.65)

3.75 (9.53)

4 1/2in. API IFT.J.

4 1/2in. API IFT.J.
Company Introduction
Xi'an Kingwell Oilfield Machinery Co.,Ltdis an established, financially stable manufacturing company and manufactured products are technically qualified which match the highest quality & reliability standards. We fulfill all the requirements to become a reliable supplier of any National and International majors in this field.
Here we got some prise as follows.
Certifications
Kingwell is a CNPC & SINOPEC & BV certified company, having all the Quality Systems in place for design, planning, manufacturing and quality monitoring & traceability to ensure our products match the highest quality standards.
We test our products strictly according to the NACE MR 0175-2002 Standard and our quality assurance period is 12 months.
Certificates endorsed by DNV/BV/ABS and Documents we can supply with the shipments:
1. Pressure Test Certificate with Graph and time recorded.
2. Function Test
3. Rubber Products NACE Compliance
4. Material Mill Certificate and treatment characteristics
5. H2S Compliance
6. Service Manual
7. Parts Manual
8. Testing Procedures.
9. Open up type tool drawing for dressing purpose– if any.


Design & Development
Kingwell has an ongoing relationship with Xi'an Petroleum University and built up long term cooperation with China Aerospace Group for more than 10 years. Design Department is familiar with CAD and Pro-E facilities and has on rolls qualified & experienced engineers. Now, they are engaged in development of new products as required in the market place. Kingwell' products are validated in-house in a Test Well, a Sub-surface Type Test Facility with simulated well conditions up to 15000 psi Differential pressure , 400°F and Max 450°F.
Manufacturing Facility
Equipped with latest machining facilities like CNC 3-axis Turning centers, CNC 4-axis milling centre, high temperature heat treatment furnaces, Centre lathe machines, Deep Hole Drilling, Boring & Honing machines, our company could meet long term production target and be governed efficiently by well-qualified and experienced Board of Directors and Engineers.
The following is the manufacturing workshop.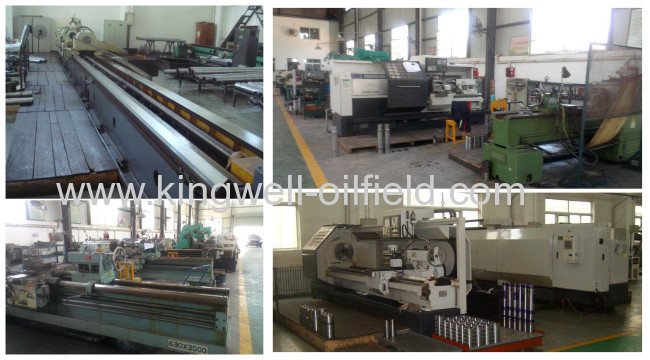 Training and Field Supports
We have a team of well qualified and experienced field support personnel for Training. According to customer's requirements, we provide operation training service for our customers who purchase our products.
Generally speaking, our customer training mainly includes followings:
1) To know the basic knowledge of the products, such as the usage, the working environments, the working principles, the structure, ect.
2) To learn the operation and use of products.
3) To master the basic requirement of designs of tool strings and of testing operation.
Product delivery
Payment:TT/LC:30% advance payment.70%before shipment
Warranty: Warranty period is 1 year after installation.
Origin: China
Minimum order: 1 set
Packaging: wood case or steel carton
Delivery Date: within 1-2 month(s) after receiving prepayment
Logo: KW, we can produce according to customer requirements.
Technical Documents: We can provide technical documents according to your requirements.
Additional service: Customers are served to test our products in our factory upon request.
Service
We believe in Customer delight, achieved by the supply of Quality Products & Services and Continual Improvement in our Manufacturing Processes for timely delivery at competitive prices. We work in a professional, competitive, and cost-effective manner consistent with the Customer requirement