Ru-Ir-Ta Coated Titanium Anode For Ballast Water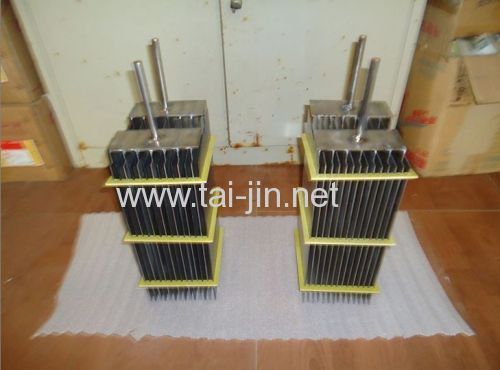 Specifications
1.Titanium Anode for Disinfecting Ballast Water
2.Energy-savng and high effcient
3.Coating is insoluble

Titanium Anode for Disinfecting Ballast Water
1. Substrate:

Pure titanium Gr1

Composition


| | |
| --- | --- |
| C | max 0.08% |
| N | max 0.03% |
| H | max 0.015% |
| Fe | max 0.20% |
| O | max 0.18% |
| Residual | max each 0.1% |
| Residual | max total 0.4% |
| Ti | balance |
2. Detailed Information.
Item Name

Titanium Anode for Ballast Water Treatment .

Material

Gr1 titanium as substrate, Ru-Ir, Ir-Ta coated.

Dimension

Usually customized by your designs, drawings or

requirements.

Anodes' Appearance

Sheet/plate/board, mesh, tube/pipe, ribbon, bar/wire,

disc, etc.

Technology

Sand blasting, Acid washing, Brush Coating, Sintering.

Main Working

Parameters

I. Current density<2000A/M2.

II. Temperature<60°C.

III. PH 0.1~14.

IV. Max content of Fluoride ion is 200PPM.

Main Characteristics

I. Dimensionally stable.

II. MMO coating is insoluble.

III. Energy-saving and high efficient.

IV. High current efficiency and catalytic.

V. Operating voltage is stable.

VI. Long service life.

VII. Light weight.

Application

for chlorinators, swimming poor disinfection, etc.

Packaging Details

Plastic or paper bags packaged inside, carton or

plywood case packed outside, or according to client's

demand.

Remarks

I. Titanium cathodes are also provided.

II.Titanium anodes are also called MMO coated or

coating anodes, DSA anodes or insoluble anodes.

III. Sample order can also be available.

IV. A large quantity means a favorable price.

V. Titanium cathodes are also available.

Points Can

Affect Prices

I. Anodes' size, (length, width and thickness).

II. Estimated service life.

III. Quantity you need.

IV. Processing difficulties.

Shipped by: DHL, Fedex, UPS, EMS, etc.

3. Application:

1) For swimming pool disinfection
2) Treatment of hospital wastewater
3) Table-ware disinfection
4) Depolarization of dyeing wastewater treatment
5) Industrial cooling water circulation treatment
6) Electroplating waste water which containing cyanide

4. Quality Assurance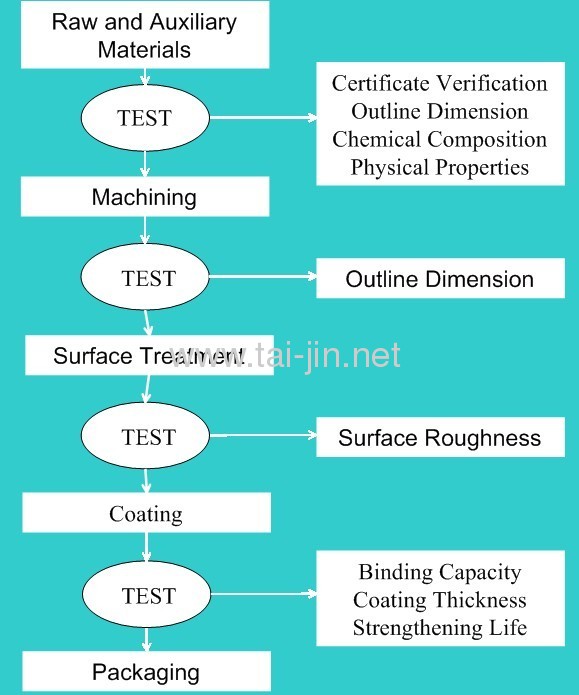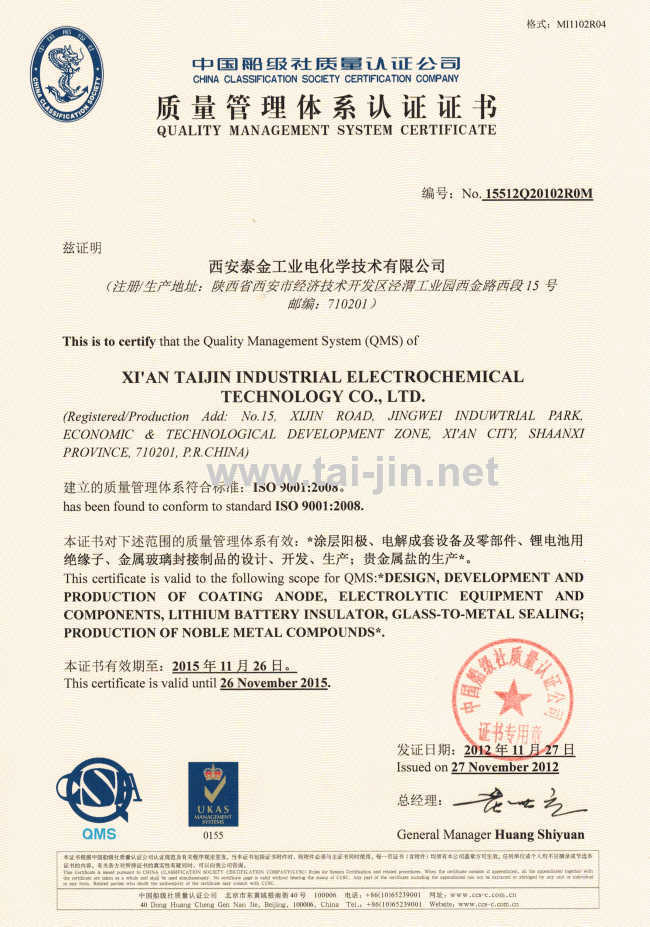 5. The flow of MMO Anode

Raw material --- Shearing ---Welding--- Machining --- Picking ----Automatic coating ---Inspection---Package

6. The List of Products from Xi'an Taijin


1) Anode for Cathodic Protection
a) MMO Titanium Tube Anode/Platinized Titanium Tube Anode
b) MMO Titanium Disk Anode/ Platinized Titanium Disk Anode
c) MMO Titanium Rod Anode/ Platinized Titanium Rod Anode
d) MMO Titanium Sheet Anode/ Platinized Titanium Sheet Anode
e) MMO Wire Anode
f) MMO Titanium Mesh Ribbon Anode
g) MMO Titanium Ribbon Anode
h)Titanium Conductor Bar
i) MMO or Platinized Probe Anode
2) Titanium Anode for Hydrometallurgy
3) Titanium Anode for Electrolysing Copper Foil
4) Titanium Anode for Electrolysing Aluminum Foil
5) Titanium Anode for Sodium Hypochlorite and Seawater Electrolysis
6) Titanium Anode for Electrolysing Organic Synthesis
7) Noble Metal Compounds

7. Main Export Markets:
Asia

Australasia

Central/South America

Eastern Europe

Mid East/Africa

North America

Western Europe